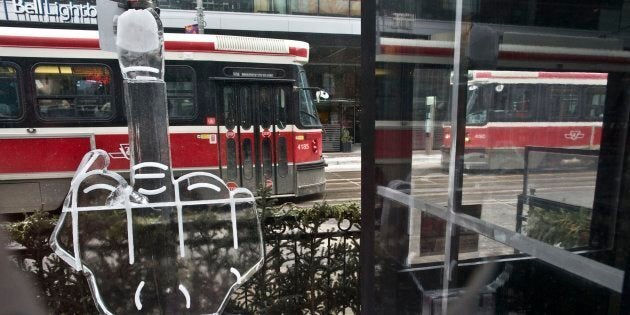 A couple of summers ago, I had to take the 504 streetcar from the east end of downtown Toronto to Vice Canada's Liberty Village office, and back, a few times a week. After work, the streetcar, usually jammed to capacity with up to 200 people, would often get stuck behind a car (with no passengers) turning left. I spent a lot of time looking out the window, considering bailing and just walking home.
In November 2017, the King Street Pilot Project was introduced. The pilot is in effect from Jarvis to Bathurst Street. Within that range on King Street, streetcars are given priority, as cars cannot pass through intersections or make left turns. They are only able to turn right off of King Street.
As a result, King Street is now often compared to a freeway, but that seems unfair, as there's rarely serious traffic congestion. I take the King streetcar every day (you can see proof with my cameo on CTV Toronto below!), and my commute to the HuffPost Canada offices feels like a jump through hyperspace compared to my slog to Vice Canada.
Commuting has become immeasurably better for me and other King Street travellers. But, a group of business owners on King Street is seemingly outraged that the interests of public transit users are being prioritized over those who drive cars and, supposedly, business owners. In fact, a few business owners have put up middle-finger ice sculptures outside their restaurants to let everyone know how they feel about those of us who have the nerve to want to get to work on time.
Commuters, and everyone else who cares about creating a better city, should give the finger back to these owners and refuse to give them sales. These business owners seem not to respect their customers — who ultimately drive the sales they're complaining about — and are willing to attempt to sabotage a project that makes their clients' lives easier. But, these owners must be aware that having their customers turn against them can be costlier than whatever loss they've experienced already.
Instead of fighting against the change, the business owners should work on ways to adapt, as the project has already proven itself to be the way of the future. Here's why.
The King streetcar route is the busiest in the city, with 65,000 people travelling on it every day. In comparison, before the pilot project was introduced, just 20,000 car riders took the route daily. A better experience for public transit users means a better experience for the majority.
Toronto commuters are already seeing these benefits.
The shift to the streetcar is better for commuters, and the planet.
This means thousands of people are spending far less time waiting for streetcars than in the past, when they were infrequent and often unpredictable. The reduced wait time, combined with the faster trip time, means these people are getting to work earlier. Meanwhile, public transit is by far the best mode of transport for the environment, while cars are the worst. The shift to the streetcar is better for commuters, and the planet.
Unlike many other public transit changes in the city, such as the Spadina subway extension, the shift to the pilot project didn't cost millions over budget or come into effect years after the expected date. In fact, it took just one weekend to set it up, requiring only some signs and barriers.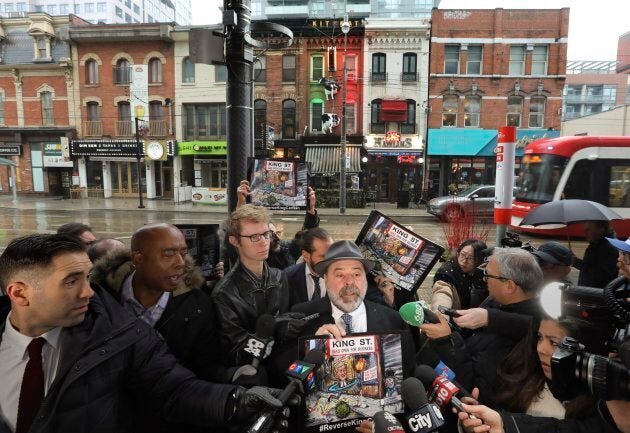 Where they get the gall to put their profit above the lives of thousands of people is beyond me. I also can't make sense of their arguments, because they're based on "facts" pulled out of thin air.
They claim that cars are banned on King Street. In fact, the restrictions only apply to a chunk of King Street, and even then, drivers are still allowed on, but for shorter distances. They now have to drive north just one or two blocks, and travel on efficient one-way streets to get where they need to go.
In a press conference on Monday, restaurant owner Al Carbone claimed that commute times for drivers now rerouted to Adelaide and Richmond have increased by 12 minutes. He said this number was taken from his own experience. The city's actual exhaustive investigation, meanwhile, found that on Adelaide Street, trips are just 1.8 minutes longer, while on Richmond Street, they're actually 30 seconds less.
Carbone and others have tried to make the case that many businesses in the area are hurting. In reality, many are doing just as well, and their owners have expressed public support for the project.
As Toronto Star columnist Edward Keenan pointed out, any loss of profits thus far may also be due to the uncommonly frigid weather the city has seen this winter, and the lack of Broadway showings that pulled in huge crowds in the past, which included many people who would frequent nearby businesses before heading to the theatre.
There is also little discussion of how other businesses have benefitted from a more reliable system to get their employees to work on time. The businesses that are complaining aren't the only ones that matter.
Meanwhile, the city has already made several concessions to those businesses, including that drivers can now park free for up to two hours in nearly 2,300 spots within minutes of King Street.
On Monday, Toronto mayor John Tory told CP24, "We are working with them (business owners) now and I'm mystified as to why they don't want to work with us. They want to sort of be political about this and keep perpetuating the notion that King Street is closed."
King Street is open, but the time where business owners could bully the city is hopefully coming to a close. If these businesses can't keep up with the changing city, so be it. They shouldn't be allowed to drag commuters down with them.
Follow HuffPost Canada Blogs on Facebook