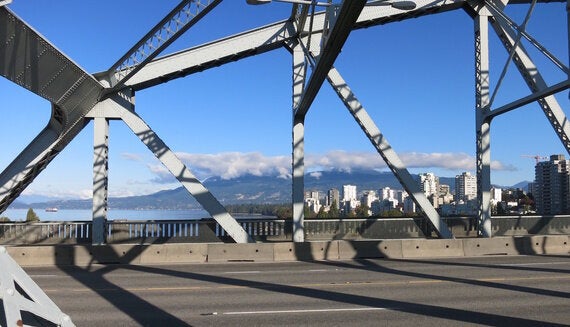 The ruling Vision Vancouver council recently threw out Councillor George Affleck's motion for discussion about the the wisdom of suicide barriers on Burrard Bridge, thereby enhancing their hard-earned reputation for not listening. This, despite election eve promises to the contrary. What the heck.
That petition garnered over 500 signatures and was featured in media at the time, but it has since grown to well over 2000 (and counting) CKNW's Bruce Allen spoke passionately about the issue, referring to my previous HuffPost blog about the bridge.
Remember the promise to end homelessness? Of course you do. I voted for Vision because I believed that a promise of that magnitude, that importance, was worth supporting, and my gosh, if you make a promise, you damn well better live up to it or there will be hell to pay. (By hell, I mean getting re-elected.) At the time, it was said that the mayor was staking his political career on the line with this promise. Well... not so much.
Clearly, the promise to end homelessness is hollow if it is not backed up with sound policy. Lo and behold, homeless numbers in 2016 are higher than ever. Yes, the total opposite of ending homelessness is to actually increase the problem under your watch. Congratulations, Vision Vancouver, for that dubious achievement.
I bring up this "ending homelessness" promise because the suicide barriers have the same hollow ring. "Lives over a view," as Councillor Reimer said. "Even one life is worth saving," as Councillor Jang said. Who could argue with that kind of altruism? Not me. Well, yes, me, actually.
Consider the recent news that the city is putting a million dollars towards a mental health hub. Councillor Jang called it "a big health investment for the city." This hub will help about 5,000 people in need per year. How many people die by jumping from Burrard Bridge every year? The answer is .08 people, but the barriers will cost $3.5 million.
She feels angry that vital funds are being directed not to the people who need it most, but a barrier which avoids the real issues.
So while the VCH and advocacy groups lobby for barriers, they know that funding for other programs is in short supply. If Councillor Jang feels that even one life is worth saving, why not spend $3.5 million to help many, many more people? There is evidence that barriers do not even save lives, as people may be inclined to just go somewhere else. Funding should instead be focused on helping people at a much earlier stage.
I am fortunate to have no personal experience with these issues, but I do know someone who has, and she wrote a very eloquent letter to council which so moved me that I asked her if I could share some of her thoughts here, which she agreed to -- although she prefers to remain anonymous. The writer is a successful public figure who has lived our mental health system first hand and has recovered fully. She described her experience:
"If you're admitted to the psychiatric ward, you are shamed for life," she said. "It was the absolute worst experience of my life." She went on to explain that it was not health professionals who ultimately helped her, but friends, who gave her the support she needed. In other words, the system was sorely lacking.
For this reason, she feels angry that vital funds are being directed not to the people who need it most, but a barrier which avoids the real issues. She considers the fencing more than an impedance to a beautiful view for the thousands who use the bridge -- as she puts it, it is "a chronic reminder of our flawed relationship to mental health and how uneasy it makes us feel. Look away, build a fence, sleep better at night."
"The true answer is to help people who need it and help them get better, not throw up a fence on our beautiful 84-year-old historic bridge, blocking the view and at the same time reminding us of how disconnected we are," she said. "If we all weren't depressed before the fences, we definitely will be afterward as it collectively robs us all of much of the joy and enjoyment of the beauty of Vancouver."
For this woman who wrote so passionately to council, the fences are a vivid and emotive reminder of the pain she suffered under treatment. "You are treated like a prisoner here in our mental health facilities and this is very much represented through the jail-like appearance of your fences," she said.
She feels that much work is needed to improve the system she has had first-hand experience with and she is sure that $3.5 million could be far better spent. "We all suffer more when you choose to ignore us naysayers using our voices to speak up against the fences. Know that what you're really doing is creating more walls in this city, both figuratively and literally, specifically for people who have not had the easiest ride for their emotional well being," she said.
She ended her letter with a plea: "Please do not spend this money on bridge barriers thinking you are solving anything. When you see those fences on the bridge, be reminded that many people out there are hurting and they're not getting the help or support they need. I would never wish any person to feel a second of how I felt at my worst moments. I was lucky I made it through alive but as we know, not everyone is."
This woman's heartfelt and emotional letter received not a single response from any Vision councillor. That's what they call "listening."
Follow HuffPost Canada Blogs on Facebook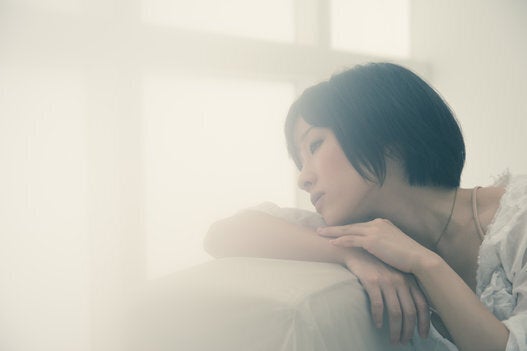 The Facts About Depression Symptoms