Empathy, sadness, joy and a sense of family are just some of the immediate feelings I had when I ended my FaceTime conversation with Dan Reynolds, lead singer of Imagine Dragons.
Dan and I have something in common called ankylosing spondylitis, or AS for short. Instead of getting into a long, drawn-out medical definition, I will describe it like this: our bodies are attacking themselves, and there is no cure.
People suffer in silence and feel they are alone because they think no one understands.
Most of us AS sufferers have to deal with chronic pain 24/7. It is a "hidden disease," as Dan labelled it. Dan is a now a spokesperson for our disease through an awareness campaign launched in collaboration between the Spondylitis Association of America (SAA) and Novartis Pharmaceuticals (U.S.). They provided me this amazing opportunity to speak with Dan, not on a musician/star basis, but on a personal one.
Dan and I were diagnosed with AS almost at the same time. When I was listening to him speak, I began to feel an immediate connection. Dan knew he had AS for almost a decade before announcing it to tens of thousands in First Direct Arena in Leeds, England on Nov. 10, 2015.
"I didn't want the world to know for fear it would be a weakness... I don't really know honestly why (I shared my AS on stage), but I don't regret it," he told me.
as many of u know i was diagnosed with Ankylosing Spondylitis in my early 20's. It can be a debilitating disease & has been quite the battle

— Dan Reynolds (@DanReynolds) November 11, 2016
This statement resonated so much with me. For some reason in this world, no one is allowed to show vulnerability even if they're ill. People with a lot of different diseases suffer in silence and feel they are alone because they think no one understands.
I have a disease that no one can see. AS can affect every joint in your body, your internal organs and your mental health. I unfortunately know people who have ended their lives. They just couldn't take their AS struggle anymore.
People who suffer from AS tend to become family, whether they want to or not.
I am amazed at the way Dan looks at AS. He is so full of positivity and wants to be a voice for all of us that have it. I alone couldn't think of a better spokesperson for us "AS Warriors," as we like to call ourselves.
People who suffer from AS tend to become family, whether they want to or not. We are the only ones who truly understand what we are going through -- from restless nights, to being too sore to leave the house, to missing out on fun activities with friends.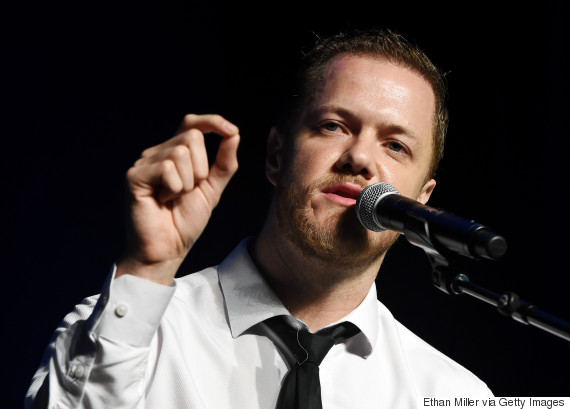 Dan Reynolds of Imagine Dragons on Sept. 30, 2016 in Las Vegas, Nevada. (Photo: Ethan Miller/Getty Images)
Dan was very adamant and wanted people to know "you aren't alone, there is a community out there."
I can't stress this point enough. We have both felt alone, even with family around. It isn't the same trying to explain what you are going through to someone who isn't dealing with AS. Dan emphasized, "You need to find comfort in other people's stories... now I really want to do all I can, to be a voice for it and to spread awareness so people don't feel so alone."
Dan accepts that as a spokesperson, people like me may now approach him for advice. "I hope people go to their rheumatologists and not to Doctor Dan, 'cause I got nothing," he quipped. But my lasting impression of Dan is that in life lessons, he knows a great deal. Throughout his struggle with AS, Dan speaks about how very supportive his wife is and how even his four-year-old daughter knows how to pronounce ankylosing spondylitis.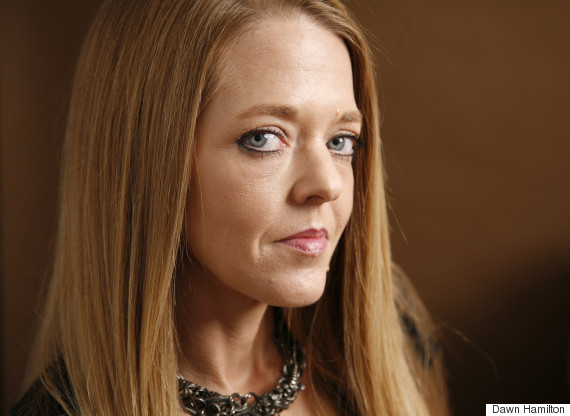 Dawn Hamilton lives in St. Catharines, Ontario and was diagnosed with AS in 2008.
I was excited to learn the Imagine Dragons may be going on tour in 2017. I can't wait to see the tour list. Dan mentioned that AS had "fed the creative part" of him when it came to music, and it gave him "passion to create more music."
AS affects every part of our life. As a creative musician, Dan's lyrics, music and even performance are directly impacted by AS.
"Emotion is what breeds art and I definitely had emotions, someone telling you, you have a disease that could possibly ruin your life," he said. When you have a chronic ailment, your emotions tend to be all over the place -- and sometimes you take it out on the people you are closest to.
Although I only spoke with Dan for minutes, I feel like I've made a life-long friend.
Our discussion wasn't all serious, though. When I asked if he would ever write a song about AS, he immediately burst into song. "I think it has already been fused into many songs whether I knew it or not," he said. I now think it is time for me to listen a bit closer to the lyrics of Imagine Dragons and see what I can hear.
Although I only spoke with Dan for minutes, I feel like I've made a life-long friend. I will probably never be able to talk to Dan again, but I know he's out there rooting for all of us. And now, we're all inspired by his music, his courage and his life with AS.
Follow HuffPost Canada Blogs on Facebook
Also on HuffPost:
Suffering the Silence: Portraits of Chronic Illness