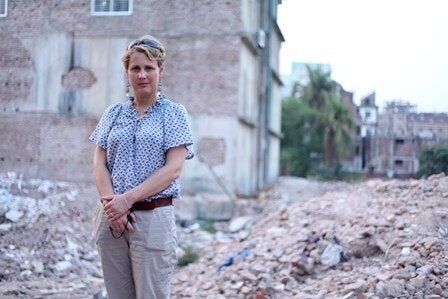 Debbie Wolfe visits the site where more than 1,100 Bangladeshi workers died a year ago, in the collapse of the Rana Plaza garment factory.
One year ago on April 24, the Rana Plaza garment factory in Bangladesh collapsed, crushing the life out of more than 1,100 people. The disaster prompted huge outcry on the streets of Bangladesh, and around the world. Every new detail of the investigation -- including the discovery that many workers had been ordered to their sewing machines that tragic day, despite the cracks found in the building the day before -- convinced many of us that this time, things simply had to change.
Many Canadians have reckoned with their own role in what happened at Rana Plaza. True, we weren't the ones to ignore the cracks, or threaten to withhold meager pay from workers already struggling to survive. But as a society of shoppers, we did demand the rock-bottom prices that helped create the demand for cheaper and cheaper labour.
I've never felt more culpable than when standing in the ruins of Rana Plaza last week. I climbed the hill of bricks and concrete to take in the vastness of the devastation. Then I looked down at my feet. Caught up in the rubble was fabric of every colour: red, blue, yellow and orange. It was hard to tell whose clothes these were -- pants and T-shirts destined for Canada, or remnants of the flowing garments worn by the Bangladeshi workers pulled from the wreckage.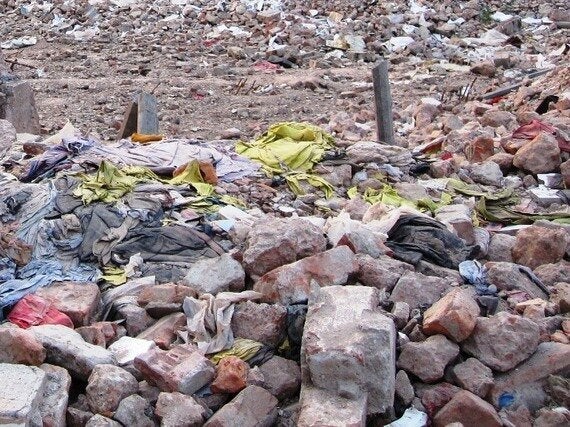 Fabric of every colour is wound up in the rubble of Rana Plaza.
It's true that complex global supply chains helped distance all of us from our role in tragedies like these. Stepping into stores here in Canada -- many of which we've trusted since childhood -- few of us have imagined how many layers of sub-contractors are responsible for making the products we buy. We might have assumed that Canadian businesses that sell products made in Bangladesh would have a thorough knowledge of the labour and safety practices in any subcontracting factories.
I can't make this assumption any longer. Not after meeting Jewel, a young Bangladeshi boy who watched the Rana Plaza recovery effort on television, hoping that neither of his parents was killed in the collapse. Not after seeing the tears roll down the face of the woman standing at edge of the collapse site, holding a photograph of the daughter who had worked inside.
Before leaving, I reached down into the bricks and pulled out a tape measure just like the one I have in my sewing box at home. In that moment, the complex global supply chain between me and the workers at Rana Plaza seemed no longer than that metre-long strip of plastic. And the person who'd once held the other end might as well have been holding my hand.
You can do something to help make the tragedy of Rana Plaza more than a memorial of bricks and rubble. I invite you to sign a World Vision Canada petition, calling on Canadian retailers that sell products made in Bangladesh to sign the Bangladesh Fire and Safety Accord. Once a company signs on, they'll obligated to take immediate action that would prevent further tragedies, and protect the income of workers displaced due to unsafe conditions. Bangladeshi labourers shouldn't be subject to months of lost income if an inspection reveals cracks in their factory's foundation.
And I urge you to engage with the companies you support. Your shopping dollars hold a great deal of sway. Companies normally post their corporate social responsibility policies right on their web sites. Write to them, using email, Facebook and Twitter, asking questions about where there products are made, by whom, and under what kinds of conditions.
Do this in honour of the people who died at Rana Plaza one year ago today. Do it for the children who lose parents to factory disasters which never make the news. Do it so girls and boys the same as your own kids don't have to give up school in order to work, because their parents aren't paid enough to begin with.
Do it because they're no further away than the length of a tape measure.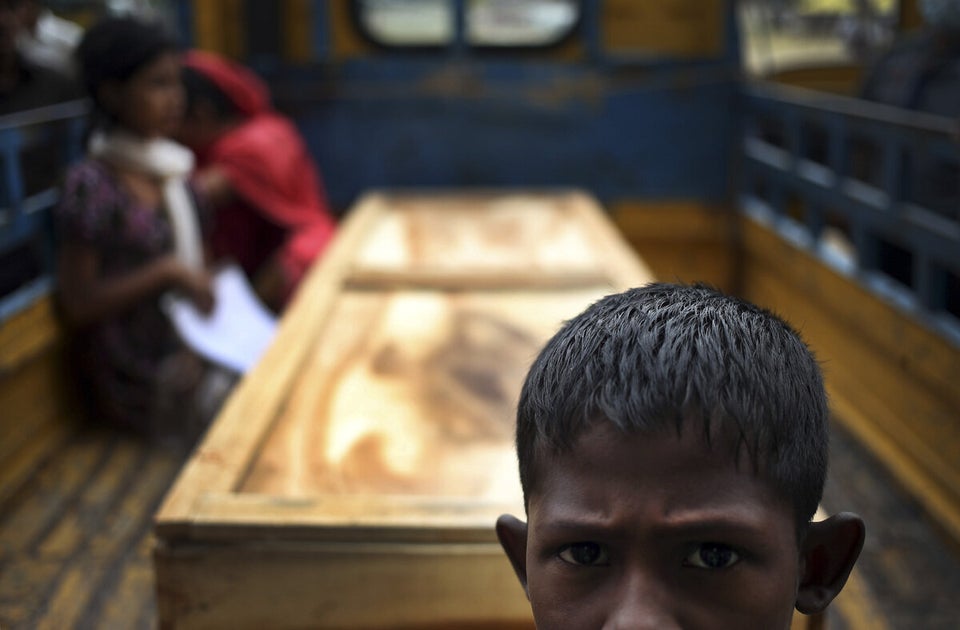 Bangladesh Factory Collapse