There's an Olympic event in which athletes race cross-country on skis, then shoot a rifle at a target. I've always marveled at their combination of precision and speed.
Most mornings at home, I feel like those athletes. My challenge: getting breakfast into our 14-year-old son. Derrick appears in the kitchen for mere seconds as he rushes out the door to school.
That's when the clock starts. My current record for a hot breakfast wrapped to go is about 55 seconds. It's just toast and peanut butter, with a swig of orange juice. But it does the job.
Eating to learn
Why do this? Why not let him suffer? If a growling tummy were the end of it, I may let Derrick be. But as a World Vision worker, I know that children really struggle to learn without food.
It's hard to focus on math when your head is pounding. Or decipher complex instructions with your stomach gurgling. And essays are a write-off if you have no fuel.
Children filled with nutritious food -- and enough of it -- are fortified to learn. Studies have shown that children who've eaten well can concentrate better and perform better in class.
Enrollment goes up, attendance is more frequent and children progress better when their bellies are full.
School meals can help
Tragically, too many Canadian families face a bare cupboard at breakfast time. A recent blog here in the Huffington Post outlined some of the painful challenges many teachers witness when children don't have enough to eat.
Thankfully, the connection between eating and learning is recognized by school boards across Canada. There's still a long way to go before every child's nutritional needs are met. But I'm grateful that in the Toronto District School Board alone, more than 400 schools offer breakfast to a total of 150,000 students per day.
The hunger barrier
There's something so heartwarming about seeing children digging into a nutritious meal -- especially when you know how it helps their learning.
However, in a developing country, there are multiple factors that can come between children and their education, not just a lack of food. Some parents need their kids to work, while other families live many kilometres from school, meaning children walk for hours a day just to attend. Kids get sick from things like dirty water, meaning they're absent more.
In short: every day spent at school has to count. That's why World Vision provides school lunch or snack programs for many of the children we serve.
The incentive of the meal often makes the difference for families weighing the benefits of sending their kids to school. And for a child, success in school could make the difference between remaining in poverty -- or breaking free from it.
And it works. Enrollment goes up, attendance is more frequent and children progress better when their bellies are full. Here's some of the evidence, from children and families themselves!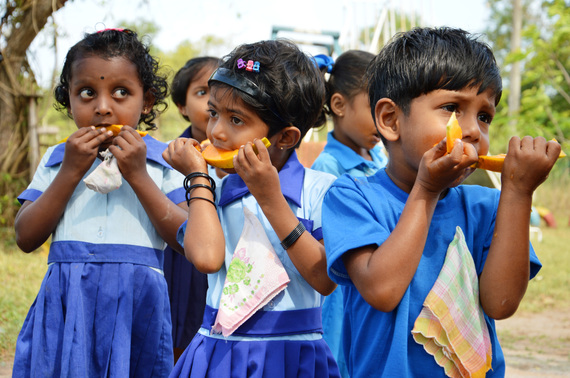 (Photo: World Vision)
Above: Young children in Sri Lanka dig into juicy papaya, today's dessert at their local preschool. School lunch helps little ones focus during this foundation period in their learning, preparing them for harder lessons later on.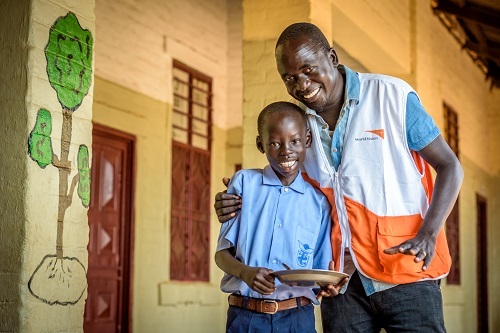 (Photo: World Vision)
Above: In war-torn South Sudan, Ring says he wants to be president one day. He comes to school to learn and have a hot meal. "Before the food arrived, we were too tired even to play. Now we are very happy. In the last tests, I only failed science."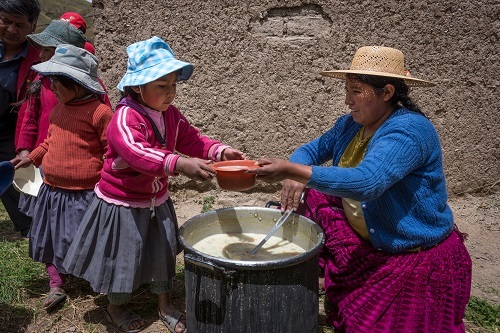 (Photo: World Vision)
Above: At this school in Peru, lunch is peanut and rice soup. It's made with vegetables from the school's new greenhouse, one of several World Vision helped the community to build. "The children are learning better now," said the school's principal.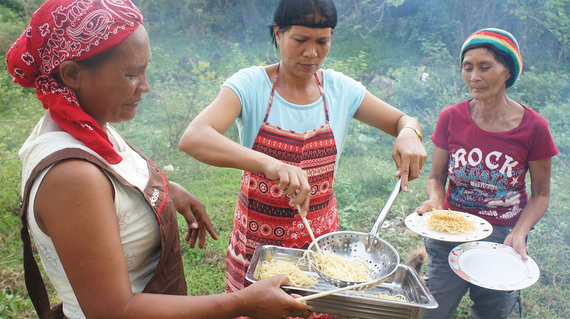 (Photo: World Vision)
Above: In the Philippines, mothers from one village found a way to address malnutrition among children in their community. They make lunches at school, including home-made, organic noodles made of nutritious vegetables like squash.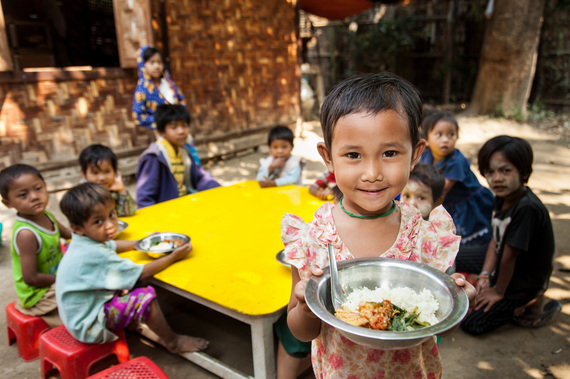 (Photo: World Vision)
Above: "I love this food. I don't often get this at home," says preschooler Win Pa Pa in Myanmar, referring to a curry and rice dish. A tasty lunch or dessert helps hungry little ones realize that school is a great place to be.
Throughout the month of October, World Vision will be celebrating food! Between now and World Food Day October 16, check the Huffington Post for more stories, ideas and news about food.
Visit hungerfree.ca to learn how you can celebrate food in meaningful ways with your family and friends.
Follow HuffPost Canada Blogs on Facebook
Also on HuffPost:
Back-To-School Breakfast Recipes