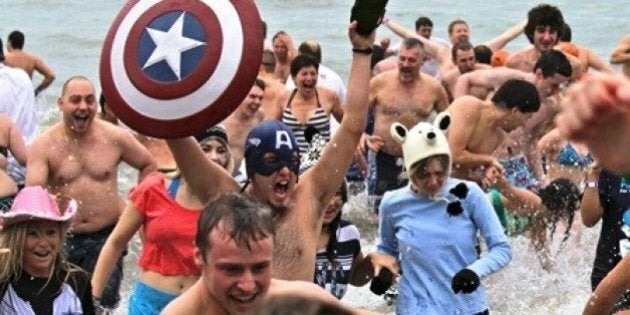 Sitting around the fire with my family this week, warm and contented and full of mince tarts, I proudly announced one of my New Year's resolutions:
"I will enter a five-kilometre run this spring to raise money for charity." I declared. It felt good to get it on the record! And I felt deep-down proud to have a goal in mind, especially one that would help the children and families I write about.
This was a pretty safe resolution to make. Sure, it will take some work to keep, as I'm not much of runner. But I'm still months away from those first warm-up stretches in the pale sunlight of early spring. Any suffering I do for my cause will likely take place in shorts and a T-shirt, under a sunny sky.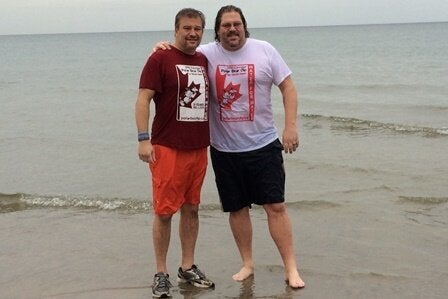 The Courage brothers, 30 years after their first impromptu dip as teenagers. Photo: Courage Polar Bear Dip
A bolder, colder resolution!
Today back at work, I learned that my World Vision colleague, Brett Tarver, will also be stretching himself for the good of others. But he won't be waiting until spring. On New Year's Day, Brett will plunge into the icy waters of Lake Ontario for the Courage Polar Bear Dip in support of World Vision clean water programs for communities overseas.
Have you heard of the Courage Polar Bear Dip? It started 31 years ago this week, when an exasperated mom, eager to get her two teenage sons out of the house after too much television, told them to "go jump in the lake."
Todd and Trent Courage did what their mother told them. And three decades later, funds raised by the hundreds of dippers running into Lake Ontario this January 1 are expected to bring the dip's lifetime total to $1.4 million dollars for water projects in Rwanda.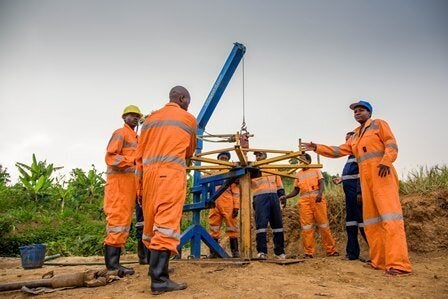 A drilling crew in Rwanda creates a brand new well. Photo: World Vision
It's impossible to measure the ripple effects of a tradition like this. For Ontarians bracing themselves for the plunge this Friday, it may feel like a few dollars raised for a worthy cause. But consider what they're part of.
Since the dip began, Rwandan children whose lives have been saved because they've had safe, clean water to drink have lived to become parents and possibly even grandparents. Many of these children were able to attend school more regularly, since clean water means fewer waterborne illnesses like diarrhea. Fewer children lost their sight due to infections from dirty water.
Perhaps these kids have gone on to be teachers, doctors, or engineers. Perhaps they've simply lived to parent beautiful children who love to laugh, play football and help on the farm.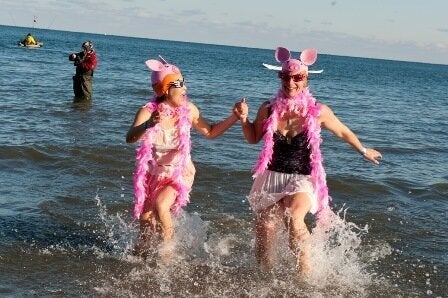 Photo: Courage Polar Bear Dip
No matter how worthy the cause, that lake is going to feel like a hundred knives. I'm often one of the only swimmers on the Lake Ontario beach near my house, even in the warmest weather. Some summer mornings I have the whole place to myself. I often have to run in fast without thinking and swim like mad until my skin becomes comfortably numb.
I can't imagine how my colleague Brett and hundreds of other dippers will gear themselves up on New Year's. Perhaps they'll dress in crazy costumes, like the thousands of dippers preceding them. Or the thousands of cheering spectators will help warm their spirits. Maybe the live music and TV cameras will help a little, too.
But for many, I know that the image of a young child pouring herself a bottle of clean, clear well water -- then drinking deep to revitalize her body and mind for the road ahead -- will make the real difference.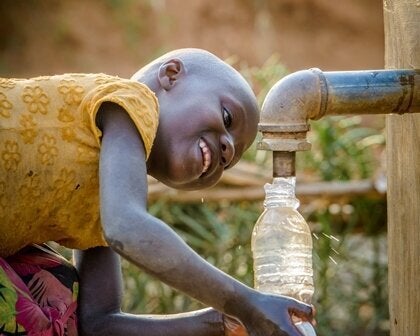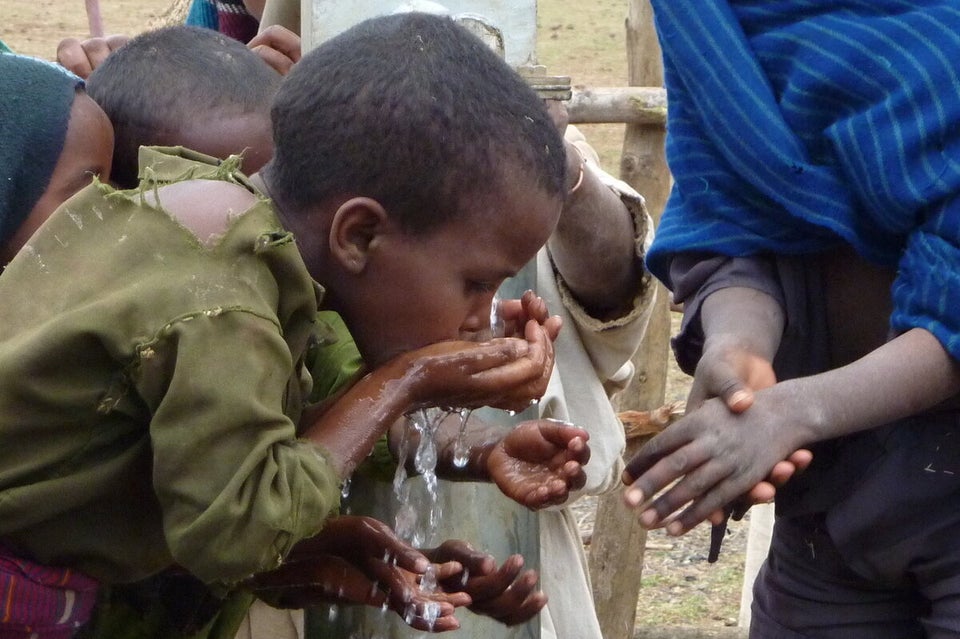 Catapulting Gender Equality with Clean Water