I still remember the first time my son had diarrhea. My memories of the experience are especially vivid, as I imagine they are for many parents.
"What... again?" I recall my husband asking when I requested yet another run to the drug store for diapers. "You've got to be kidding!" complained my boss at the time, who didn't understand why the daycare insisted that our toddler remain at home.
It feels strange to be writing about our son's diarrhea for a national audience. On one hand, diarrhea is something we Canadians feel relaxed enough to joke about. I remember the skipping rhyme my friends and I used to sing, as we turned the rope in the playground: "Mama mia, papa pia, baby's got the diarrhea!"
But despite our comic use of the term, diarrhea is something most of us don't feel super comfortable talking about. We don't like to be out of control over our bodily functions, do we? Diarrhea is dirty, smelly, embarrassing... and just plain unpredictable.
I even recall a World Vision trip overseas, when several of us contracted diarrhea from the local water but kept the knowledge to ourselves. We would rather load up on medication to stop the natural flow than "come clean" about our condition and ask the van driver to pull over for yet another rest stop.
Diarrhea is the main reason why children are brought to this medical clinic in South Sudan. It's one of the factors contributing to severe malnutrition in children, including two-year-old Nyane. Photo/World Vision
In many parts of the world, diarrhea is not about embarrassing conversations between adults, or toddlers licking electrolyte popsicles while watching Max and Ruby on the couch. And it's most definitely no joke.
An estimated 530,000 children around the world die each year from diarrhea, a condition which most Canadians see as an inconvenience. Globally, diarrhea is the second-largest cause of death for babies and children under age five, second only to pneumonia. Diarrhea causes more child deaths than AIDS, malaria and measles combined.
Here in Canada, our children usually recover from their diarrhea pretty quickly. And let's face it, they're well most of the time. Even several bouts of the runs in the same year are no big deal. There's lots of time in between for our kids to build get hydrated, take in nutrients and continue to build up their immune systems.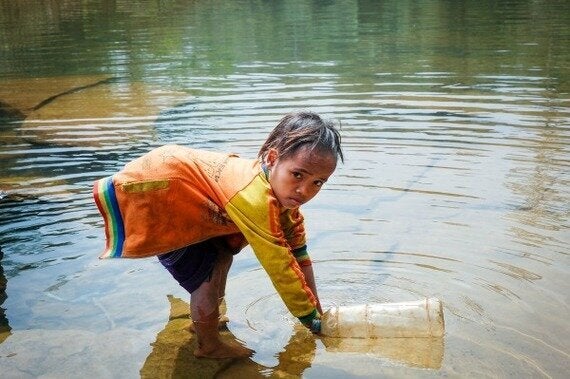 In Laos, seven-year-old Land fetches water from this stagnant pond for her family to drink and use for cooking and washing. Photo/World Vision
But imagine diarrhea that's almost constant, as it is for too many children overseas. Your little one has it nearly all of the time. The nutrients you so lovingly provide and the water you carry long distances in the scorching heat are flushed out within an hour of consumption. Your toddler's tiny body simply can't keep anything in. She's weak and listless. And you're desperately afraid.
"Picture what it's like after you've had the stomach flu, when you've got absolutely nothing left in you," says Sara Schulz, World Vision's senior policy adviser for child health. "I remember my baby daughter lying there after battling a virus, barely able to open her eyes. She did recover, as she was getting my breast milk and the flu passed."
"But imagine if she'd had no time to rebound. Imagine if she'd had to deal with the same thing all over again the next week. That's what babies and young children overseas are facing when they're battling diarrhea constantly. Their tiny bodies simply can't cope."
Clean, clear water flows from taps at this school in Ethiopia, pumped up from deep under the ground. It's the kind of water project you can support through World Vision. Photo/World Vision
How water gives life - and brings death
Diarrhea is one of the body's natural defences against threats like bacteria. But in flushing away the threat, the body also flushes away the water children so badly need to survive. Ironically, it's through water that the bacteria causing diarrhea often enters the body in the first place. Dirty water.
When World Vision first visits a community, there is often just a single water source to meet everyone's needs. That means that cattle are often drinking from -- and defecating in -- the same water that's carried home for babies and children to drink. It's no wonder that clean water is often one of our first priorities.
Lack of sanitation and hygiene are also big reasons why children overseas get diarrhea. When we teach young children here in Canada to wash their hands after going to the bathroom, we do it on the understanding that the water from the tap is clean and bacteria-free. This isn't the case in many parts of the world, where families are washing in water from the local river or pond.
Next time the topic of diarrhea comes up, try not to change the subject.
It's not just important for us to talk about diarrhea in the developing world -- it's critical that we do something to help. Part of World Vision's work is to teach moms overseas about the importance of exclusive breastfeeding, until children are at least six months old. Children who are both nourished and hydrated this way have a much lower chance of getting diarrhea.
You can also keep children safe by joining World Vision Canada's clean water campaign, to help provide communities with clean, safe water sources. By combining this with education about sanitation, we gives families a chance to keep those deadly bacteria off their hands and away from their children.
Next time the topic of diarrhea comes up, try not to change the subject. Like any parent, you might share your memories of your first time. But then tell the person you're talking with how deadly diarrhea can be for children in other places. And invite them to do something to help.
Follow HuffPost Canada Blogs on Facebook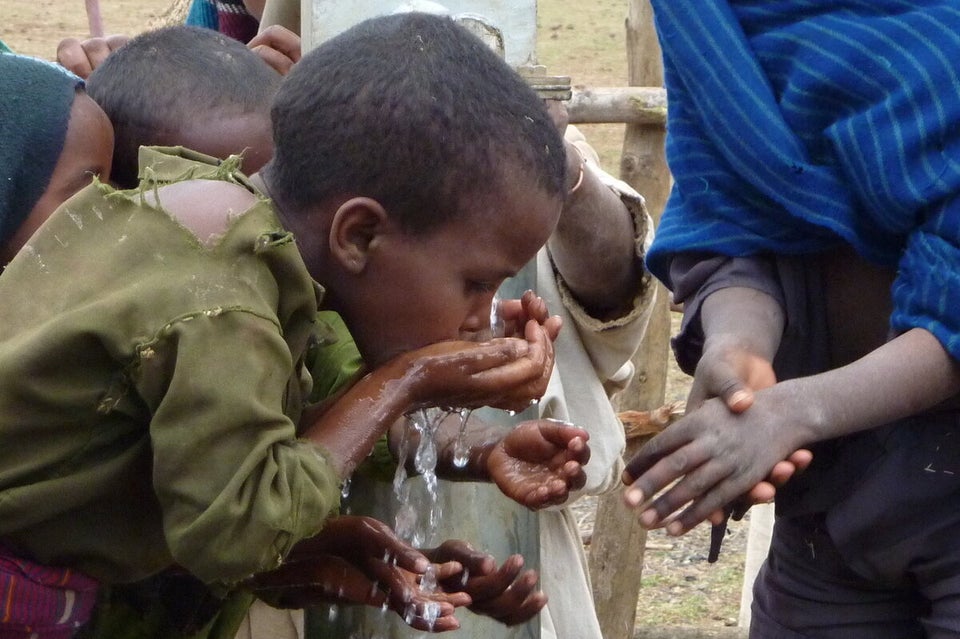 Catapulting Gender Equality with Clean Water