On the International Day of People with Disability, December 3, World Vision notes that an estimated 98 per cent of children with disabilities worldwide are excluded from education. Many of these children are also hidden away due to stigma and shame. Learn how you can help.
In Cambodia last year, I met children who worked 12-hour days in the blazing sun. In their bare feet, they pushed heavy carts with huge wheels. With their bare hands, they fed clay into dangerous grinding machines. Many had painful burns on their skin from the heat of the ovens.
It didn't think their lives could have been any more difficult. I was wrong. Last week, I read about Dara, a 15-year-old Cambodian boy who worked in one of those factories. Dara dealt with everything I've described above. But he also did it with a disability.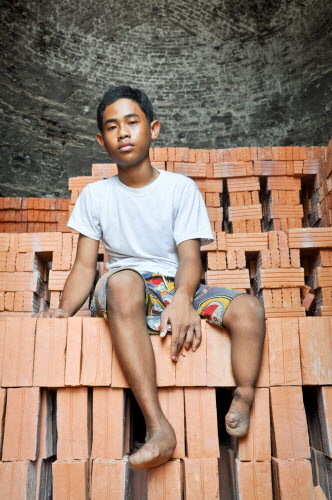 Dara at the Cambodian brick factory where he worked.
Dara was born with two misshapen feet, which made walking extremely difficult. While many children in the developing world are hidden away due to stigma and shame, Dara's parents either weren't prepared to do this, or couldn't afford to. I don't know how Dara handled the gruelling physical labour I witnessed in those brick factories. But somehow he did, earning the precious $1 a day to help feed his family.
Working at World Vision, I hear many accounts of people struggling to cope with both poverty and disability. In societies where resources are scarce, a person who requires food, water and clothing -- without being able to contribute in some way -- can be considered a liability, or even a curse. In many communities, educating such children seems pointless.
It can be even worse for girls, who are less likely to have a crack at school to begin with. In Sierra Leone, 14-year-old Yeama spent many years sitting alone at home during the day. The house was quiet. All the other children had gone off to school, and her mother and father were busy working.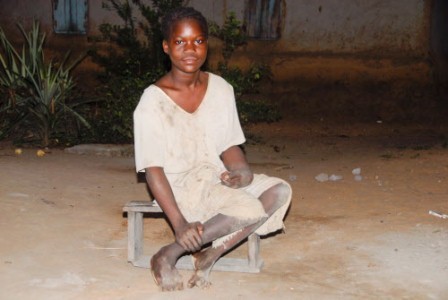 Yeama's mom felt sending her to school would be "a complete waste of time."
As a baby in Sierra Leone, Yeama had suffered an intense bout of high fever and severe convulsions which left her legs paralyzed. Although her parents sold most of their possessions to pay for medical treatment, the condition turned out to be irreversible. A women's charity provided her with a wheelchair. But Yeama's parents felt there was no point pushing their daughter down the long, bumpy road to the school.
"I never thought of sending my child to school," said Yeama's mother. "I used to think it is a complete waste of time, considering her disability."
In Canada, where families aren't focused on the sheer act of survival, we've had the space to develop a better understanding of disability. This includes an appreciation for the many gifts of people who are differently abled.
My friend and World Vision colleague Joanne Strang has cerebral palsy and uses canes to walk. But of the two of us, Joanne reads more widely, is more in tune with political events, is more likely to make time to share lunch with colleagues, and gives more of her time in volunteer work.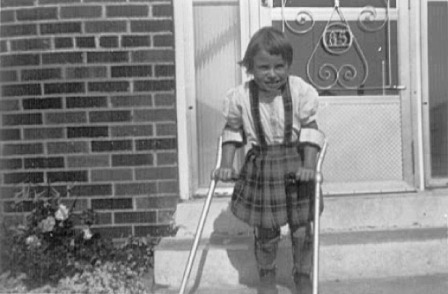 Joanne's first day of school in Scarborough, in 1958.
"There was never any doubt in my parents' minds that I would go to school," says Joanne, of her childhood. "That is something that is possible here in Canada. For the first eight years of my education I went to a school for children with disabilities, and I have good memories of that time. We all encouraged one another."
There's no question that Canada has more programs, more education, more support for people with disabilities and those who care and empower them. Still, even in the most desperate situations overseas, it's incredible how far a little support can go.
Remember Dara, the boy in Cambodia? He doesn't work in the brick factory any longer -- and here's where the story takes an encouraging turn: he's now sponsored through World Vision, and goes to school full-time. Dara studying hard to become an English teacher and loves reading to his mother, who, although able-bodied, isn't able to read herself.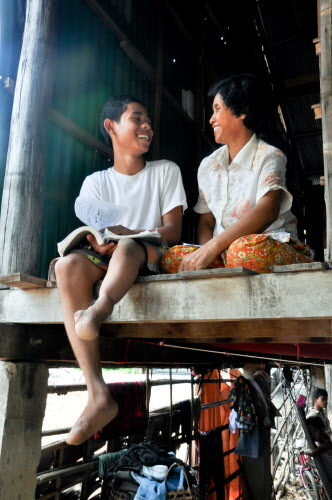 Dara with his mother, who loves listening to him read aloud. She never got a chance to learn.
Looking at the photos of Dara and his mother, it's clear how much she loves him -- how proud she is of her son.
In Sierra Leone, 14-year-old Yeama is now also in school, and loving it. She's in Grade 5, and busy catching up with everything she's missed until now. She dreams of going to university one day.
"World Vision came in and helped me go to school," she says. "They even provide me with learning materials. I used to sit at home doing nothing. I was all by myself. But now I am busy doing something and friends are always around me in school."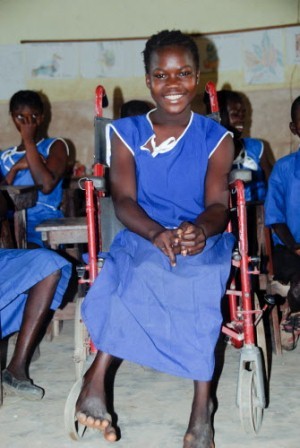 So what happens when Yeama is finished school? It's all very well for World Vision to provide support, and for her parents to feel proud. But is her community prepared to welcome an adult with a disability as a breadwinner, and perhaps a leader?
For this, Yeama takes her inspiration from Junissa Kpaka, a teacher at her school who also happens to have a disability.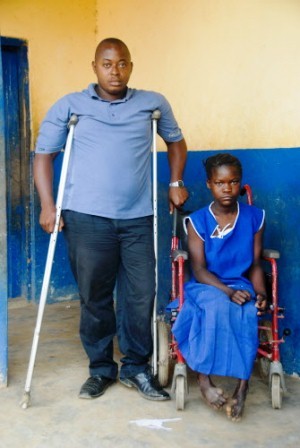 Yeama poses for a formal portrait with the teacher who inspires her.
"I know I can be like Mr. Kpaka, or even do better if I try," says Yeama. "I admire him so much. He struggled through school and today he is a teacher." Mr. Kpaka is equally inspired by his pupil.
I admire Yeama's determination and courage," he says. "I was just like her, but I never defeated myself, hoping that one day I would be somebody in society. Yeama can choose to be like me or even more."
Exclusion from education affects 98 per cent of children with disabilities worldwide. Many of these children are also hidden away due to stigma and shame.
Through the World Vision Gift Catalogue, you can help a child overseas who is touched by disability. Your gift will help provide them access to education, and other special needs resources. You'll also assist older people with disabilities by helping provide things like skills training, counseling and more.