The garden can be heaven for children. There's nothing more joyful than mucking about in the soil and saying "hi" to the worms. It's miraculous to see tiny green shoots poking up their heads, and that first tiny tomato on the vine.
My sons have sprouted up now, just like our garden. Although they're less interested in tending it these days, they've grown up surrounded by bright flowers, delicious fruits and nutritious vegetables. That's just life in southern Ontario.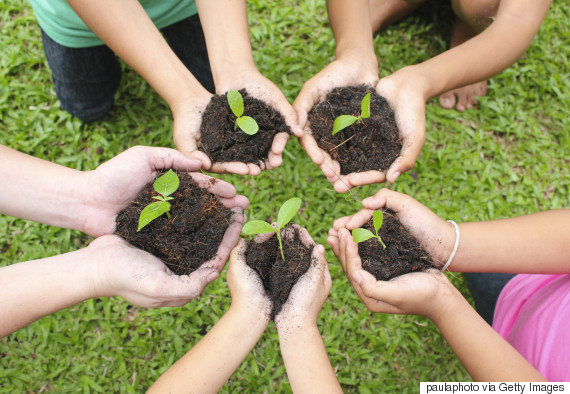 (Photo: Paulaphoto via Getty Images)
In my kids' minds, there's never any question that tulips, carrots and pumpkins will grow this spring and summer. If not in our backyard, then at the farmer's market just around the corner, straight from the countryside nearby.
The global flip-side
It's not so easy in countries ravaged by the El Nino weather phenomenon. Since there's nothing cheaper than growing food yourself, most rural families work a garden or field to produce enough for the year ahead.
When the rains don't come as usual, everything changes. Children must lug dead-weight water jugs over huge distances to keep their crops alive.
While my kids happily squirt each other with the hose, these children crouch in the dust and distribute tiny water rations to each precious plant in the garden. Then squint at the skies, searching and perhaps praying, for rain clouds.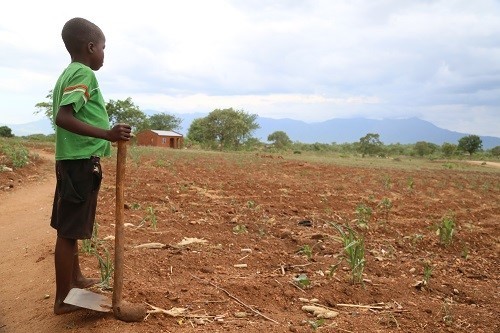 (Photo: World Vision)
When this picture was taken, 13-year-old Precious in Malawi was struggling to coax life from his family's maize field. It wasn't an easy job. El Nino doesn't care how hard he's worked or how high the stakes if this crop fails. It's brutal, heartless.
My own children would know what to do if our garden looked like this. They'd walk about 20 feet, pull out the hose, set up the sprinkler and turn on the tap. In a day or two, the plants would be revived once again.
Precious can't do this. Although the food from his patch is meant to last all year for his mother and four siblings, this garden will wither and die if the rains don't come.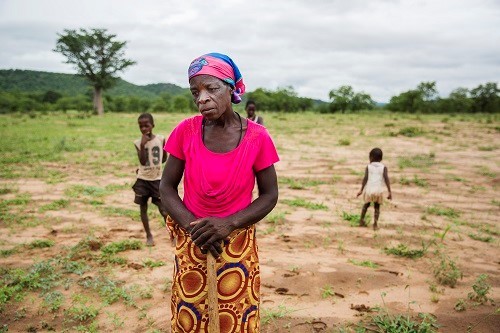 (Photo: World Vision)
When the seeds run out
Seeds are often as precious as the food itself, as Nelia in Zimbabwe knows too well. Drought creates a break in the usual patterns. It can bring dryness for weeks, then a sudden downpours that lead to flooding. If your seeds wash away, chances are you may not have a backup supply.
Last year, Nelia tried four times to bring a successful crop, even begging neighbours for extra seeds. When World Vision staff met her, she had run out of options. Emergency food relief was the only answer.
Giving growth this Easter
This Easter weekend, many Canadians will mark the occasion with symbols of rebirth. The egg, an ancient symbol of new life, has been associated with celebrations and festivals celebrating spring. Some give pots of flowers to enjoy on the table or plant outside.
For gardeners, this much-needed long weekend in early spring is a chance to dig into the garden, unwind the hose, perhaps spread some grass seeds.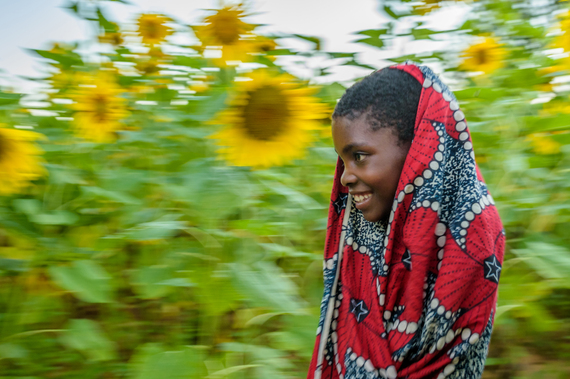 Seeds and fertilizer have made all the difference to Rosemary and her family in Zambia. They will use the oil for cooking and as a cash crop. (Photo: World Vision)
As you enjoy the rebirth of a Canadian spring, why not give the gift of renewal to a family overseas?
Instead of the usual bunny or lilies, consider giving one of these gifts in the name of a loved one:
Crop seeds for farmers
Families battling drought must often try repeatedly to make a crop. Extra seeds can make all the difference.
Agricultural packs to plant, tend and nurture
Seeds, animal feed, tools, fertilizers, pest control and training -- as well as emergency food for families in need -- meet many needs at once.
Fruit trees for health and life
Bananas, papayas, mangoes, oranges and more can provide a family with fresh fruit to eat and sell at market. And because ripe fruit is loaded with essential nutrients such as vitamins A and C, it boosts immune systems to protect children from deadly diseases like malaria, measles and pneumonia.
Emergency food relief
An emergency of the highest level has been declared by World Vision, as 22 million people face severe food shortage in Somalia, South Sudan, Kenya and Ethiopia.
Help restore the soil
Agriculture can take a real toll on the soil that supports life. To prevent desert expansion, the World Wildlife Fund works to preserve and restore ecosystems in danger of desertification.
Follow HuffPost Canada Blogs on Facebook
Also on HuffPost:
What A Drought Looks Like