Getty Images
In Canada, most teenage girls are busy going to school, making friends, dreaming of the future. In the world's poorest countries, one in every nine girls is married by the age of 15. A new World Vision report explores the devastation this can cause in a young girl's life.
My favorite wedding photo was snapped just as my husband and I were leaving the church. A bus was driving by, and all the passengers waved and cheered. The couple pictured on the church steps is relaxed, confident, laughing at the fun of it all.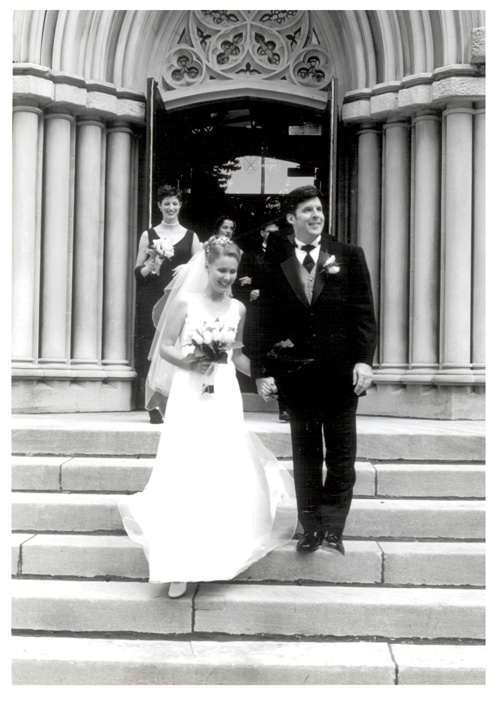 Like most women in Canada, Debbie Wolfe made her own decisions about marriage. Every year, thousands of girls in the world's poorest countries are forced to get married against their will.
Perhaps what I love most about this snapshot with my husband is that I'm leading him by the hand. I had been uncertain about marriage in my early twenties, but by 30, I felt ready. By that point in my life, I had:
survived two other long-term relationships
completed two university degrees, with my fair share of failures
travelled on three continents
lived in shabby apartments in five Canadian cities
held down 13 different jobs, culminating in the job of my dreams
The cruelest contrast
Every Canadian woman's story is different. But by and large, we all have the freedom to choose if and when we will get married, and to whom. Once wed, we are partners in shaping how married life will unfold, sharing decisions about work, money, sex and parenthood. In a healthy union, women continue to enjoy the love and support of their friends and family.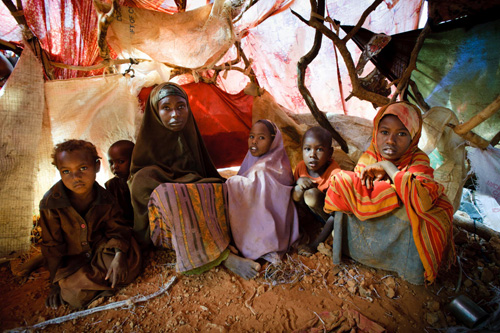 With many children to feed and no source of income, parents in a crisis like war or famine may consider selling their eldest daughter into marriage.
Contrast my matrimonial scenario with that of 12-year-old Sheereen in Lebanon. She and her family are refugees from war-torn Syria. Desperately worried about how to support Sheereen and her siblings, her mother is considering selling the girl into marriage.
"Sheereen would be our survival," she explained. Sheereen's hand in marriage would bring enough money to keep everyone sheltered, fed and clothed for a little longer. The mother explains that there are no other options.
When asked how she felt about being married, beautiful Sheereen covered her face and sat in silence. There were no words.
"Do you ever dream about your future?" my World Vision colleague asked her. Sheereen's mother answered for her. "She doesn't answer you because no one has ever asked her before."
Goodbye girlhood
Sheereen could be about to join thousands of girls in who are sold into marriage each year. She is particularly vulnerable because her home community has been rocked by conflict, and her family has lost every other means of making a living.
A report released last week by World Vision, Untying the Knot: Exploring Early Marriage in Fragile States, highlights the connection between disasters like this and early marriage. It doesn't have to be a civil war; the crisis could be a flood, an earthquake or a drought. Families are often forced to migrate, separating girls from the school teachers, community leaders or friends who might normally intervene to prevent an early marriage.
The incidence is even higher in regions that were poor to begin with. In the world's least developed countries, one in every nine girls is married by the time she's 15 years old. And note that the statistic reads "by age 15." My World Vision colleagues have met eight-year-old girls who are already wed.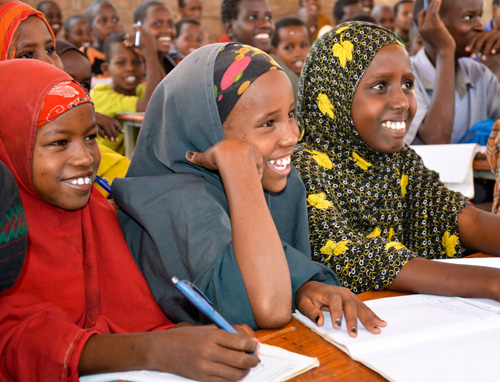 This classroom in an Ethiopian refugee camp allows girls to continue with their education and keep their options for the future open - even during a turbulent time in their lives.
The sad truth
There are very few happy endings to these wedding stories. In most cases, a girl who marries may no longer attend school, play with her friends, or consider any kind of work outside the home. She is property, and normally expected to work from dawn to dark in her role as wife.
"The sad truth is that girls who marry young can be exposed to greater risks of violence, malnutrition and devastating health complications," says Wendy Therrien, policy director for World Vision's Policy and Advocacy team. Here's some of what a girl in this situation can readily expect:
severe sexual and reproductive health complications, as young bodies barely out of puberty are forced repeatedly into acts meant for women
an increase in child mortality as babies are born to girls barely big enough to carry them to term. This can lead to premature labour and childbirth complications, which often result in the death of the newborn baby.
domestic violence, as a girl who was purchased is often viewed as property unworthy of respect or kindness
social isolation, as the girl is often completely separated from her family and friends and forced to work in the husband's home
extreme poverty, as a woman who left school in her girlhood is often unable to work outside the home and contribute to family income
Girls should be girls
World Vision's report shines a light on the links between conflicts or natural disasters and child marriage. We're calling on the Canadian government to help protect these girls from an early age through a two-pronged approach focusing on protection and health.
1) Protection: To help prevent child marriage, we're asking the Canadian government to make child protection programs a priority. Girls need to have:
birth certificates, for proof of their actual ages
education, so they know their rights and have the knowledge and skills for a better future
vocational training, so marriage isn't the only way they can contribute to family income
2) Health: Sadly, child marriage is a reality today and with it, dire health consequences for both young brides and their children. We call on the Canadian government to continue to act as a global leader, helping meet the needs of the world's most vulnerable people. World Vision is asking the government to renew its commitment to the healthcare of mothers, newborns and children. Part of the 2010 Canadian-led Muskoka Initiative, this funding, is currently due to expire in 2015. The job is not yet done.
To learn more, please visit worldvision.ca
International Women's Day 2013