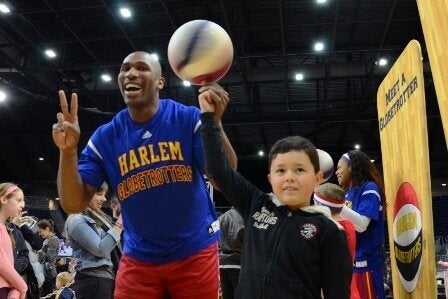 The Harlem Globetrotters' 'Thunder' Law couldn't wait to start meeting kids Sunday, when the legendary team arrived at Toronto's Ricoh Coliseum on their 90th anniversary tour. All photos by World Vision
They began in 1926 as a basketball team called the Savoy Big Five. Ninety years later, the beloved Harlem Globetrotters are dunking, spinning and bouncing their way into the hearts of a whole new generation of Canadian children.
Many things have changed in the world since the early days. Basketball greats like Wilt Chamberlain and Meadowlark Lemon, who delighted thousands of families during their years with the Globetrotters, can now be enjoyed only in historical footage.
The world has evolved since the team performed its first show. The Globetrotters have toured the planet, breaking cultural and social barriers along with basketball records. The team played in the Soviet Union during the Cold War, at a time when friendly visits between the two countries were rare. In 1950, Globetrotter Nathaniel 'Sweetwater' Clifton became the first African-American player to sign an NBA contract.
But one thing remains the same, even after nearly a century of mesmerizing basketball and joy-inducing antics. It's rare to spot a member Harlem Globetrotter who isn't connecting with a child.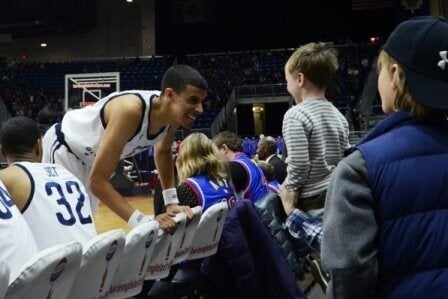 I had heard that the team offered phenomenal family entertainment -- but this went way beyond. The basketball players I met at Toronto's Ricoh Coliseum Sunday afternoon were absolutely nuts for kids. And even children who were hesitant when they arrived at the Coliseum simply melted when a player came near.
It was great fun to see 6'3" 'Thunder' Law drop to the ground to hang with even the tiniest kids. It was as though he were saying:
"Yes, I'm big, super big. But I have no strength, no power, and no reason to smile without you. And I'm so happy you came to see our game today. I will do everything I can to help you feel safe here today, and put on the show of a lifetime!"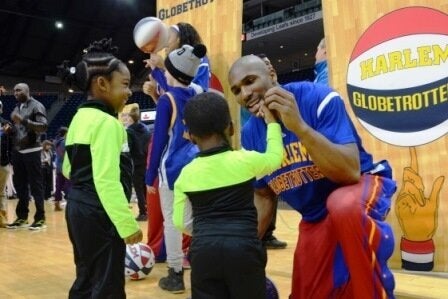 One Globetrotter explained that the team's love of smiling isn't something they switch on at game time, when the seats are filled with fans.
"When I was younger, people would criticize me for smiling too much," said 'Zeus' McClurkin. "Everyone told me that for pro basketball, you need a killer instinct. 'All you want to do is smile and dunk!' they'd say."
"But I love smiling, and I love it when people around me are smiling. Especially the children. And that's why I wanted to play for the Globetrotters."
When I spoke with Zeus on the phone last week, the Globetrotters were on their way to visit the local children's hospital in Baton Rouge, Louisiana, as part of their stop in the area. The team's 'Smile Patrol' visits more than 200 children's hospitals annually, something they love to do.
An enduring part of childhood
What lasting difference does it make, when you take the time to see eye-to-eye with a child? At Sunday's Toronto game, some of the parents and grandparents I spoke to describe the Harlem Globetrotters as a significant part of their childhoods.
"They were something safe, at a time when you didn't always understand all the crazy things going on in the world," said June Brewer of Toronto. "I knew I could count on them to always make me smile."
Many of the adult fans yesterday were wide-eyed Globetrotters fans themselves as children, back in the 60s and 70s. As kids, they had fallen head-over-heels for the sport of basketball after as they watched the team in action. It was beautiful to see them pass this on to the children in their lives.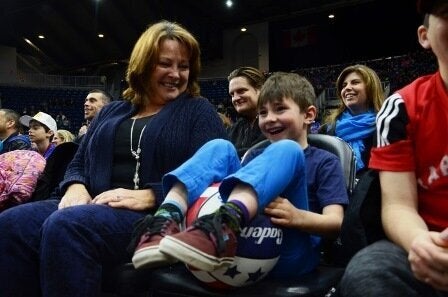 My husband, David was one of these grown-up kids. For him, meeting the Globetrotters Sunday was "a dream come true". David never had a chance to attend their games as a child, but loved watching the team on television. Even over the airwaves, the players had a powerful effect on a little boy who loved to bounce a ball. And that love stuck with him into his teens, as many other interests and temptations beckoned.
"During March Break of 1975, my friends and I played basketball for eight straight days without stopping," Dave remembers. "We slept in shifts. My parents thought I was crazy, but still made sure I had extra dry socks."
"Not only did we make into the Guinness Book of World Records, it was some of the most fun I've ever had."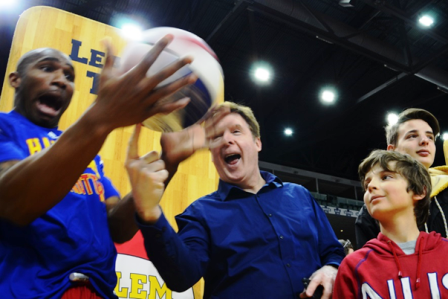 My husband David fell in love with the Harlem Globetrotters as a child. I could see that child come out again at Sunday's game in Toronto.
It's as though the Harlem Globetrotters are most themselves when hanging out with kids. Where else can elite players throw water at each other, create long, dramatic arguments on the court, sit down amongst the audience (during the game!) and take their own selfies on whichever phone is handy?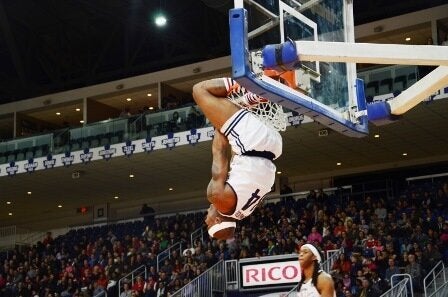 And where else in professional sports to you get to hang out like this, while the clock is ticking?
Helping kids connect with kids
Not only do the Globetrotters connect with the children who see their games, they help increase support for children in need all around the world.
As celebrity ambassadors for World Vision, they shared the importance of helping the world's children at several points during Sunday's game. At half-time, 'Sweet J' Ekworomadu took centre court to tell about her trip with World Vision to the Democratic Republic of the Congo, and the difference she'd seen in children's lives as a result.
Her words resonated with dozens of children at the game, who crowded around World Vision's sponsorship table to read the picture folders of children available for sponsorship.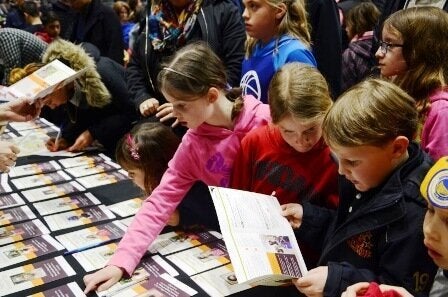 "One little girl came back about five times," said World Vision volunteer Amanda Cupido. "She was full of questions, and read every folder on the table before deciding on a child for her family to sponsor."
"That's two more children whose lives will be different because of this amazing basketball team -- a child here in Canada, and another one overseas."
Follow HuffPost Canada Blogs on Facebook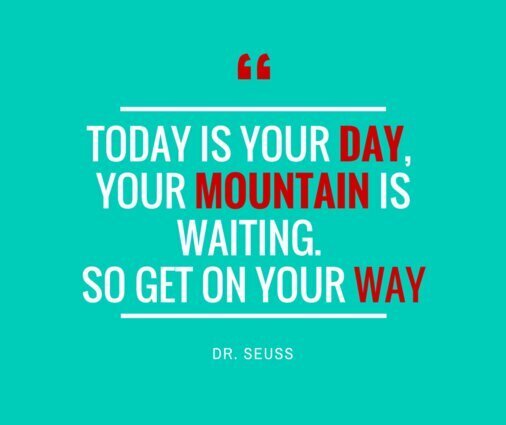 21 Dr. Seuss Quotes Your Kids Need To Get Through Life