On July 30, the International Day of Friendship celebrates unlikely friendships with the power to change the world. Here's a glimpse at how one of these might work.
The Canadian visitor sat on a wooden box, in a filthy slum in India. It was Drew Scott, well known by millions of television viewers worldwide as one of the Property Brothers. Beside Drew perched a former child labourer who had never heard of him before in her life.
Handsome and confident, Drew and his twin brother and TV co-host Jonathan Scott stroll into millions of living rooms each week. They prove that, with the right know-how, you can purchase and renovate your dream home without breaking the budget.
But to 10-year-old Aarti in India, Drew was nothing more than a kind man who was willing to chat. And Aarti, grinning on her stool, was going to enjoy every bit of this conversation.
"How old are you?" asked Drew, through a translator.
"Ten years old," shared Aarti, with pride.
"Well, I'm 11," responded a smiling Drew.
A pause. Then Aarti's face lit up with the sheer fun of it. "Ma'am, he doesn't look like he's 11 years old!" she laughed, to the teacher who was helping translate.
It was a spark, just a spark. But Aarti went on to tell about her former life as a street beggar and rag picker, and her daily playtime on a mountain of stinking garbage. Then she talked about her new life, going to school at an informal learning centre World Vision set up in her neighbourhood.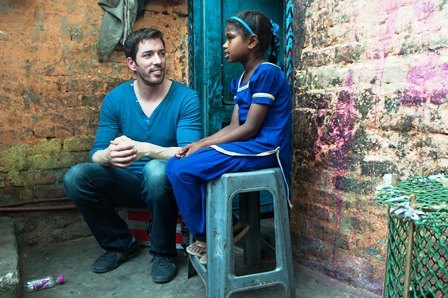 Aarti shared, Drew listened intently. Despite their many differences, a new friendship had begun.
Perhaps it's the kind of connection the United Nations had in mind, when they proclaimed the first International Day of Friendship on July 30, 2011. It was inspired by the idea that friendship between peoples, countries, cultures and individuals can build bridges. Moreover, it can also lay the groundwork for peace efforts between nations.
Watching the video recording of Aarti's conversation with Drew, it was easy to see how this could work. She talked about all the changes in her life as a result of education -- and her dreams of becoming a teacher. It was clear that her story had changed this Canadian superstar.
"It touched the deepest depths of my heart talking with her," Drew shared later. "Because she has a future now. She wants to be a teacher. She wants to give to other children what she never had."
Aarti's empowerment is exactly the kind of thing UN leaders had in mind, when they said "yes" to the idea of an International Day of Friendship. The date places particular emphasis on involving young people as future leaders. The hope is that children like Aarti will play a role in drawing cultures together, promoting international understanding and respect for our amazing human diversity.
Is such a thing really possible? Just ask the Property Brothers Drew and Jonathan Scott, who, since returning from their trip to India this spring, have stepped up to become World Vision's global ambassadors to raise awareness about child labour and trafficking.
"We made lifelong friends while we were in India with World Vision," they shared, after returning. "We admire our new friends' optimism and perseverance. We can't wait to see the amazing achievements that lie ahead of these children!"