On International Day of the Girl Child, I think about a little girl I used to know. She was the daughter I imagined I would have.
I said goodbye to that girl on a cold, February afternoon, in an ultrasound lab in downtown Toronto. I learned that the child growing inside me was my second, beautiful son. I would never have a daughter.
Parenting boys has been more wonderful than I ever could have imagined. I've learned that I grossly underestimated the depth and sensitivity that's possible in any human being -- regardless of gender. I wouldn't change anything.
But I will always have a sacred place in my heart for girls. My heart will always break when I see a girl exploited or undervalued, just because she's female. Or leap with joy when she has a chance to realize her full potential. I lose sleep when she's not safe and cared for, and am constantly searching for ways to make it better.
So in many ways, I have daughters all over the world. And in my travels with World Vision, I've learned that there are many ways to play a special role in the life of a girl child. I've seen how your gifts to girls everywhere can make a difference in their lives.
On the International Day of the Girl Child, here are some of the things I would love to tell every girl in the world, if I could.
"You were born a girl. You were born special." The daughter I imagined always had a clear sense of her identity. I think of her when I see girls like Anny in Jordan, a proud member of her school soccer team. "It keeps me healthy, and I get to practice my skills and become a better player," she says.

"You are bursting with gifts and potential." Sonali is the daughter of a sex worker in Bangladesh. But she could so often be seen at this World Vision drop-in learning centre leading the group with her smiles and quick, ready answers. It's as though she's saying "I'm ready to take on the world." I wish I could tell her I agree.

"Your circumstances are not your identity." Everywhere I've travelled, I've seen girls forced into the worst kinds of labour just to put food on the table. In Pakistan, Tayyaba works the same hours as a Toronto CEO, picking through garbage for bits of metal to sell to the scrap collector. I would love to tell Tayyaba that in her, I see someone worthy of the best the world has to offer -- not the worst.

"I am awed by your courage and determination." Jouri had a houseful of treasures to choose from when quickly packing to flee the bombing in Syria three years ago. She picked her school report card. Now in Lebanon, Jouri has continued to learn at World Vision accelerated learning centres. I want to say "Keep going. I believe in you."

"You may be different than the boys you know. But you are capable of great things." In Ethiopia, fourteen-year-old Miskia (pink head scarf) studies with her friend. Almost half of the girls in this community leave school once they hit puberty. I was deep-down glad to read that World Vision had included a "pad room" for girls who are menstruating, with its new latrines, so girls don't have to stop learning just because they are girls.

"No matter how busy I may get, I will always try to help." In Mongolia, seven-year-old Erdenesurd has a new, strong home, thanks to donors around the world who donated to the World Vision Gift Catalogue. I may never tuck her into bed, but I can sleep more peacefully knowing she is safe and warm tonight.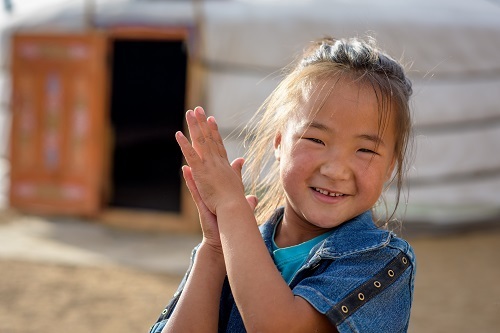 As you think of the world's girls today, think about what you might like to say to them. You may never meet children like the ones I've described, not in person anyway. But there are so many ways to send your love. Visiting a web site like worldvision.ca is a great start.
All photos by World Vision.
Follow HuffPost Canada Blogs on Facebook
Also on HuffPost:
Photos Of Girls Going To School Around The World