We've all heard the real estate mantra: "Location, location, location." It means that two identical homes can have completely different value, depending on where they're situated. Location is everything.
Millions of the world's poorest children know this all too well -- especially when natural disaster strikes. When the ground shakes or a hurricane blows in, living in the 'wrong' location can turn a child's life upside down, bringing danger, increased hardship, or even death.
These were the findings of a UN report released last month. The authors noted that families living in poverty almost always occupy the least desirable land in a given region, areas vulnerable to climate hazards like mud slides or flooding.
The dangers of living 'high'
Ten year-old Enivens can attest to the dangers of living in an unfortunate spot. His neighbourhood, perched on a hillside outside of Port au Prince, was ripped apart when Hurricane Matthew tore through the country last month.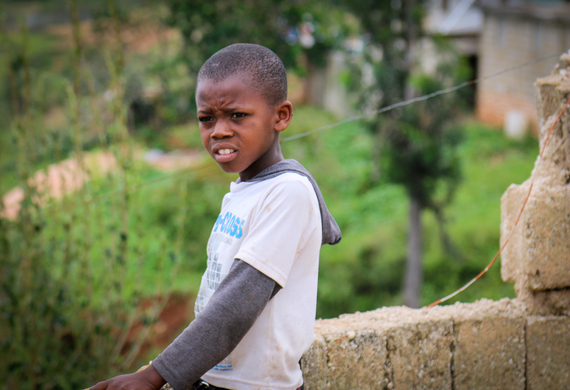 High on a hilltop, Enivens' home was exposed to the worst of Hurricane Matthews ruthless winds. Photo: World Vision
"Hurricane Matthew blew away my home," said Enivens. "It has killed pigs and other animals. It also destroyed my grandfather's house. It has ravaged the gardens. It has destroyed books and my toys."
Hearing this, it struck me for the first time that without walls and a roof, a child's entire life can be blown away. A house of this construction would have likely taken a beating anywhere that Matthew was raging. But there's no question that it happens more often in places like Haiti.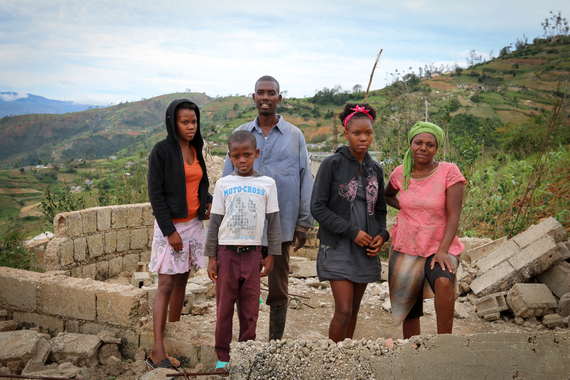 A home is the foundation of everything else. Now Enivens' family is focused on survival, rather than living life to its fullest. Photo: World Vision
Families like Enivens' are vulnerable to natural disasters in several ways. There's no question poverty plays a huge part, as the UN report also notes. Enivens' neighbourhood is vulnerable to deforestation and erosion, as families burn the vegetation for firewood. Denuded areas are far more prone to flooding and mudslides.
Geography also plays a part. Violent hurricanes tend to favour the tropics, or the Western Pacific Ocean. In contrast to the few dozen people whose lives Matthew claimed in the U.S.A., more than 1,000 people died in tiny Haiti.
Yet even for countries in the direct path of a deadly storm, some locations are definitely safer than others, and some structures are far better built. But sadly, the poor can't afford to buy this kind of security.
The dangers of living 'low'
On the other side of the world from Enivens, a small girl named Winnie has lived through similar turmoil. Her home was torn apart three years ago this week, when Super Typhoon Haiyan, known locally as Yolanda, ripped up entire communities in the Philippines.
It was one of the strongest storms recorded on the planet, and children like three-year-old Winnie were at its mercy.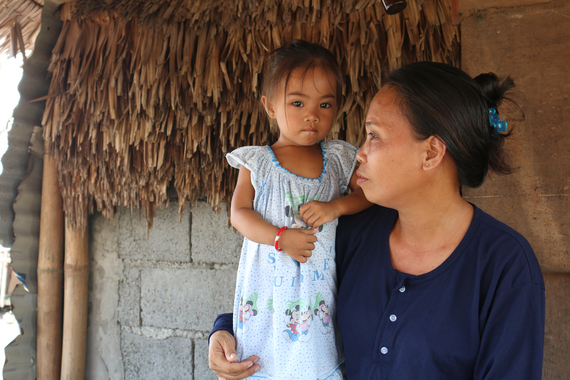 Winnie and her mother, Rosemarie, remember that dreadful day three years ago, when Typhoon Haiyan washed away their home. Photo: World Vision
Winnie's house was located right at sea level, just metres from the coastline. It may sound like heaven to many inland Canadians. But in a country that's regularly pummeled by typhoons, an ocean view can be deadly. Tiny houses, erected with 'found' materials, stand little chance against powerful flood waters and crushing waves.
As with Enivens' parents, Winnie's mother could only afford to live in one of her country's most dangerous locations. She was raising two children on her own, and needed to put a roof over their heads -- period.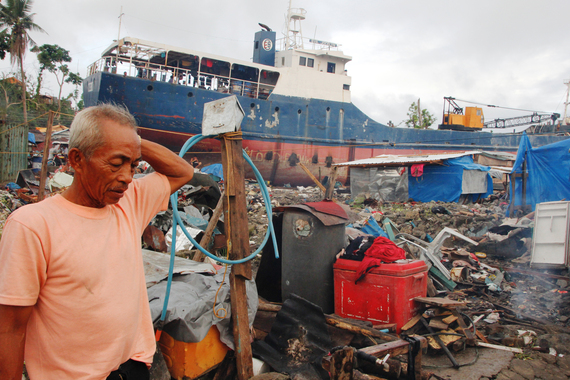 Ships were washed ashore and entire buildings devastated by the wrath of Typhoon Haiyan, three years ago today. Photo: World Vision
Strength to face the storms
In the three years since Typhoon Haiyan, World Vision has been busily working to help families rebuild. There's no doubt that many still live in areas vulnerable to the wrath of natural disasters. But we're helping families become more resilient, thanks in part to donations from Canadians.
"We've provided families with sturdy materials, careful training, and help when needed, to rebuild homes stronger and safer," says Tineka Levy, of World Vision Canada's Humanitarian and Emergency Affairs team.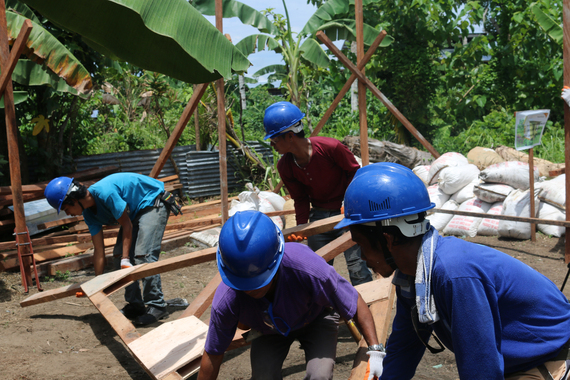 Carpenters -- many of whom are typhoon survivors themselves -- rebuilt Winnie's home shortly after Typhoon Haiyan. Photo: World Vision
Canadians' generosity has helped anchor families like Winnie's against future storms in the Philippines. Our government pitched in, helping to provide materials and training to more than 2,000 families who had lost their homes in the disaster.
The most vulnerable families, like Winnie's, received help with the rebuilding. World Vision trained carpenters, who also trained community members, on 'build-back-better' techniques, fortifying homes to withstand future disasters.
Strong materials, strong futures
The carpenters rebuilt homes like Winnie's using sturdy materials, like water-repellent lumber and thicker iron sheeting. Design features included elevation to reduce flooding, as well as cross-bracing, sturdy flooring, and 'hurricane straps' to secure the roof in high winds.
As with survivors of Hurricane Matthew in Haiti, children need more than a stronger roof over their heads. In all natural disasters, World Vision responds with things like safe drinking water and proper sanitation, to reduce the spread of diseases like cholera.
"And as with the carpenters rebuilding Winnie's home, Canadians give people overseas a chance to learn new vocations, through our accredited training programs," says World Vision Canada's Tineka Levy.
"That's a skill they will always have -- no matter what storms life sends their way."
Learn how you can help families in Haiti, like Enivens', to rebuild their lives.
Follow HuffPost Canada Blogs on Facebook
Also on HuffPost:
It Is No Wonder Haitians Are Anxious