child labour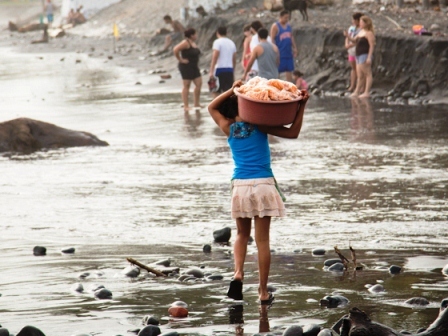 Canadians travelling to warm spots this March Break may be approached by child labourers selling trinkets or souvenirs. In El Salvador, this young girl carries heavy basket of water bottles to peddle to tourists.
I had a moment of truth last year, when travelling in Malaysia with my kids. Buying ferry tickets one afternoon, I was asked to produce student cards for my sons. The cashier wanted proof that they were still in school and not working full-time. I explained that the children were just eight and 12, assuming that this would settle the matter. But the cashier shook his head impatiently, asking again for proof that the kids weren't labourers. In this part of the world, it was a valid question.
Waiting for the ferry, I looked up and down the street of the bustling coastal town. Within minutes, I spotted several children begging, selling souvenirs, or offering tourists help with their luggage. Many ignored the children, while others gave them a few coins. None of the children was accompanied by a parent or other adult.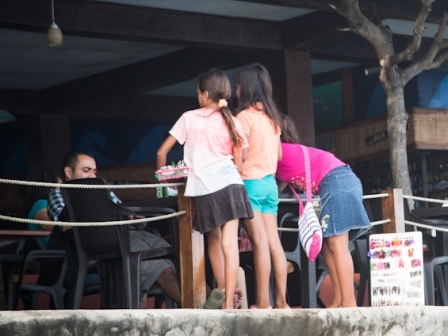 These girls earn a living frequenting bars in El Salvador with trinkets, coming right inside to approach tourists. Children in this situation often work alone late at night, leaving them vulnerable to abuse.
The children in the background
As many Canadians heading south for March Break will discover, our vacation paradises can be anything but heavenly for the children who live there year round. Children in developing countries are often forced to drop out of school and go to work, just to keep themselves and their families alive. While some labour on farms or in factories, others are drawn to tourist spots like the ones you may visit over the next few weeks.
Children working in tourist areas might earn a living through street begging, selling souvenirs and prostitution. They spend long days, and often nights, wandering streets, beaches, shopping and bar districts. The fact that they're unaccompanied makes them highly vulnerable to exploitation by foreigners. Some are even targeted by travelling sex offenders.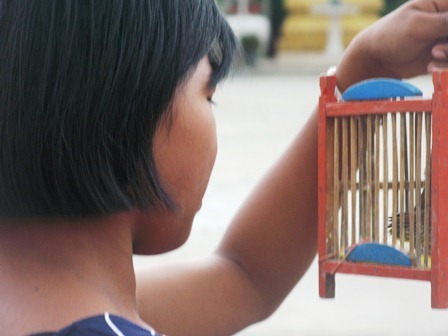 A young girl in Thailand sells caged birds to tourists who want to follow the local custom of releasing their sins along with the birds. She says she is often approached by men as she works alone on the beach.
So what should Canadians do, if they encounter a child who seems to be in danger? Many of us are so concerned about misreading a situation, or imposing our own Canadian views on another way of life, that we do nothing. We may comment about how sad the situation is, and then move along.
Five travel tips to "keep kids safe":
Find alternatives to giving money to children begging or selling trinkets. Giving money or gifts directly to children only makes the problem worse, by keeping them on the streets, out of school or vulnerable to abuse. It's better to donate to reputable local charities in the country you're visiting, those which work directly with needy families and children at risk.
Your own kids may express concern for children who are working. Listen to their thoughts, and don't dismiss the situation as "just the way of life here." Explain that all children would prefer to play and go to school, but they don't have that choice. Share what Canadians can do to help.
Choose hotels and tour companies that implement child protection standards such as The Code, an initiative driven by the tourism industry to fight sexual exploitation of children. Also, if you see a business where a child is being exploited -- for example, working long hours in a hotel -- speak up and take your business elsewhere.
Report any suspected sexual exploitation of children immediately to the relevant authorities or to international agencies. If you see a Canadian attempting to sexually exploit a child, report it through cybertip.ca
Ask permission before taking photos of children. If in doubt, don't take the photo. Also, when you take photos make sure that the content is appropriate. Don't take photos of children with little clothing on. Often as a result of poverty, children in developing countries may be in public without adequate clothing.
To learn more about the dangers and abuses faced by working children and learn more ways to help, visit World Vision's No Child for Sale site.
MORE ON HUFFPOST: