The day I became a mom, I had plenty of company at the hospital. There were lots of visitors, two bouquets of flowers, and several blue teddy bears to welcome our newborn son. But that night, everyone went home. I was alone with my new baby.
My little boy was up most of the night, voraciously hungry. Hour after hour, we struggled together to learn the befuddling art of breastfeeding. As I saw the sun rise over the city the next morning, I realized that I wouldn't be watching much TV while in hospital. And perhaps not for many years to come.
Fourteen years later, I still don't get much of my own television time. Don't get me wrong, I do hang out in front of the screen. But it's mainly when joining my baby boy -- now a lanky teenager with a deep voice -- to watch British Premiere League soccer or The Walking Dead. I've never played sports, and don't have a particular penchant for zombies. But I love being with Derrick.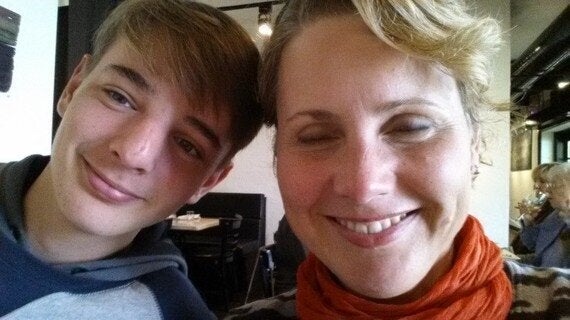 Derrick is still trying to teach me how to take a selfie without closing my eyes. Photo/Derrick Price
I've grown to understand why my mother so rarely wore makeup, or shopped for new clothes for herself. I get why she pretended not to like ice cream, so the precious tub would last longer for us kids when money was very tight. And I couldn't have told you what her favorite TV show was.
It wasn't that my mother had no identity of her own -- she absolutely did, as all those old photos of her teenage and life-before-kids photos proved. She was a connoisseur of classical music, and traveled a million miles in the many books she read. But she always turned down the music and closed the book to connect with my brother and me.
Now that we're all a little older, I sometimes feel time is slipping away. My mother still seems so young to me, as she's still so incredibly active. And looking at her, I don't see the white hair and wrinkles she sometimes complains about. I see the face that smiled down on me as a little girl.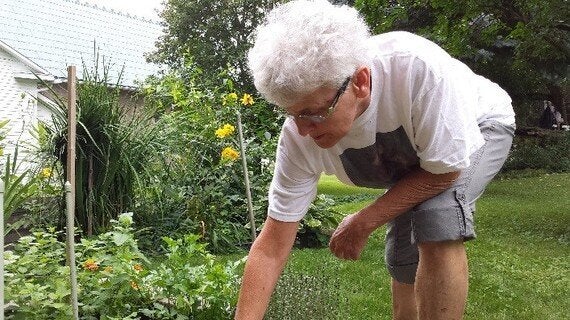 Growing up, I could always find my mom in the garden if I needed to talk. That's never changed. She's still willing to drop her spade and listen. Photo/Debbie Wolfe
But the calendar doesn't lie, and my mom is now 72. Have I taken enough time to prioritize her -- to really put her first? Mother's Day is this Sunday. In amongst all the details of working, living, and being a mother myself, I'm determined to take time to think about what my mother would really like this year.
Beyond flowers and chocolate
Thinking about my mother's interests -- and about the memories we share together -- has given me a lot of inspiration for this Mother's Day. Here are a few ideas I've come up with, which I hope can be useful as you think of your own mom:
Write something to show you care. In my case, it was this blog. I've never written much more in my Mother's Day cards than the usual "Thanks for being the best mother in the world -- I love you." You don't have to post your message online, but perhaps consider a letter or email. Even just a few sentences can make all the difference.
Invite her somewhere she would love -- any time. My mother's roots are British, and she loves to sing, so I picked up some tickets to a "Last Night of the Proms" concert for last week. We had the time of our lives! Mom would have been just as happy at a garden tour, a hockey game, or a play. And for her, the date wasn't important. We loved just being together.
Consider a slightly 'indulgent' gift. Pick something your mom would dearly love, but would never buy for herself. My mom was born in Africa, but hasn't had a chance to return since 1974. I've got my eye on a beautiful, colourful tote bag made by women in Kenya, in the World Vision Gift Catalogue, and some bracelets from Uganda too.
Make Mom a special meal. How many thousands of meals did your mother make for you? If you live close to your mother, why not make her lunch or dinner, or take her for a picnic? It's your chance to thank her for helping build you into the strong person you are today.
Honour another mother in her name. Every mother wants to know she's made a difference -- in your life and in the world. Consider giving a gift in your mom's name to a mother in need overseas, perhaps with World Vision's kits for mothers caring for babies. If your own mom ever struggled to make ends meet, she will likely understand how such help would be appreciated.
Whatever you do, don't leave your decision until the last minute. Your mom made you top priority for many years. Take a few moments to do the same for her today.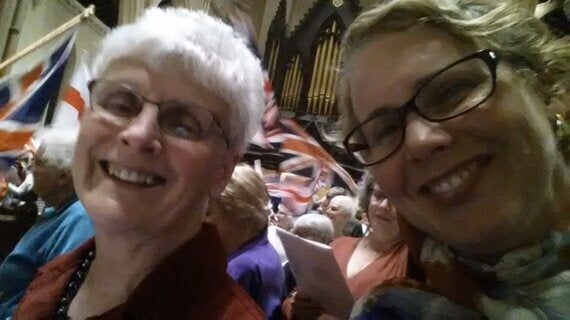 My Mom and I had a blast at the "Last Night of the Proms" concert, my early Mother's Day gift for her. Photo/Debbie Wolfe
Follow HuffPost Canada Blogs on Facebook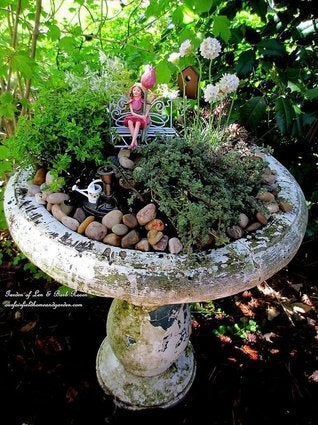 DIY Gifts For Mother's Day