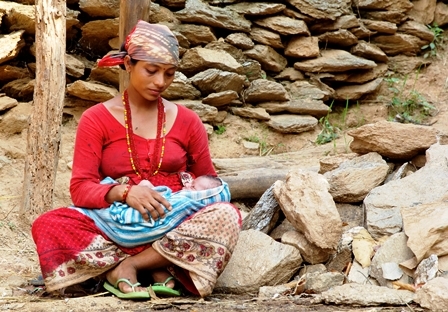 Ganga gave birth to her son after labouring on a mountaintop for two days, in full view of her fellow villagers.
"Childbirth can be brutal when everything is perfect -- never mind when the world is falling down around you."
The words came from my colleague Genevieve, as we read an update this week from our World Vision staff in Nepal. In the aftermath of the recent earthquakes, nothing is perfect for Nepali women in childbirth. Gen and I hadn't stopped to think about what that might look like, but this dispatch couldn't have made things more clear.
High atop a mountain, several hours' drive from the nearest tiny village, a young mother named Ganga went into labour. It was just days after the massive April 25 earthquake, and thousands of Nepali families were afraid to go inside their homes for fear the buildings would collapse in an aftershock. Ganga laboured publicly for two full days.
"It was only after several engineers came to visit our home to make an assessment that they saw what was happening," she says. The engineers called for an ambulance, but there was no way the vehicle could climb to such a remote spot, especially with roads blocked by landslides.
So after two days in labour, weak with pain and exhaustion, Ganga would need to endure the unthinkable -- being bumped on a stretcher all the way down the mountain to reach the ambulance.
"I thought I was going to die from the pain," she says.
Nothing like childbirth in Canada
I have never been in labour myself, as both of my children had to be delivered early by C-section. But Genevieve and other moms have given me some sense of what it's like. They say that there's no pain like it, and no fear when you're uncertain how things will turn out.
Although Gen was surprised to find she had gone into labour three weeks early she was quickly assigned a comfortable delivery suite -- with a bed, a couch and her own private washroom. There was nowhere she needed to travel but up and down the hospital hallway, and even then, only if it helped to walk a little. There were medical professionals, state-of-the-art equipment like heart monitors, and best of all -- an epidural.
Ganga didn't have any of these things. She laboured in full view of all passersby, with no expectation of privacy once she began trying to push the baby out. This is a challenge that many Nepali women have shared in past weeks as they've struggled to give birth in crowded tents.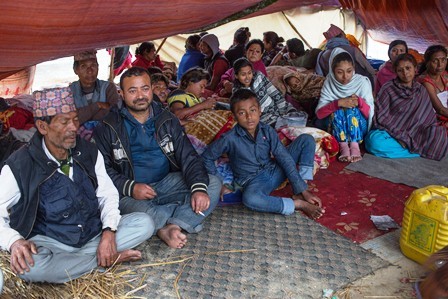 World Vision is also receiving word about women in Nepal giving birth to stillborn babies and experiencing miscarriages following the earthquake. Up to 90 per cent of rural health posts -- like the one Ganga eventually reached -- have been affected, and the remaining services are overwhelmed by other needs.
A new life begins
Thankfully, this story ends well. Ganga's stretcher eventually reached the ambulance. She was driven down bumpy roads to the tiny village of Sindhuli, where doctors and nurses at the health post helped deliver her baby boy. But it was some time before Ganga could dare to hope that her child would survive.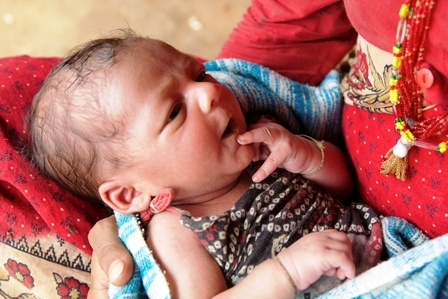 Ganga's baby boy is alive and well, after being delivered by doctors and nurses in a village health post.
"He didn't cry for three hours -- they thought he wasn't alive," she says. "Finally, he cried, and I was able to name him Vision after the role that World Vision played." My World Vision Nepal colleagues provided Ganga and her children her with emergency shelter and other supplies, carrying everything up the mountain when she returned home.
While it's a blessing to know that World Vision was able to help Ganga, we're extremely concerned about thousands of other Nepali moms and babies. Pregnant women, newborns and mothers who are breastfeeding are particularly vulnerable. They're in emotional distress, and many have lost homes and loved ones. Nutritious food is scarce. Many are living out in the open, at risk of illness or infection.
Helping moms and babies in Nepal
You can help mothers and children in Nepal by donating to World Vision or one of the other charities working on the ground there. If you feel inclined, please pray for them, especially with the onset of monsoon season this week. Even now, many families continue to live in fear of another earthquake.
"I'm too worried to take my son into the crumbling house, so we're still sleeping under the tarp," says Ganga. "Of course I'm terrified. Every night, while the children are asleep, I stay awake fearing another earthquake, and just hoping they'll be okay."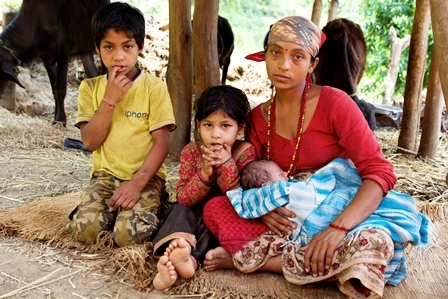 With monsoon season beginning, Ganga and her three children are sleeping under a tarpaulin.
Learn more about World Vision's Nepal emergency response
Portions of this article was originally published in Mamamia and was republished with their permission.
MORE ON HUFFPOST:
Nepal Earthquake, May 12, 2015