Just when it seemed things couldn't get any worse.
Six months after the Nepal earthquake, the country's people have endured realities most Canadians can't even picture. Try to imagine losing family members, your house and your business all at once. Now think of hundreds of thousands of your fellow citizens in the same situation. Top this off with weeks of drenching monsoon rains, and you've got a situation almost too desperate to consider.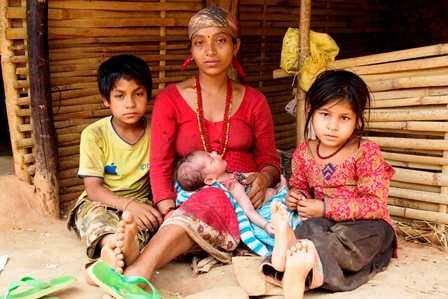 Winter is closing in on Ganga and her children and many thousands of other Nepali families, who live in remote, mountain villages. All photos from World Vision
But in the last month, there's been a new development: fuel shortages. The lack of gas has forced thousands to line up from morning to night just to buy a few litres of fuel. For many, it's not nearly enough to run a business or commute to a job.
If gas shortages have crippled city centres, they've instilled immense fear in families living in Nepal's remote mountain regions. Fear of facing a long, cold winter without critical supplies. This week, Time magazine's Kathmandu correspondent reported that empty gas tanks mean vital goods can't reach the far-flung the mountain villages. It's something that we at World Vision know all too well. The urgency increases every day as the winter snows approach, cutting off remote communities altogether.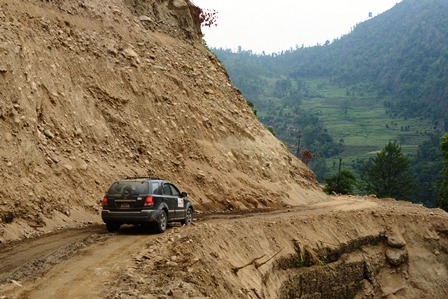 Before the fuel shortage, aid agencies could reach most remote mountain communities by van. "But it has become very costly now, and sometimes even if we wish to purchase the fuel it is just not available," says World Vision Nepal's Sally Tirtadihardja.
"Right now, we have firewood and maybe some clothes," Ramkaji Thami of Suspa village told the Time reporter, from his mountain home nearly two kiloemtres above sea level. "I thought I could open a livestock shop, but with the petrol shortage and the price of transport, it's too much now."
I wondered with Ramkaji was going to do instead to earn money this winter. Or how he'd be supporting his children.
The Time article gives a sense of the political situation which has led to soaring fuel prices. But it also explores the strain this has placed on aid agencies, as they race to reach those in greatest need before the snows fly.
"There's a chill in the air in Kathmandu," says Sally Tirtadihardja of World Vision Nepal. "Many of the children we serve live at a much higher altitude, in remote, mountain areas. We need to help them get through the winter months."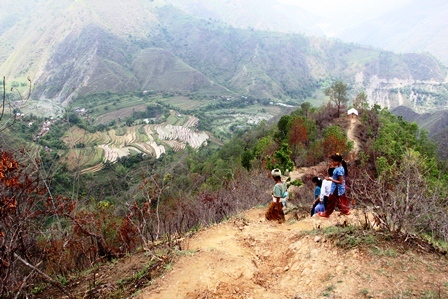 Since Nepal is surrounded by hills and mountains, a large percentage of citizens live at very high altitudes.
Thanks to the team's hard work and resourcefulness, the winter items destined for families in the areas of highest altitude have been delivered. These include nearly 100,000 sheets of corrugated iron building material to shield against winter winds and driving snow, more than 26,500 sleeping mats to keep people off the freezing ground, and nearly 30,000 blankets to wrap up shivering children.
"Before fuel supplies ran down, we were working very hard to reach families in the most remote areas," says Sally. "Our approach is to help children in the greatest need first - no matter where they live."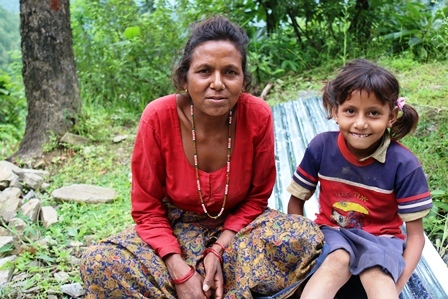 World Vision has delivered nearly 100,000 sheets of this corrugated iron, to help families prepare their shelters for the winter months.
The next goal is to reach another 800 households in the next few days, but only if the winterization materials arrive in time. "We have ordered the supplies from here in Nepal," says Sally, "but the fuel shortages have delayed delivery. We'll get them to the villages whatever it takes, travelling up the mountains on foot, with the help of donkeys to carry the packs. Or possibly with the help of helicopters, as that kind of fuel is still available in some quantity."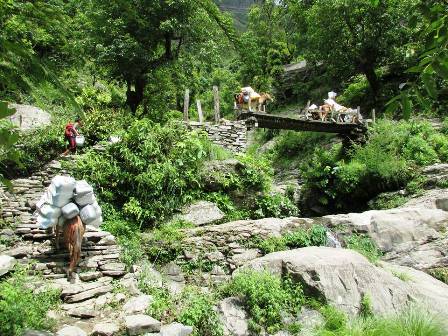 Donkeys trek up the mountain paths, carrying supplies to needy families.
I asked Sally how it feels to be dealing with a challenge that would feel insurmountable back here in Canada. I was humbled by her stoicism, and also immensely encouraged. I'm glad she and her colleagues are in charge of getting those winter supplies through, and not me. I can barely get my Toyota out of the driveway many winter mornings.
"We are managing to complete most of our work, despite the challenges," said Sally. "Certainly there are delays, but this can be expected in Nepal where terrain and other factors make it challenging to operate. What concerns us most now is whether the current fuel situation is going to improve."
I worry about that, too. I think about the people of Nepal who are struggling to revive their livelihoods, and for police and ambulance who can't arrive on scene when needed. And I think of the staff of World Vision Nepal. They've just emerged from monsoon season, having battled landslides, poor road conditions and heavy rainfall to reach those in need.
I made a donation to the Nepal relief effort last April, but will make another one this evening. It's a sign of my faith that the supplies will continue to get through, despite the tremendous odds, and that spring will bring a new beginning for the people of Nepal.
Click here to donate to the Nepal relief and recovery effort.
MORE ON HUFFPOST:
Nepal Earthquake, May 12, 2015