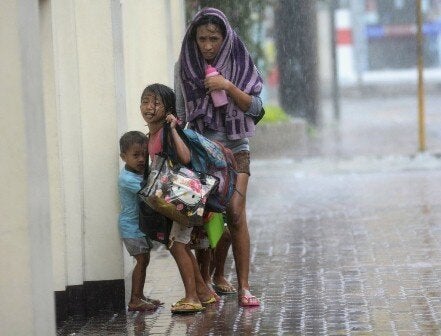 As Typhoon Haiyan carved a ruthless path across the Philippines Friday, World Vision staff watched in horror. They imagined what might be happening to the children, especially in remote regions.
"We are waiting for early reports from some of the hardest-hit provinces, said Minnie Portales, Director for Public Engagement with World Vision in the Philippines. "We fear the worst, especially for children. This could be very bad."
Here are five reasons why children are particularly vulnerable against a typhoon like this one:
1) Children, particularly those who are malnourished, are small and light. World Vision staff reported seeing billboards flying around like kites. A child running for shelter would have a difficult time keeping safely grounded, and making his or her way to safety.
2) Children are not as tall as adults. In situations where flash floods can turn entire streets into rivers, sewage mixes with rainwater. For a grownup traversing flooded streets, deadly bacteria may cover the legs or waist. A small child could be completely immersed, perhaps even gulping the dangerous water.
3) Children are more vulnerable emotionally. A child whose home has caved in around her, has watched a family member die, or seen multiple dead bodies in the streets, will be traumatized to a far greater degree than an adult.
4) Children are more likely to be the victims of physical and sexual abuse. When a community is in chaos, the power is out and people are crammed into small spaces for long periods of time, children are especially vulnerable.
5) Children need structure, stability and safe places to play. In the days, weeks and months ahead, children won't have schools to attend. Dangerous debris and huge potholes will be everywhere. Even the most attentive parents will be preoccupied trying to provide the necessities of life.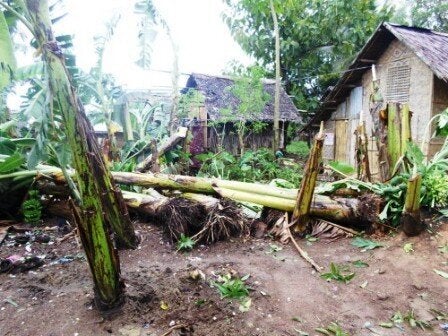 World Vision has decades of experience protecting and providing for children and their families in emergency situations like this. Currently, our emergency teams are based throughout the Philippines, and are working closely with national and local government disaster response teams to assess the damage and begin a response as soon as possible. As always, children will be the main focus.
In the days and months ahead, children and their families will need potable water, and nutritious food to eat. They'll need help rebuilding their homes and villages. And children will need safe places to play and learn, and receive counselling.
What is the current situation on the ground?
Due to cut-off communications, it is currently impossible to know the full extent of casualties and damage, but WV is undertaking assessment in order to determine. World Vision is deeply concerned that this storm has left a path of vast destruction in its wake.
So far, World Vision has been unable to reach staff in Tacloban City, Leyte Province, Philippines. In eastern Visayas, there has been no contact with staff for the last 24 hours and it has been described as a communications black hole. The storm cut a deep path through the province, and emergency officials are working to determine the extent of the damage. According to local reports, storm surges of nearly 16 feet were reported, power is out, and the area is flooded. Landslides are a concern in the mountainous areas near the city as well.
The number of people affected in the Philippines is now projected to be approximately 4 million. Casualty numbers are not yet available, but reports from the media cite up to 10,000 dead and numbers are expected to increase once there is greater access to all areas.
How is World Vision responding to this typhoon?
World Vision's first relief flight loaded with critical emergency supplies will arrive in Manila Monday. The Lufthansa flight includes 5,000 blankets and 3,000 tarpaulins (plastic sheets) that will be used to help survivors build temporary shelters.
Right now World Vision is working on a seven-day immediate response which will include distribution of food items such as rice, cooking oil and sugar, as well as hygiene kits and emergency shelter. Once a better assessment is made, a more full response plan will follow in the days ahead. World Vision emergency staff are based throughout the country and are working closely with national and local government disaster response teams to assess the damage and begin a response as soon as possible. WV will use its experience and the needs identified by the people, government and other to determine what the actual response will be.
Initially, we will look at the immediate needs in Eastern Visayas. This will be done in close coordination with other humanitarian groups and the United Nations. Another World Vision team will be on standby to head up relief operations in the identified hard-hit, affected areas. Experts from our Global Rapid Response Team are also on their way to the region to assist.
World Vision also works with children and communities in our existing development work to make sure they are prepared for natural disasters. We provide water and sanitation, food, shelter, child protection and education, health and nutrition and psychosocial support.
Canadians can help World Vision provide essential relief supplies such as assistance of food, non-food items, hygiene kits, emergency shelter, and protection especially for children and women.