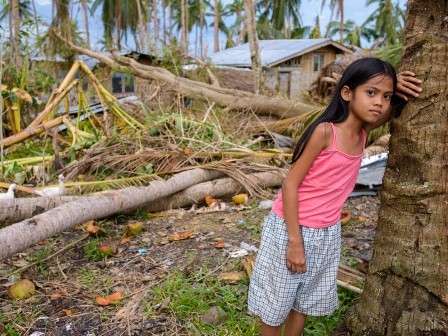 Baby Claire lives in the province of Cebu, one of the areas hardest-hit by typhoon Haiyan.
Baby Claire was looking for her school medals. The nine-year-old girl had come to inspect her flattened home, the cruel handiwork of a typhoon with no mercy. Part of the little house lay crumpled under the weight of two huge coconut trees.
A week earlier, baby Claire had sat here, poring over her homework. For the past six days, she and her family had hunkered down at the local community centre. The storm was over now. She and her family could make the trek to investigate the damage at home.
"She's always first in her class in school," said Baby Claire's mother. "The first thing she looked for when we came home was her medals from school."
The treasures had lived proudly in a glass case, reminders of this small girl's school success. That case now lay on the ground, shattered. But the medals were there. Baby Claire picked them up, and hung them carefully on the wall in a row. Even the cyclone couldn't take away what she's accomplished.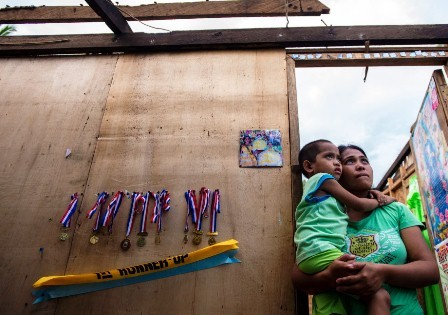 Baby Claire's medals now hang on the wall of her damaged home.
Baby Claire is sponsored through international aid and development agency World Vision. Although her community in Cebu is very poor, a caring sponsor on the other side of the world has helped the community provide children with a chance to go to school. Like many children in the Philippines, Baby Claire is seizing the opportunity with both hands.
There are many such stories these days, of children searching for their learning tools. It becomes clear that school is of great importance to many.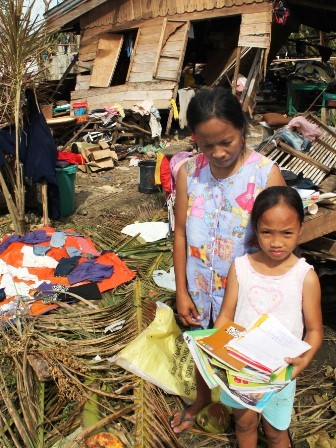 Also in Cebu, Isce saved her schoolbooks by carefully drying them in the sun.
In another part of Cebu, a little girl named Isce stood before her ruined house, holding her schoolbooks tightly in her hands. Haiyan had soaked them through as rain pelted down on Isce's neighborhood. She had layed them carefully in the sun to dry, the only way to save them.
Another girl, 11-year-old Gelian, was desperately worried that her own school had been destroyed in the storm. She had been excited to do an oral recitation that day Haiyan ploughed through her neighborhood.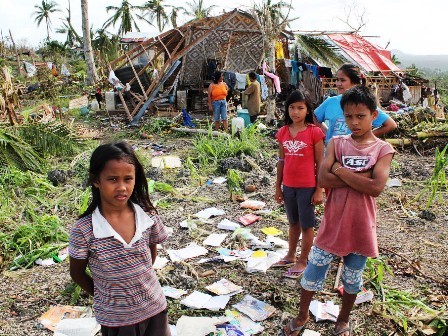 It appears that Gelian (left) and her siblings or friends are also drying their books in the sun.
All of these children have been badly needing food and water, and aid agencies have been working hard to meet those needs. But it's also easy to see why they need chances to begin learning again as soon as possible. World Vision's work in emergencies around the world has taught us that when children can play and continue with their learning, life steadily regains its sense of normalcy.
This is why World Vision is planning to set up child-friendly spaces in as many communities as possible. They're just large tents, but it's what's inside that counts. Staff and trained volunteers will be there to listen, and provide counseling for the trauma that children have endured.
But visiting children will also be able to resume their schoolwork. And feel that -- with a little support -- the future could be bright again.
Visit worldvision.ca to give, or learn more
Typhoon Haiyan Aftermath (WARNING: GRAPHIC IMAGES)