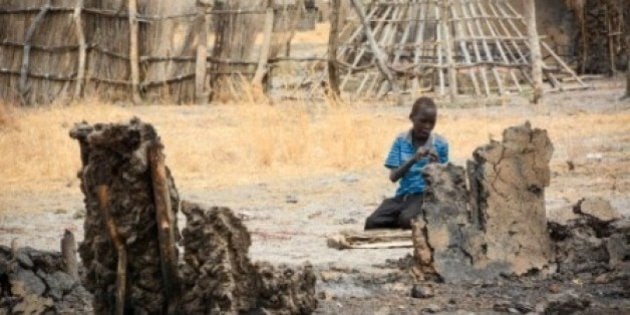 Three years ago today, there was dancing on the streets of South Sudan. A new nation had just been born. Having voted to separate from Sudan, the people were bursting with dreams for a free and independent future. Finally, they were to live lives of democracy and peace. Newly discovered oilfields would kick-start rapid development, and pay for brand new infrastructure.
The anniversary of independence is not being marked today with celebrations. For millions of people, living through the day will be the only victory. South Sudan is struggling to survive what the UN recently described as one of the gravest crises in the world's history. Since pre-existing tensions erupted into conflict last December, the violence has pulled the world's youngest country to pieces.
It would be so easy to blame South Sudan's people, for "bungling" their best chance at peace in many generations. It would be easy to throw up our hands and say "well, that's that." It would be easy to just look away.
But that's until we've spent some time with the people. In my travels with World Vision, I've found that every problem looks different when you're looking straight into someone's eyes. As South Sudan marks its three-year anniversary of independence, I wanted to share some images from World Vision's archives. The situation may still strike you as frustrating, complex and overwhelming. But you may find it harder to look away.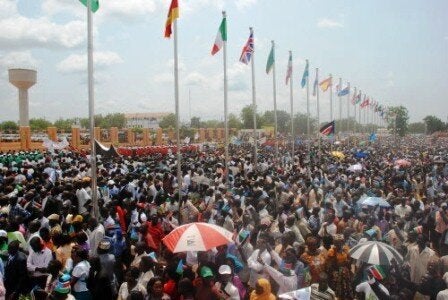 July, 2011: Citizens of the newly born South Sudan poured out into the streets to celebrate. It was a time of great hope and promise. Parents began planning their children's futures in a way they hadn't been able to do before.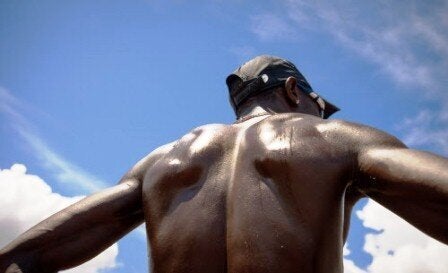 July, 2012: South Sudanese "Lost Boy" Lopez Lomong began making international headlines as he prepared for the London Olympic Games, training as a 5,000-metre runner with the U.S. Olympic team. After a childhood spent walking thousands of grueling kilometres in poverty and desperation, he walked onto the world stage.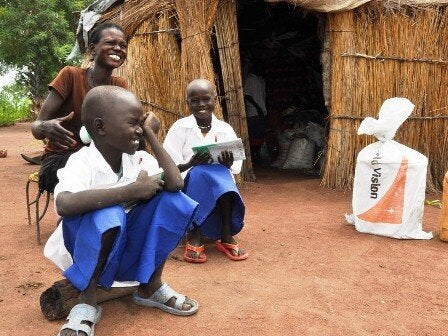 September, 2012: South Sudan's new government granted Nyibol and her three children this plot of land on which to build a house. They had been living as refugees before. The children began attending a school, built by World Vision, nearby. Nyibol shared that she couldn't wait for them to learn to read and write.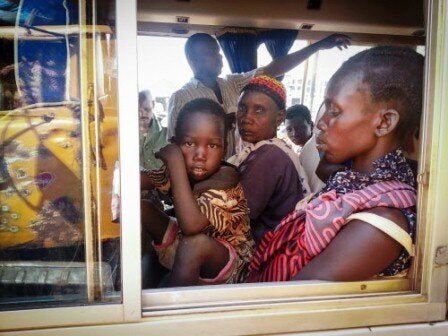 January, 2014: One month after violence erupted between South Sudan army and opposition forces, Nyanut and her little girl got a space on one of the overcrowded buses leaving Juba. They had slept at the bus station for a week to secure the spot.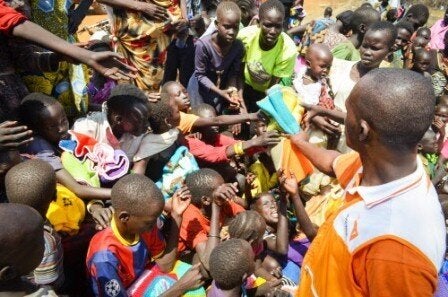 January, 2014: By January, the violence had forced thousands of people from their homes. These South Sudanese refugees reached Uganda desperate for food, water and supplies. Aid agencies like World Vision worked around the clock, trying to meet their needs.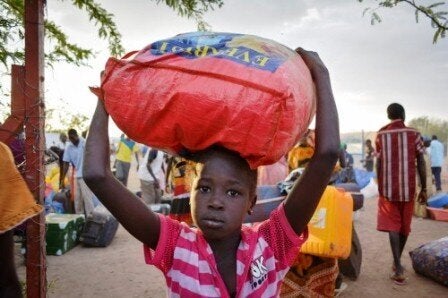 January, 2014: By mid-January, about 13,000 South Sudanese refugees had poured into the Kakuma camp in neighbouring Kenya. At least 300 more arrived each day. For a child, life as a refugee is fraught with dangers of all kind, including the possibility of sexual exploitation.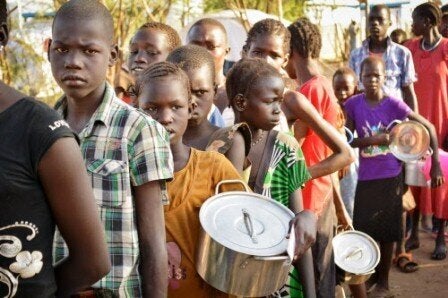 January, 2014: In the Kakuma camp, children line up to receive the porridge that's served for breakfast. Many of them arrived here unaccompanied, without an adult to care for them. As of July, more than 4,000 children have now been separated from their families, or orphaned.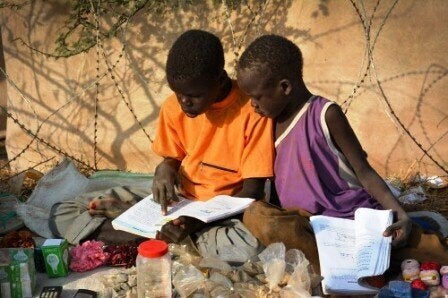 January, 2014: Conflict forces children to work to help desperate families make ends meet. These two boys have arranged their wares by the roadside near the United Nations compound in Malakal, but are engrossed in their schoolbooks. It's easy to see how much they miss attending class.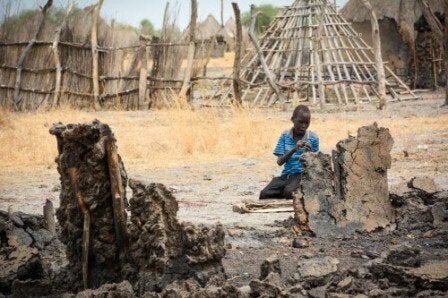 April, 2014: Soldiers moving through a village often burn everything before leaving. Here, a boy plays outside the remains of his torched house, near Malakal, Upper Nile State. World Vision has provided supplies such as tarpaulins and mosquito nets.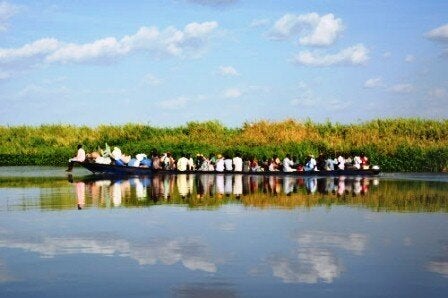 April, 2014: People fleeing their homes often have to cross bodies of water to reach safety, packing the few belongings they were able to grab into these crowded boats. The must often cross crocodile-infested lakes and rivers to reach safety. Many have drowned.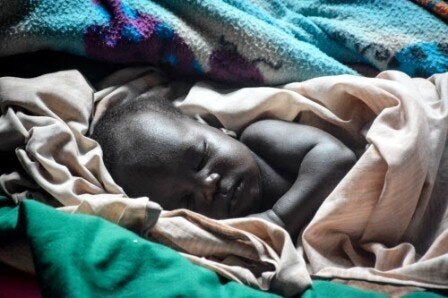 April, 2014: Baby Johanes was born in April, on the road, to a mother who was fleeing violence in the family's hometown. His father was killed shortly before. Now seeking refuge near the town of Rom, his mother sits beside him, gazing down at her little one. I wonder what she sees for his future?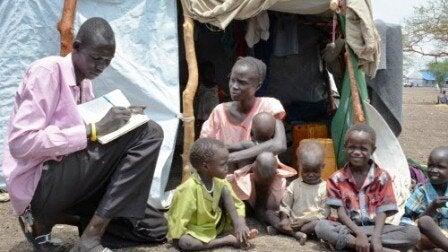 May, 2014: Fear of a food crisis in South Sudan is growing. Here, a World Vision worker listens to the needs of a displaced mother Rom, a region of Upper Nile State. The situation here is dire, with no access to clean water and little food or medical help. Hundreds of children are so hungry they are eating leaves from the trees.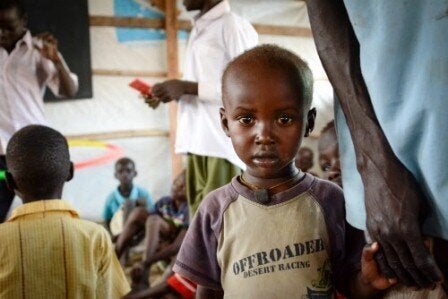 May, 2014: Two-year-old Pur Pur Ter was one of the children hunted like animals by men with guns as they fled to safety at the United Nations base at Malakal. He's gradually learning to feel safe again, even play, at one of World Vision's child friendly spaces.
You've just looked into the eyes of real people, children and families who aren't to blame for what's happening in their country. South Sudan -- recently ranked the world's most fragile state -- needs the attention, compassion and generosity of the world to give the country a chance to dream once more of peace and opportunity for its children.