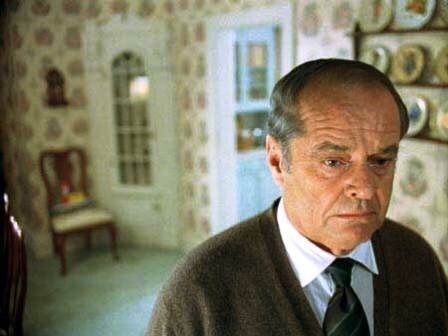 In the film About Schmidt, Jack Nicholson plays a man filled with disappointment. He's spent his life working at a job that could have been done by anybody.
On his first day of retirement, Schmidt goes to the office to see if he can answer any questions that the new guy might have. The new guy doesn't have any. In a whole lifetime of work, Warren Schmidt has accumulated no knowledge that would be useful to his replacement.
Schmidt returns to a house decorated exclusively with his wife's knick-knacks. There is nothing of himself to be found. He begins Day One of his retirement with a person for whom his affection has long since dwindled, asking himself "Who is this old woman who is in my house?" It's possible that she feels the same about him. We get no sense of tenderness between them, or shared memories or any significance.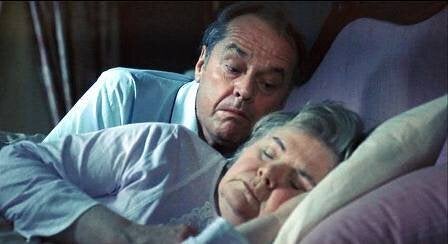 Things grow increasingly grim when Schmidt's wife literally falls down dead, and he embarks on a fruitless cross-country journey in search of meaning. It would be false to say he was trying to find himself. As Schmidt himself realizes, there is nothing to find. Much of what happens on the trip is "colourful" to say the least (making the film unsuitable for children.) Yet it's not the kind of colour that brings lasting meaning to his life.
There is but one relationship in the film that offers joy and promise (spoiler alert!) Early on in the story, Schmidt sees a television commercial for a children's charity, and makes the decision to sponsor a six-year-old Tanzanian boy named Ndugu. Encouraged to write to the child, he spills out his thoughts in long, confessional letters.
In the final scene of the film, Schmidt has returned home from his journey feeling no more peaceful of fulfilled than when he left. In his mail is a letter from Tanzania, from one of the nuns who is helping care for Ndugu. Because the little boy can neither read nor write as yet, she is both translating and summarizing.
"He thinks of you every day, and he wants very much your happiness," writes Sister Nadine Gauthier. "He has made for you a painting. He hopes that you will like his painting."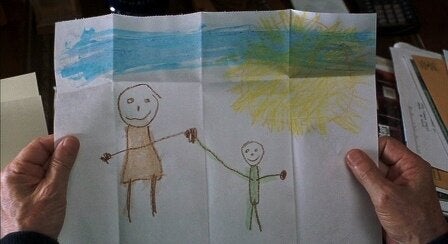 The director gently allows the scene to unfold. Schmidt unfolds the paper, revealing a stripe of blue, painted sky and a golden sun in the corner. Beneath them are a big person and a little person touching hands, both faces smiling. The director holds firm in a close-up, as Schmidt's face crumples with the first deep emotion in the film. The camera stays still as the tears come flowing down, and when Warren Schmidt's tormented face at long last breaks into joy.
I don't pretend to have endured a life like Warren Schmidt's. I've been lucky to have a fulfilling marriage, a job that I love and a life filled with meaning. But like anyone, I'm familiar with the stretches of hopelessness that can come when life gets to be too much -- or not nearly enough. When the winter drags on, a dear one is dangerously ill, or my once talkative teenager hasn't come out of his room all week.
And like Warren Schmidt, I know the unexpected sunshine that a sponsored child can bring into the picture. I began sponsoring Alejandro in Bolivia when he was just five, sure that I'd be improving his life. What took me completely off-guard was the way that he's lifted mine, through his letters and pictures, and through his love. I've been truly humbled to know that, even in a life of struggles, this little boy has the strength and compassion to care about my own happiness. I've heard similar accounts from other child sponsors, who cherish those letters from overseas as I do.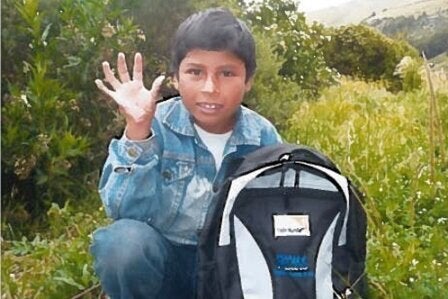 Alejandro, shortly after his ninth birthday. He was very shy and uncertain in the first picture I received four years ago, but has grown tremendously in confidence since.
Alejandro and I don't argue about homework, or quibble about video game times, as I do with my own children. Yet I get the fun of hearing about Alejandro's rapidly increasing height, his fascination with math, and his love of playing soccer with friends. I have the deep satisfaction of knowing that his life will be different because of me. And the constant amazement of knowing that, more than 7,000 km away, is a child who hopes that I'm happy too.
Click here to learn more about how child sponsorship works, and the many ways that a sponsored child can change your own life.