The summer my younger brother was two, he often awoke screaming in the night. His little body was stiff with fear. Graham believed he saw white snakes slithering around the floor by his bed.
We were on a summer holiday at the time, clattering around Europe in a rickety trailer. The goal was to visit as many countries as possible in just ten weeks. For my little brother, all of the change and uncertainty was deeply unsettling. We had recently moved from South Africa to England, and were planning another move to Canada. The current trailer holiday took us to a new country every week.
When I see the faces of Syrian children in the news these days, I think of my little brother. I remember the confusion and terror he felt on a very deep level -- even with a bed to sleep in, food to eat, and the comfort of his family. Not to mention the pink bunny with stripy pants, to which Graham clung in the dark while my mother calmed him at night.
A different kind of odyssey
I thought of Graham's nightmares when looking through photographs we received at World Vision this week, from our colleagues in New Zealand. A World Vision team accompanied journalists from the New Zealand Herald on the stretch of their journey between Serbia and transit camps in Hungary.
A few of the children are smiling in the pictures, even laughing, and that made sense to me. I remember my brother enjoying parts of our odyssey, no matter how unsettling the time was for him. Kids have an incredible resilience, and capacity to find fun in nearly any situation.
But when the faces of those Syrian children cloud over, I remember what's likely happening deep inside. They've endured so much in their short lives, including years of fear and deprivation. Some have survived harrowing boat crossings or rocket attacks on their communities. It's likely that their nightmares go far beyond white snakes on the floor.
Their faces tell the story
Here is a selection of images captures by photographer Jo Currie, on his trip with the New Zealand Herald and World Vision.
For me, this picture of these Syrian refugee children (below) on a bus to the Hungarian border with Serbia shows two sides of what children might be experiencing on their journey. There's capacity for adventure on one side, yet sheer exhaustion on the other.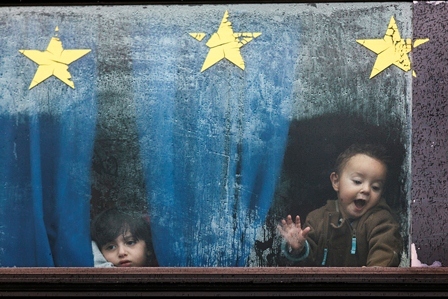 This little boy and the adult with him (below) seem anxious to board a similar bus. The scene seems clouded with uncertainty and confusion. I wonder how long they have waited.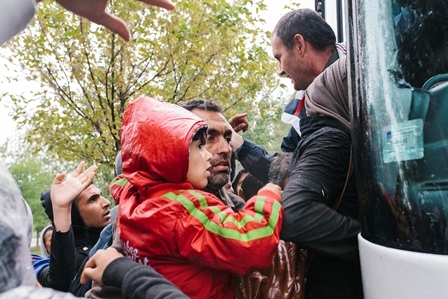 This little girl (below) waiting with her family for a bus to Serbia's border with Hungary, is even younger than my brother was on our odyssey through Europe. I wonder what she's processing inside that she can't share with words.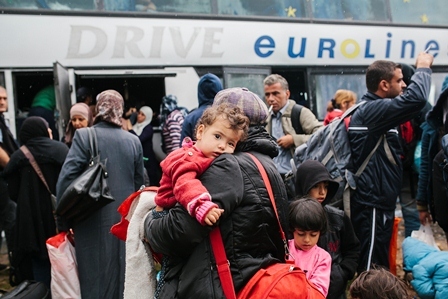 This may be an unaccompanied youth, or an adult, waiting in the rain for a bus to the border. It struck me that many Syrian children are dealing with the fear of seeing that even grownups have no control over the situation.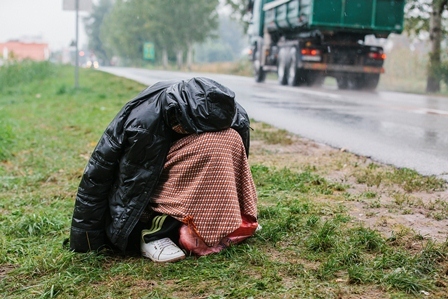 Mohammed (below) has a disability which causes his hips to lock when he tries to walk. Yet he has somehow managed to travel with his parents all the way from Syria to Serbia, walking for long stretches along the way.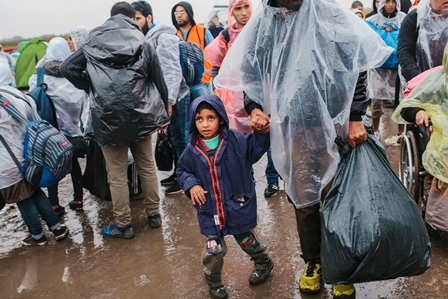 The little boy (below) sleeping on the train tracks leading into Hungary looks clean and comfortably dressed. Yet I keep remembering that what he's wearing is likely all he has in the world -- or is likely to have for the foreseeable future.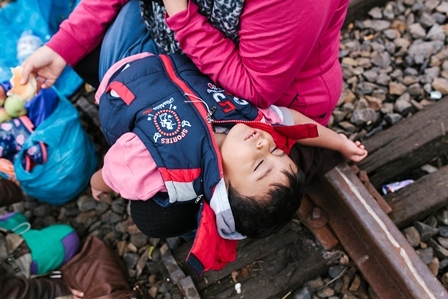 Abraham and two-year-old Zachary (below) came to Serbia after sailing to Greece on a rubber dinghy 'death boat' from Turkey. Zachary has a bad cough, due to a virus that's becoming increasingly common among refugee children living rough on the road and exposed to the elements.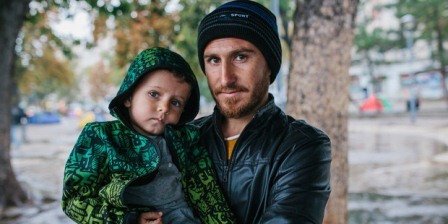 Tears came to my eyes when I saw this bunny (below) perhaps dropped from the hand of a child who needed him to sleep at night. Unlike here in Canada, there's no way these parents can retrace their steps to find the beloved stuffed friend. He may have been the child's only remaining toy.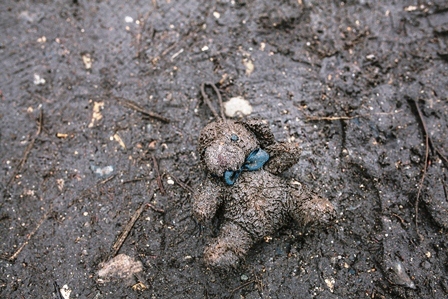 They have reached Hungary at last -- and pitched a tent in one of the transit camps. But what now? Children need some kind of stability and predictability in order to feel right inside, and to sleep peacefully at night. There doesn't seem to be any of that here.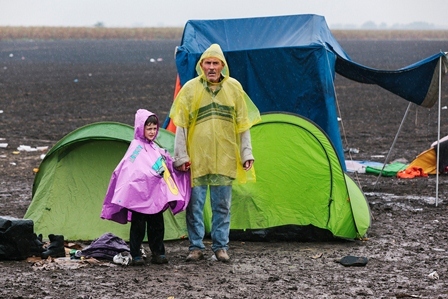 This face of this girl (below) waiting with hundreds of others at a transit camp in Hungary, tore at my heart. In Canada, a girl this age would be hanging out with her friends, studying to finish high school, and dreaming of the future. What is her future?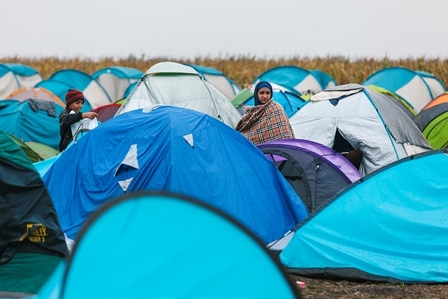 You can help Syrian children and families who are seeking asylum in Europe. World Vision is distributing baby kits including items like diapers, wipes, soap and even a toy to children who have next to nothing. We're also looking at establishing our child-friendly spaces, safe places for children to play, rest, keep up with schoolwork and receive counselling. As the weather gets colder, we'll be providing mattresses and blankets for those who could be spending the winter in thin tents.
Help Syrian refugee children through World Vision Canada
Read the story series by the New Zealand Herald
All photos by Jo Currie/World Vision
ALSO ON HUFFPOST: