Last week, World Vision, Oxfam and Save the Children, among other international aid agencies, released a scathing critique of how the United Nations Security Council has failed to alleviate the suffering of civilians in Syria. Four years after the start of the crisis, conflict is only intensifying. And a breakthrough is nowhere in sight.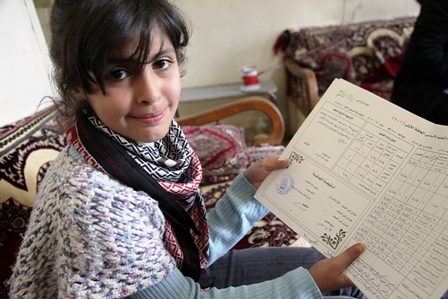 Jouri shows her last report card from Syria, which she grabbed before fleeing the country with her family two years ago.
For me, it's impossible to consider the larger picture without thinking about Jouri. The eight-year-old girl, a Syrian refugee living in Lebanon, is someone I know only from a photograph. I was captivated by the girl whose schooling was so critical to her, that she grabbed her report card while fleeing the rocket attacks on her home town. That was two years ago.
I've been unable to find any recent updates on Jouri. At the time this photo was taken, she was part of a World Vision accelerated learning program. The goal was to prepare her for entry into a Lebanese school once a spot opened up. Jouri's hopes were high at the time. She called the education program "the best thing that's happened to me since we left Syria."
Unanswered questions
Jouri would be 10 now, just a bit older than my son, Gavin. I think about all that Gavin's been learning over the past two years of his life. Critical, foundational math concepts. Essay writing. Speech preparation and presentation. And all the while, he's been reading through a new bag of books from the library each week.
Gavin is constantly asking questions about the world around him these days. Two big ones are "Why do things work this way?" and "Why can't they work differently?"
Those of us who work in the humanitarian field know all too well why things aren't working well for Syrian children these days. The question of why things can't work differently is much tougher to answer.
Syrian children are suffering everywhere, whether in Lebanon, Jordan, Iraq, or in their home country. The Failing Syria report released last week, endorsed by World Vision and other aid agencies, noted that humanitarian access to large parts of Syria has been drastically limited by the seemingly endless violence. Grim statistics contained in the report's score card indicate that humanitarian needs have increased, while humanitarian funding fails to keep pace.
I wonder what kinds of questions Jouri asks, as the war in Syria grinds on into its fifth year. She may be wondering why the world hasn't done more to help. "Why does it have to be this way for me?" I can almost picture her asking. "And when will it be different?"
Education gap getting wider
Syrian parents must be struggling to answer such questions. With limited opportunities for formal employment, most have no work, and are struggling to feed their children. Last week, humanitarian officials warned that Syrian refugees in Lebanon are facing a crisis of "staggering proportions," a wide range of restrictions and funding shortfalls leaving many of them subject to extreme deprivation. Most are staggering toward the end of yet another brutal winter. The idea of paying for books and school supplies is but a far-off dream.
Chances that Jouri is attending a Lebanese public school -- no matter how amazing that report card she's holding -- are extremely low. As of last fall, the number of school-aged children in Syria was more than 400,000, eclipsing the population of Lebanese children in public schools. While the schools had opened their doors to some 100,000 Syrian refugees, their ability to accept more has been severely limited.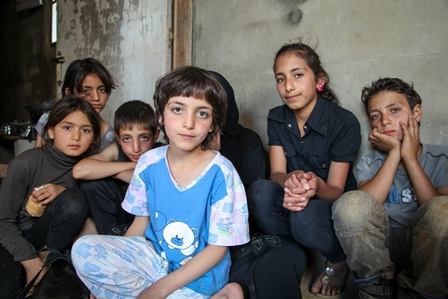 For Syrian refugee children, the chances of catching up on missed education get slimmer by the year.
The education gap this creates -- as long as four years for some refugee children -- is of grave concern to World Vision's Julie McKinlay, who regularly visits the region.
"Some children were newborns when they arrived in a refugee setting," she says. "They're at the age now where school would be starting. Then there are the adolescents and youth, who were about to begin high school or higher education when the Syrian conflict started. They have now lost up to four years of formal learning. And the longer they're out, the harder it's going to be to find their footing one day."
Enough is enough -- for Jouri, and for the millions of other children tragically impacted by the war in Syria. We need to ensure they are given their right to an education if we expect them to go back and lead the country someday, to build a new future amidst the rubble.
"After four years of violence, the children and families of Syria need peace," says World Vision Canada's President and CEO, Dave Toycen. "In the meantime, the urgent and growing humanitarian needs in the Syria crisis require continued financial aid, and as a proven generous donor, we hope that Canada will be a champion for Syria within the international community.
ALSO ON HUFFPOST:
KARAM AL-MASRI/AFP/Getty Images

KARAM AL-MASRI/AFP/Getty Images

Ibrahim Khader/Pacific Press/ABACAPRESS.COM

Anadolu Agency via Getty Images

KARAM AL-MASRI/AFP/Getty Images

KARAM AL-MASRI/AFP/Getty Images