In my third year of university, the only apartment I could afford had ice on the inside walls. The winter temperature in Kingston, Ontario, regularly plunged to -20 C. The bedroom had no insulation.
Each night, I slept in sweats, heavy socks, a hat and mitts. Even with a space heater, and winter-weight sleeping bag under my quilt, I still shivered. In the mornings, I reached up to feel how much ice had formed above my bed during the night. I counted the days until March, when my room-mate and I could give notice.
The psychological warfare of cold
Like those who survived the lengthy power outage in Toronto a year ago December, many Canadians have experienced living conditions too cold to be believed. It's not the same as winter camping, when you come prepared and go home on Sunday. Having the elements invade your home is quite a different thing.
Millions of Syrian families are experiencing that kind of cold right now. It may come as a surprise to many Canadians that places like Lebanon and Turkey actually get extremely cold in the winter months, making life even more miserable for people who have fled conflict to live in refugee camps.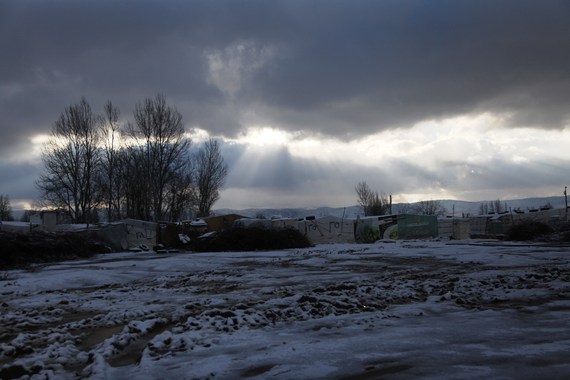 All photos and video by Ralph Baydoun, World Vision
It's something World Vision photographer Ralph Baydoun experienced this week, when he chose to camp out in an informal Syrian refugee camp in Lebanon's Bekaa Valley, to get a sense of what the families there experience all winter long. A snowstorm was expected. Ralph documented the refugees' preparations, their survival tactics over a 24-hour period -- and his own sense of fear and dread.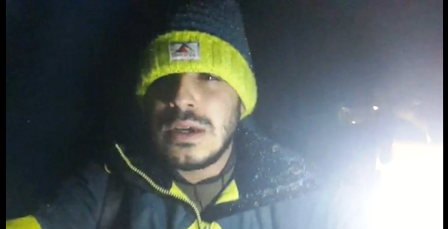 Watch a video of Ralph during the night
"It was a psychological war that I was fighting," Ralph recorded. "The wind was growing stronger and the tent was shaking all around me. I tried to squeeze my head and neck into my sleeping bag, because they were freezing."
No mercy for the vulnerable
With his cameras, Ralph documented the refugees' storm preparations, including bracing their tents to withstand the expected 40 cm of snow. He met two of the children who would spend the coming hours climbing up on the roofs of the tents, cleaning away the snow throughout the night.
"I met Mhammad and Jomaa, both nine years old. They were on the roofs of two tents, clearing away the falling snow. They told me that they work all night cleaning snow off the tents, paid by the other refugees. They earn around 50 cents each."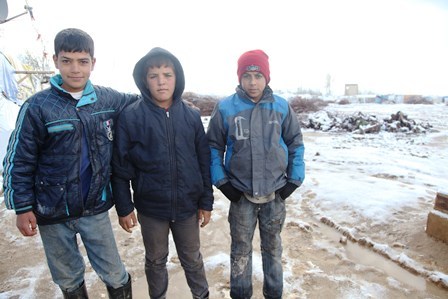 Mhammad and Jomaa are the two boys on the left. They would spend the night climbing onto the roofs of shelters, clearing off the snow to prevent collapse.
Inside the shelters, families huddled for warmth, telling stories of Syria around the stove, and drinking sweet tea for energy. Ralph was offered a cup at each shelter he visited, introducing a problem he'd never considered.
"For the first time in my life, I had to think twice before having a warm drink. Should I drink this cup of tea and risk having to go to the toilet out in the cold during this storm?"
It's a dilemma that most Canadians have never experienced: whether to forgo a hot drink, one of the few comforts offered in the extreme cold, in order to avoid a freezing midnight trip to the latrine in the middle of a blizzard.
Alone in his tent for the night
As the night wore on, Ralph bid the refugees goodnight, and headed back to his own tent -- one he'd set up just that afternoon.
"At this point, I couldn't feel my fingers and toes anymore," he wrote, as the storm intensified. "I was hugging my sleeping bag around me, and I realized how lonely I was. It was scary. Not just the cold and the wind -- the idea of being in these circumstances alone was terrifying."
With the driving snow piling up on his tent, Ralph quickly realized he wouldn't get much sleep that night. "My mind developed a constant alarm," he wrote. "I was sleeping for 20 minutes, and then waking up to clean the tent by pushing up on the fabric. It was lighter than the refugees' tents, so I could push off the snow without going outside"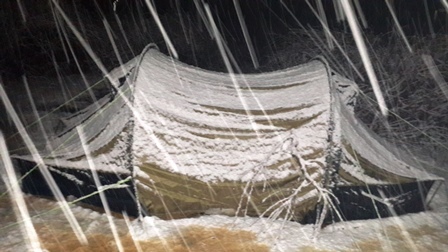 Watch a video of Ralph outside his tent, just before midnight.
As the freezing rain and sleet assaulted his tent it got wetter and wetter, so Ralph picked up the pace. "I started waking up every 10 minutes to see if the tent was going to collapse. If was either that, I thought, or I'm going to freeze to death. That might have been unlikely in one night, but it really felt like psychological warfare."
Gathering wood with freezing hands
By 6 a.m., the storm had stopped. The camp was covered with solid, cracking snow -- and bitter cold. "I couldn't open my tripod to film anymore," he wrote.
But keeping his hands warm wasn't an option for seven-year-old Omar.
"He was out getting wood for his family's stove," recalls Ralph. "I walked with him, and the pile of wood was covered with snow. Omar had to grab some and chop the wood in the cold. I could see the wood was wet and got frozen at night."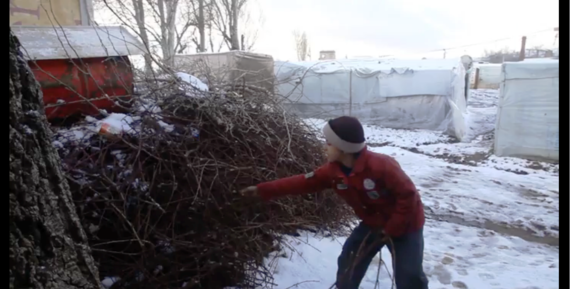 Watch Ralph's video of the morning after the storm
In a refugee settlement, explains Ralph, everyone works. Not all of the children have fathers in the camp to take care of them; some have died or are still in Syria. "Other fathers had spent the whole night awake, fearful for their families and clearing blockages in the pipes of the small stoves in their tents to prevent back-draft and explosions in the tent," write Ralph.
The pain of saying goodbye
Although Ralph had no desire to spend another night in his tent, the pain of leaving the settlement to head back to his home base was acute.
"Every time I leave a small community like the one, it's harder than the time before. As you're packing up, you become speechless. What should I say? I always end up with 'good luck' which I hate. But I can't find anything else to say."
"Good luck, hope you go back to your country..."
Canadians understand cold. We can help.
For millions of Syrians driven from their homes by violent conflict, winter in makeshift camps can be life threatening. The UN estimates that 12.2 million people living in Syria -- almost half of these being children -- are in desperate need of humanitarian assistance, as are over 4 million people who've taken refuge in other countries.
You can help give the gift of warmth, safety, and a little peace this winter, to families whose lives are in complete turmoil.
Follow HuffPost Canada Blogs on Facebook
ALSO ON HUFFPOST:
7 Deadly Threats Facing Innocent Syrian Civilians