World Vision
Mother Bareaa, her husband, Hisham, and their daughters Sedra and Judi, couldn't wait to connect with other Syrian families. World Vision Photo
I recently finished reading the book Room on which the Academy Award-nominated film was based. In it, a mother raises her young son under unthinkable circumstances: a tiny room in which they were both held captive.
As I closed the book, I was left with a sense of awe for what "Ma" had somehow managed to provide for her little boy Jack during five years in captivity. The mother had almost nothing to work with and unimaginable cruelty and deprivation to contend with.
But Ma used all of her resources, her love, her patience, and her creativity, to raise an intelligent, compassionate child with an unshakable sense of his worth. Jack eventually emerges from the room with the capacity to embrace the world and prevail.
Meeting mothers from Syria
I had much of the same feeling last Saturday, but this time, the mothers were real-life and standing right in front of me. They had all recently arrived from the Middle East having escaped Syria, and had come to a giant play date organized by World Vision and the Mennonite Central Committee for their families.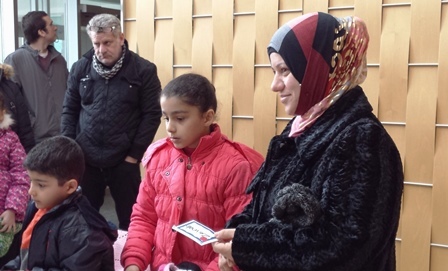 Photo/World Vision
In some ways, the play date had a lot in common with a typical Canadian party. There were craft tables, face painting, and a bouncy castle. How many times have I stood talking with moms at similar events, while our children played? But in other ways, Saturday couldn't have been more different.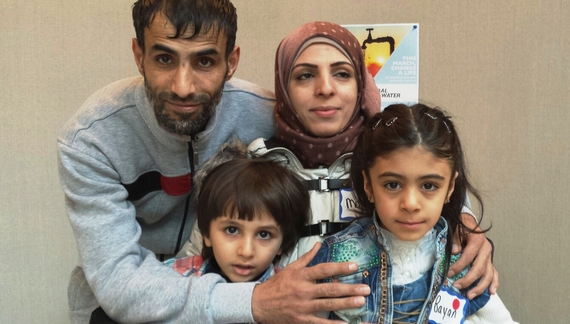 I met Manal (top right) and her family shortly after they arrived at the playdate. The way daughter Bayan (right) ran for the bouncy castle, you'd never think she spent a year-and-a-half in a refugee camp! World Vision photo
Many of the families knew very little English, so spoke with me through translators. Some had been in Canada only a couple of weeks. Others had been here longer, but hadn't met any other Syrians in the towns where they're living. The mothers greeted one another with a sense of immediate recognition, even if they'd never met before. For in a way, they knew one another already.
The wonder of mother Bareaa
Bareaa's name means "a wonderful thing," and the name fits. I've never met a woman so generous with her warmth, her smiles and her hugs. Despite the cruelty and deprivation she's endured, Bareaa was so quick to see and feel the joy that she could see all around her. And do everything that she could for other Syrian refugee mothers and their children.
"Sister, I came today because I wanted to meet other Syrians," Bareaa, told me. "I want to help them with anything they need. My sponsored family gave me so very much -- and I want to give some to others."
Beyond thanking and hugging any Canadian she spoke with, Bareaa was looking out for the other Syrian children at the play date.
"All of the children are happy and smiling," she said, her eyes filled with joy. "I can see that they are doing well."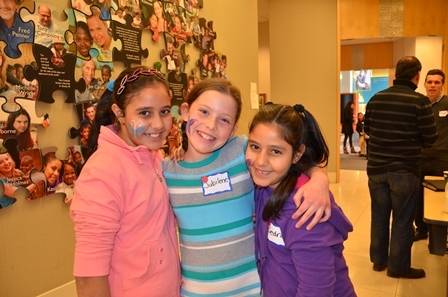 Bareaa's girls, Judi and Sedra, made a new friend on Saturday, Jubilene of Toronto. World Vision photo
Because the play date was a happy event, I didn't want to spoil things by asking painful questions. But as the children ran and played together, I found myself looking over at the mothers, watching them.
Some of the moms in the room may have clutched their babies while running from gunfire and bombing. Others may have prayed as they spent months living in a tent wondering what possible future lay ahead for their children. And without a doubt, every woman in the room used all of her resourcefulness to keep her children warm, fed and comforted.
"Bravo, sister. I honour you. I would do anything to take away some of the pain that you've experienced. And I know that I'll never understand what you carry around inside."
Many of the women carry memories that their new friends in Canada may never be able to understand. Bareaa shared one story.
"When we were in the crowds, leaving, we saw one woman running with a cushion," she tells me. "She was carrying a cushion." I kept listening, curious. Of all the things to bring with her during a sudden exodus, why did this mother choose a cushion? I soon realized I was processing this story as someone who's never experienced the shattering effects of war.
"She thought she had grabbed her little boy," explained Bareaa, her warm eyes filling with tears. "She looked up suddenly and said to us 'It's not my son!'"
I needed to step away for a while, and pull myself together before returning to the party.
My message to Syria's mothers
I didn't get to tell the mothers at the party everything that I wanted to. And there are thousands of Syrian mothers living in Canada whom I'll never meet at a play date.
Here's what I want to say to each one of them:
"Bravo, sister. I honour you. I would do anything to take away some of the pain that you've experienced. And I know that I'll never understand what you carry around inside."
"But your children -- they're so beautiful. And you've used all of your resources -- your love, your patience, and your creativity -- to keep them alive and healthy. You've taught them when there was no school and comforted them when there was nothing comforting to say. You've made 'home' in camps, tents, and on the side of the road."
"I will do whatever I can, through my donations, through my prayers and through my writing, to help carry your children to safety and happiness."
This International Women's Day March 8, please join me in thinking of Syria's mothers.
ALSO ON HUFFPOST:
International Women's Day Reads