Each summer, Canadians longing for a break flood north to our country's forests. I am one of them. Sitting silently among the trees, I can practically hear them breathing. Whether spruce, maple or aspen, the trees inhale the carbon dioxide threatening our planet, and breathe out life-giving oxygen.
There's no question that trees help sustain life on earth. According to the Canadian Forestry Association, a large, healthy tree can:
provide a day's oxygen for a family of four
soak up 75 per cent of the (CO2) produced by the average car per day
lift up to 4,000 litres of water from the ground and release it into the air we breathe.
Reforesting Canada's north
No wonder Canadian tree-planting companies employ thousands of students each year, to plant trees in the north. The planters are working to replace trees in areas clear-cut by logging companies.
The work is not for the faint of heart, says Tara O'Carroll of Kingston. She recalls the three years of tree-planting she did to help pay for university. The days were long, buggy and grueling, she recalls.
"They woke us at 5 a.m. each day," says Tara. "No one prepared us for the bitter cold, snow and rainstorms that are prevalent in northern Ontario in May. I opened my eyes one morning to find my water bottle frozen beside me. Then there were the dreaded blackflies -- you got eaten alive!"
Despite the pain, Tara planted nearly 300,000 trees in Ontario's north over three summers. Not only did she survive, she earn the funds needed for her university expenses. Best of all, Tara felt a sense of personal pride.
"You're well aware of the difference you're making," she recalls. "When we first arrived, the land we worked on looked like a war zone from the clear-cutting."
I love to imagine what the area Tara planted looks like now, two decades after her summers working in the north. I'm deeply grateful to my friend, for the difference she's made to the world my kids will one day inherit.
Saving lives in the Horn of Africa
Replenishing forests isn't just something we do here in Canada. Ten years ago, World Vision started working with people in Humbo, Ethiopia, to plant trees. The organization funded the project by selling 'carbon offsets' for the roughly 22,000 tonnes of carbon dioxide that those trees mop up each year.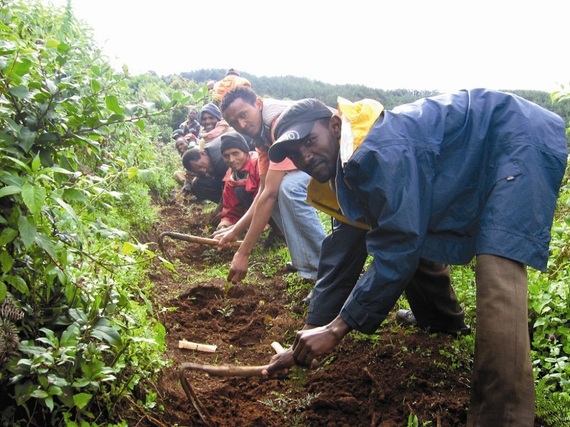 Working the previously degraded soil has improved life for families throughout the Humbo Village area. Photo: World Vision
It's the kind of work you might normally associate with an environmental agency -- not a humanitarian one. But the Humbo Project is a reminder that the two spheres are intimately connected. Thriving forests can play a key role in keeping families healthy, too.
Before planting began, the region's mountainous terrain had been severely degraded. Poverty, hunger and increasing demand for agricultural land had driven local communities to exploit forest resources. The deforestation threatened groundwater reserves and had led to severe soil erosion in the region.
Years later, the Humbo Project has worked -- and worked beautifully. Rural communities in the area are befitting from the restoration of nearly 3,000 hectares of biodiversity rich land, bringing cash into their hands and giving them power to care for their children.
The project's impact report finds that the tree-planting in the Humbo area has:
created more than 2,000 jobs for local families
restored 12 life-giving water springs
increased soil fertility for four out of five families who are reliant on the land.

On the left: the parched, barren Humbo foothills at the start of the project. On the right: the green, fertile area that's sustaining families today. Photo: World Vision
Better nutrition for children
For Humbo residents, the result of their work is a dramatic increase in food security. And this in Ethiopia, a country which from 1983 to 1985 endured one of the worst famines in living memory.
"Now we eat three times (each day)," explained one of the farmers. "We used to eat twice." For a young child, this increase in food consumption can make all the difference for a growing brain and body. Children at risk of stunting -- a condition which could affect them their entire lives -- have a much better chance at growing up strong and healthy.
Aster Tantu is one of the beneficiaries of the Humbo Project. As a result of techniques applied by World Vision and its partners, the land around hill bottoms where Aster farms has recovered. It's enabled her to increase crop production nine to ten-fold, and grow more diverse crops on her farm. That's better all-round nutrition for her children.
Best of all, Aster is now able to provide enough food for her family every day of the year. They used to go hungry for six months of the year. Aster is also able to send all of her children to school.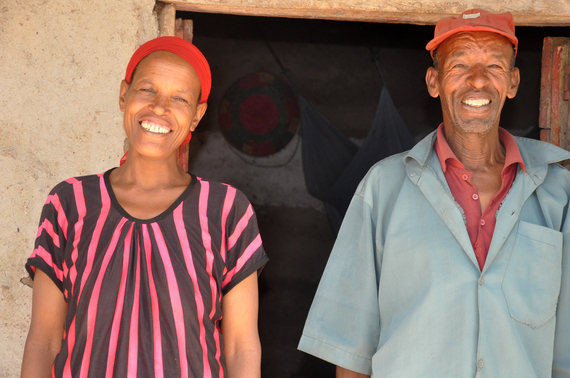 Imagine the joy of being able to feed your children all year round, when you'd struggled to feed them before. Aster and her husband now have that opportunity. Photo: World Vision
The Humbo Project has gained widespread recognition, including the United Nations' Land for Life Award. It earned Africa's first UN-administered temporary carbon credits for a land use project. This sounds lofty, but for families like Aster's, it means major improvements where they live. Revenue from the carbon credits could be reinvested in programs like the ones that have made such a difference to her family.
Bringing life to children
My children and Aster's will likely never meet. But they're both breathing the same air, and enjoying the same feeling of stepping into the cool shade of healthy trees.
And while a job planting trees during summers here in Canada may one day cover for my sons' university costs, the Humbo Project in Ethiopia gives children like Aster's a chance at their own life-long education. They are beginning that journey by finishing grade school.
Who knows what lies ahead? As with the ever-growing trees, the sky's the limit.
Follow HuffPost Canada Blogs on Facebook
ALSO ON HUFFPOST:
Through Your Lens: Ethiopia