When I tell you today is Universal Children's Day, what comes to mind?
I remember how my hard-working Dad used to groan that "every day is children's day!" I admit that with all the cooking, driving and shopping I do for my kids, it's easy to feel that way too.
But let's look past the idea that for the most part, Canadian children are cherished, celebrated and provided for by families, communities and governments alike. It doesn't paint a complete picture of the world we live in.
As we consider what Universal Children's Day could mean to the world that's reflected in the news headlines, it's important to look at the whole canvas.
The global canvas
If you were to paint a picture of the world's children this November 20, I wonder what colours and styles would you choose?
If you wanted to show the dreams of children living in deep poverty, wiped out by the need to quit school and help support their families, you might paint bright colours covered over with black.
If you consider violence in too many places, conflicts with no compassion for even the smallest, most vulnerable child, you might need some red on your palate.
If you chose to depict the confusion and uncertainty of refugee children all over the world, uprooted from the clear lines of home, community and stability, you might need some gray for thick, dense fog.
Painting yourself into the picture
Artists sometimes paint themselves into their creations. Visiting San Francisco a few weeks ago, I stood before a huge mural by Mexican artist Diego Rivera, depicting the rebuilding of a ruined city. The installment even included scaffolding. I loved that Rivera had included himself, the painter, front and centre, instrumental in the creative process that would bring the city back to life.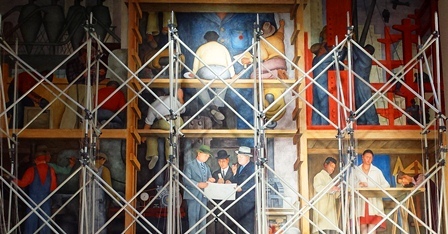 Artist Diego Rivera is the figure in white, with his back to us. Photo/Debbie Wolfe
On Universal Children's Day, I wonder where I might appear in a painting of the world's children. It's hard to imagine that I'd be a very prominent figure, among the millions of kids whose lives are flashes of terror, or fogs of uncertainty. Though I work for an organization that helps protect and provide for the world's neediest children, I have days where I'm not sure where I fit.
Then I think of the words that hung on the office wall of World Vision Canada's former president Dave Toycen, for many of the years he was serving -- a quote adapted from teacher and scholar Forest E. Witcraft:
"A hundred years from now it will not matter what my bank account was, the sort of house I lived in, or the kind of car I drove. But the world may be different because I was important in the life of a child."
Important in the life of a child
If one of the children in my life painted a picture, I could be very large figure indeed. The artist might be one of my two sons, or the kids I've worked with as a Brownie or Youth Group leader. It might include the little girl who has dropped by our house so often over the years, needing a hug and a listening ear.
I also think about Adhemar, the boy our family sponsors in Bolivia through World Vision. It's something I talk about regularly with my 10-year-old son Gavin, who already frets that he's done little to change the world. He's wrong about that.
Gavin, you see, has already been important in the life of a child. It's because of his desire to write letters to someone that we began sponsoring Adhemar, born just one month ahead of Gavin.
"Think about Adhemar, Gav," I told him earlier this week. "He could have been sick and hungry for many days in his life. He might have had to drop out of school and go to work. But he's so tall now, and so good at math!"
"Because you wanted to write to someone, Adhemar will grow up strong. He has a better chance to get a good job one day, and make sure his own kids aren't hungry either. And all this, because you existed. You are important in the life of another boy."
Mending the holes in the canvas
As I write this, some of my World Vision team-mates are preparing to host a screening of the film It's a Wonderful Life as part of a campaign here in Ontario to increase awareness about child sponsorship. In it, George Bailey contemplates ending his life, feeling that he's contributed nothing of worth. An angel named Clarence shows George how the world is different because he existed.
"Strange, isn't it? Each man's life touches so many other lives," says Clarence. "When he isn't around he leaves an awful hole, doesn't he?"
On Universal Children's Day, I challenge you to look at the canvas of the world's children, and see where the holes are. Whether it's a refugee child, a child in need of sponsorship, or the child who lives next door -- how might you be important in that life?