 On World AIDS Day December 1, World Vision celebrates the possibility that an AIDS-free generation of children is within our reach. Meet an HIV-positive mother who -- with the right help -- was able to protect the child in her womb from contracting the virus. And learn how you can give another family the gift of a healthy baby this holiday season.
You're starting to hear them a lot these days -- holiday songs and Christmas carols. They're packed with joyful sentiments. Families cuddled close together in cozy, happy homes. Hope is epitomized by something as simple as a star or a newborn babe.
For many adults, it can be a tough package to accept. Home lives are rarely blissfully happy; they're often downright tough. In a tight economy, meeting all the demands of the holiday season costs a lot more money than many have to spare. For a variety of reasons, the kind of hope we hear about in the Christmas songs can be pretty hard to come by.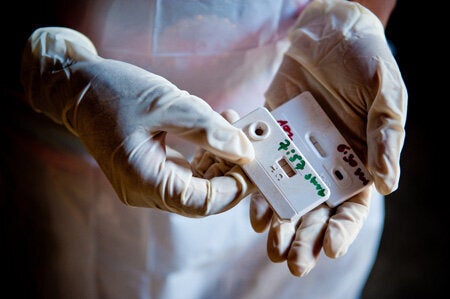 A nurse at an Ethiopian health clinic shows a positive HIV test result, and a negative one. More and more newborn babies are testing negative, thanks to simple interventions.
Sitane Diamini is no stranger to pain and hopelessness. Her album of family memories includes a scene at the local medical clinic in her home country of Swaziland, on the day when both she and her husband tested positive for HIV.
"I started to get angry. I accused my husband of infecting me right in front of the hospital staff," she recalls. "He remained quiet until we got home."
For two years before the clinic visit, the HIV virus had forced Sitane to hobble around the family's small hut on swollen feet. Her weak, thin body had been covered with boils.
After her diagnosis, it took two years of treatment with antiretroviral drugs to get Sitane back on her feet again. She was feeling much better. Then, in the third year, she became pregnant. Was it wonderful news, or just the start of more pain? Would this baby, this new little life, come into the world already infected with the HIV virus?
For someone reading this story 20 years ago, what happened next might have seemed nothing short of miraculous:
The antiretroviral drugs Sitane was taking for her HIV were known to be effective at preventing mother-to-child transmission of the virus. Starting in the very first week of pregnancy, the medication crossed Sitane's placenta and into her fetus.
Once the baby girl was born, clinic staff made sure she received a preventive medication within the first 72-hours of life, and for six weeks afterwards.
Sitane continued taking own medication while breastfeeding her baby, according to recommendations made by organizations such as World Vision and adopted by her country's ministry of health.
Crossing the line to hope
At six weeks, Sitane took her baby back to the clinic for her first HIV test. I can't imagine what it was like for this mom to sit down on that bench and wait. So much hope wrapped up in such a tiny bundle.
"I prayed to God that she should be fine," she remembers.
There's almost no difference between the symbols for plus and minus. Just one tiny line. But in reading the results of her baby's negative HIV test, Sitane may have crossed that line from hopelessness to hope. Although the baby's Swazi name means "the last one," Sitane and her husband went on to have another child: a healthy baby boy.
Crossing the line to hope
When World AIDS Day began in 1988, the chance that a child born to an HIV-positive mother would be free from the virus was no better than 55 per cent. Nearly a quarter century later, an entire generation of AIDS-free children is within our reach. What's needed is what Sitane and her baby received: prevention of mother-to-child transmission.
Here's what World Vision is asking Canada and the Canadian government to do:
World Vision calls on the federal government to meet its 2010 funding commitment of $540 million to the Global Fund to Fight AIDS, Tuberculosis and Malaria.
In meeting this commitment, we ask that the government give priority to funding programs like the one Sitane benefitted from, preventing mother-to-child transmission of the virus.
We invite Canadians to give hope to someone they care about this holiday season -- and to a family like Sitane's overseas -- by purchasing a Mother-to-Child HIV and AIDS Prevention gift through World Vision Gifts.