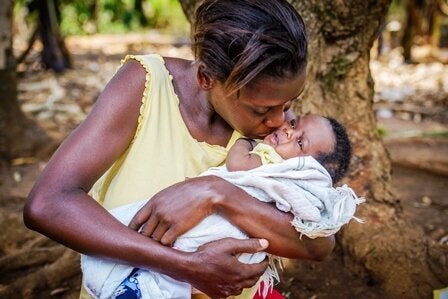 On World Health Day April 7, World Vision is calling on Canadians to sign a petition asking our government to expand efforts to keep the world's most vulnerable children healthy.
My husband and I had a debate this morning about how long cold cuts can stay in the fridge. He's happy to eat them until the package is empty, however long that takes. But because we're responsible for the safety of our two children, I sniff the meat obsessively, sometimes dumping it before the "Best Before" date arrives.
When it comes to children, you can't be too careful with food. Allowing kids to consume something that would hurt them -- or in the worst-case scenario, kill them -- would feel like the ultimate betrayal of trust.
On World Health Day, I feel especially protective of the millions of children around the world whose circumstances force them to consume food and water that puts their health and lives at risk. I see that the World Health Organization has picked "Food Safety" as this year's theme for the day, and can understand why.
Wherever I've travelled with World Vision, I've met young children eating food and drinking water that's nowhere near safe. I remember kids the age of preschoolers on the streets of Cambodia, scrounging through garbage heaps for their dinner. Finding a small piece of meat was reason to celebrate. Yet the scrap may have been festering in the heat for hours before being found by a desperately hungry child. In this case, the food that once held the power to nourish and sustain a child could make them dangerously ill.
Sometimes food danger is not about what's consumed by a child -- it's about what's not consumed. The World Health Organization recommends that young babies ingest nothing but breast milk for the first six months of their lives. But when a mother isn't getting the right nutrients herself, her body will cease to create the life-giving milk babies need. I think about mothers in some of the world's most fragile places, those who are living in remote regions, on the run from civil conflict, or going hungry in refugee camps. More than half of the world's maternal and child deaths, and 70 per cent of infant deaths, occur in these fragile places.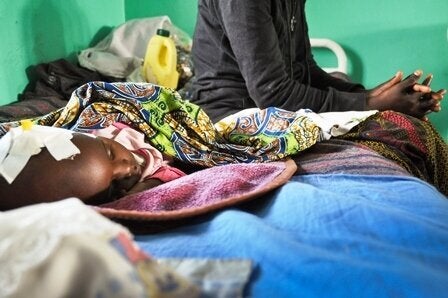 Mom Solange and 18-month old Esther were forced to flee violence in the Democratic Republic of the Congo, leaving their livestock behind. Lack of food left baby Esther half of her healthy body weight, and fighting for her life.
As a child gets older, food danger is about having not nearly enough to eat, or not enough variety of nutritious foods. Maize ground up and cooked, plant roots, or even insects, will fill a child's belly for the moment, and even provide a few nutrients. Yet none of these alone is sufficient. Malnutrition can be particularly serious in children, since it interferes with physical growth and brain development, robbing a child of a lifetime of opportunities. This is the complete opposite of food safety.
Sometimes food danger is not about food, but about water. Many of my colleagues have watched children drinking directly from streams or ponds where animals are both drinking and defecating. The absence of safe water sources is tragically common in remote, conflict-ridden areas in places like Syria, South Sudan, Somalia, Afghanistan, Pakistan, or the Democratic Republic of the Congo. Even if parents forgo their own meals to provide children with nutritious food, the acute diarrhea caused by bacteria and parasites in the water can flush it all away before any nutrients are absorbed. It's the ultimate irony.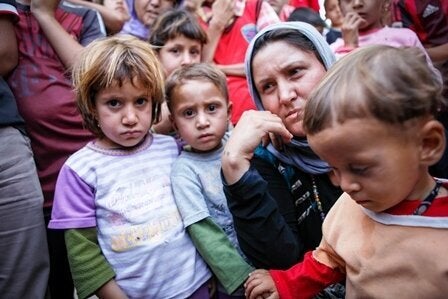 For Syrian refugee children who don't get enough food to begin with, unsafe water can make things even worse, causing diarrhea which flushes away nutrients before they're absorbed.
This World Health Day, I'll definitely review my information about keeping food properly refrigerated, washing it carefully and cooking it thoroughly. I want my kids to be safe and healthy.
But I'll also take a minute to sign World Vision's online petition, asking the Canadian government to expand its efforts to help protect the world's most vulnerable children from threats like malnutrition and diarrhea in areas that are the hardest to reach. It's a part of our Promise Child Survival Campaign, to care for children in remote, war-torn regions who don't officially "exist." More than 230 million of them are unknown and unseen by their own governments. How can plans be created to help nourish and care for them, if they don't appear on the radar?
Just because these children aren't counted, it doesn't mean they don't count. As you make a healthy sandwich (with meat from well before the due date) for someone you love today, please take a minute to sign the petition.
Learn about World Vision Canada's Raw Hope initiative, inviting Canadians to help care for children in remote, unstable regions.