As a child visiting family in Zimbabwe, my memories are like a dream.
I remember sitting on the garden path, lost amongst the flowers, my bare toes wriggling in the sunshine. Barbecued lamb chops so succulent my mouth starts watering at the memory. A crystal blue swimming pool sparkling in anticipation, just waiting for my jumps. My mom smiling happily in the water, ready to catch me and cheer.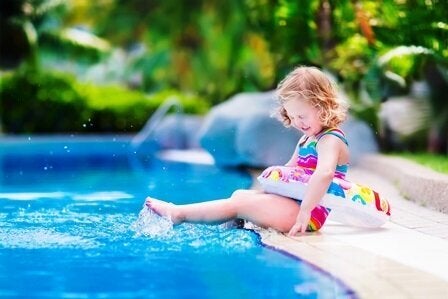 I was fortunate to have a happy, healthy childhood. I had nutritious food, a comfortable home, and an endless supply of clean water. But on World Health Day April 7, I think of children whose experiences couldn't be more different than mine.
Southern Africa is very close to my heart, as my family comes from the region. It shakes me to read that Zimbabwe's people are in a state of disaster because of drought. More than a quarter of the entire population is facing food shortages, because there's not enough consistent rainfall to grow their crops.
The struggle for survival
A World Vision colleague just back from Zimbabwe brought stories that were devastating to hear. He told me about Nelia, a grandmother raising seven children and grandchildren by herself. Four times, Nelia planted her seeds in the Zimbabwe soil and willed the rains to come. But the precipitation was unpredictable. The seeds dried up before they could germinate.
Even though Nelia knocked on doors, begging neighbours for the seeds to try again, she hasn't been able to grow enough to feed the children.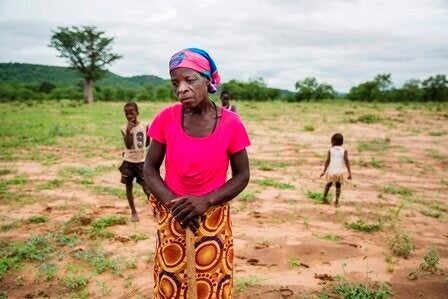 Nelia surveys the field where she had hoped her crops would grow this season. She is desperately worried about the seven children in her care. World Vision photo
Although Zimbabwe has made good progress many families still lack the basics like clean water and sanitation. But introduce something like drought, and you tighten the screws even further on a country's most vulnerable people -- its women and children. Nelia's family was an example. Their plight is shared by millions, across Zimbabwe and around the world.
We could ignore Nelia's family this World Health Day, and focus instead on only issues which affect us here in Canada. But that would be such a waste, particularly since as Canadians we have the power to do something.
We have strong evidence that our development programs have worked in the past. Through the Millennium Development Goals, the world has lifted more than a billion people out of extreme poverty since the turn of the millennium. These same goals saw 48 million children live to see their fifth birthday that might not otherwise have made it past their first month of life.
Although only a third of the world's families live in fragile places, 60 per cent of the world's preventable maternal deaths occur there.
But it's important to note that most of the success has happened in countries that are more stable, politically and economically. In Tanzania, for example, Canada has worked with government to strengthen health systems from the national level right down to the community.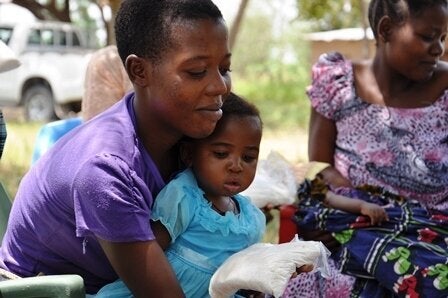 Through programs like those Canada provided in Tanzania, nutrition groups help mothers learn the best ways of nourishing themselves and their young children, gleaning local ingredients to make into highly nutritious foods. World Vision photo
This picture is very different in the world's more fragile places: countries like Somalia, South Sudan and Syria. Here, as we're seeing in the news each week, governments are either unable or unwilling to provide health care for their people.
Although only a third of the world's families live in fragile places, 60 per cent of the world's preventable maternal deaths occur there. Unfortunately, that's not surprising when the rights of women, especially adolescent girls, are most at risk when instability and conflict are the day-to-day reality. And of all the young children in the world who die from preventable causes like pneumonia or dehydration from diarrhea, more than half live in fragile places.
Dreaming of what's possible
Canada has shown its commitment to helping mothers and young children in fragile places. We've funded health programs and emergency responses in places like Haiti, Afghanistan, South Sudan and the Democratic Republic of the Congo. All of these countries top mortality and malnutrition rankings, and badly need our continued help. But we need to do even more for the world's children and women, through government programs and individual actions alike.
There's no question that Canada can play a critical role in ending preventable child and maternal deaths within our generation -- especially in fragile places. Since the settings are often turbulent and chaotic, we must be flexible and adaptable. We must be ready to meet unexpected developments, like the drought which Zimbabwe is facing, while helping countries build long-term health systems to care for families as they grow.
As fellow Canadians, I want to encourage you as we face this task together -- we won't be doing it alone. Even in the world's toughest places, we'll be partnering with people who are determined, resilient and full of hope. We can't forget that in Zimbabwe, grandmother Nelia tried four times in the same season to plant her crops.
This World Health Day, let's decide as a country to help bring preventable child and maternal deaths down to zero in the world's most fragile places.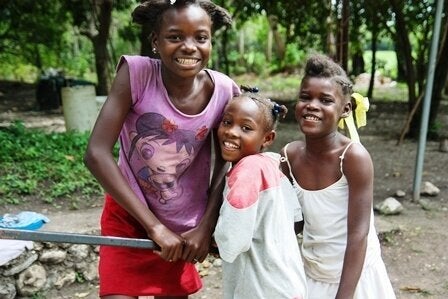 In Haiti and around the world, World Vision is helping provide clean water to children who otherwise would battle against waterborne illnesses. You can help by joining our clean water campaign.World Vision photo
Follow HuffPost Canada Blogs on Facebook