World Vision
The president of World Vision Canada opted not to take malaria medication when travelling to Africa last September. His subsequent battle with the illness gave Dave Toycen greater insight into the plight of children facing the same.
For a long time, I have been fairly certain that World Vision Canada President Dave Toycen is superhuman.
As a producer at CBC Television, I used to book Dave for interviews on crises facing developing countries: famines, floods, earthquakes and the like. I recall him driving straight to the CBC studio one afternoon, after touching down at the Toronto airport. He had just come off a series of flights beginning at a refugee camp in Africa. He'd spent his time in the camp sleeping on the ground.
I observed then that Dave would go to any length to do right by the children his organization serves. Nothing would stop him speaking out for the little ones made completely vulnerable by poverty and injustice.
Dave contracts malaria
Last September, my World Vision Canada colleagues and I were shaken to learn that Dave had contracted malaria on a routine trip to Africa. He was too ill to speak, or even think clearly.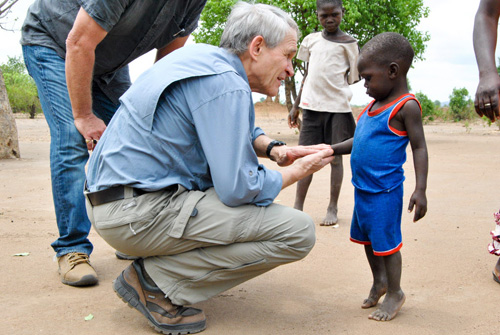 World Vision Canada President Dave Toycen contracted malaria on a routine visit to Africa last year.
When Dave returned to work -- looking tired and weak -- his first message to staff was only partly about himself. He acknowledged that after decades of travelling overseas, he had become careless about malaria, only taking precautions when visiting areas known for their high infection rates.
But almost immediately, he directed our attention to the children who live in these rural villages their whole lives. Kids who are in danger of contracting malaria every single night, when they rest their heads on their sleeping mats.
A tiny coffin
On World Malaria Day, it's important to remember that half a million children die each year from malaria -- through no fault of their own. Those under age five are especially vulnerable, as their bodies haven't yet developed immunity to deadly infection.
I wanted to get a sense of what happens to a child with malaria, so I visited World Vision's online photo library. I've often come here for images of children who are thriving, thanks to the love of Canadian donors. I find children drinking clean water, children picking vegetables from their gardens, children with bright faces hearing a lesson in school.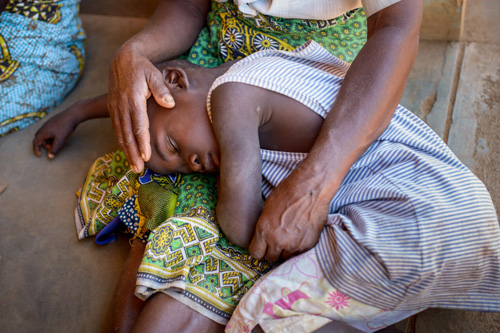 Children battling malaria must often travel great distances to the nearest rural health centre, where they wait to be treated.
But typing in the keyword "malaria," I find something heartbreakingly different. I see children crumpled up on the ground, their bodies so burning with fever they can barely lift their heads. The photo captions tell me that they're waiting for care at a rural medical clinic. I wonder how many hours -- or days -- it took their parents to carry them there. I pray that there was enough medication to go around.
Scrolling down a little further, I see an image of several men carrying a tiny coffin. The baby girl resting inside had died of malaria. Her family hadn't yet received the simple mosquito net that would have saved the little one's life.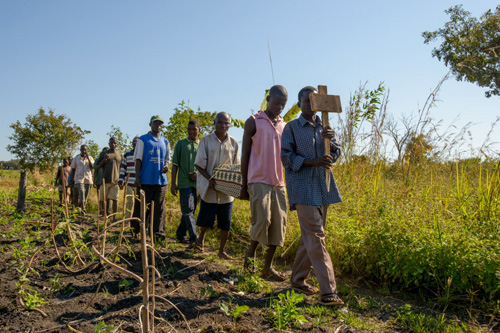 In Mozambique, villagers carry the coffin of a baby who died from malaria. Here family had not yet received bed nets.
It's hard not to shed a tear.
The encouraging news
If there's one good thing about malaria, it's that we can control it. The solutions are inexpensive and so simple that I can tell you in just a few words:
• making sure families have bed nets to sleep under at night time
• teaching parents to use the nets properly
• teaching adults to recognize the symptoms of malaria in their little ones
• treating infected children with a simple oral medication
According to the World Health Organization (WHO), measures like these have saved 1.1-million lives in the past decade.
The next steps
Canada has a chance to improve the chances that babies born today are protected from malaria tomorrow. Our country is known worldwide for its leadership on child and maternal health, thanks to its stand at the G8 Muskoka Summit in 2010.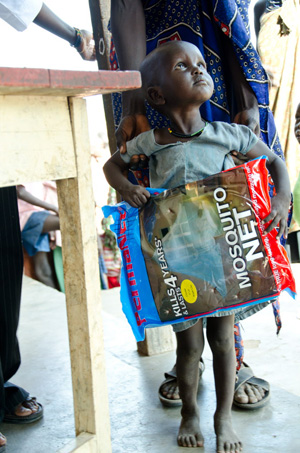 A child receives the bed net that could save the life of himself and three family members.
With several important global meetings coming up, including the 2013 G8 Summit in June, World Vision is calling on Canada to continue with the good things it's doing to protect children from malaria -- including providing bed nets for children. We want to see more health workers visiting remote communities, training volunteers to teach parents how to use the bed nets and recognize the symptoms.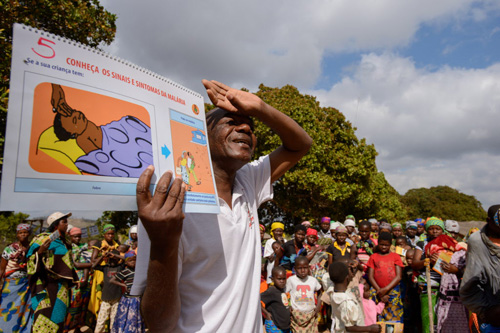 A World Vision community volunteer teaches parents how to feel their children's heads for fever, one of the symptoms of malaria.
What you can do
There are two things you can do in the next five minutes!
Sign a petition urging Canadian government officials to attend upcoming international meetings in May and June on child and maternal health, and make commitments that provide critical healthcare for mothers and babies.
Buy a mosquito net for a family through our World Vision Gift Catalogue. Each net can protect up to four children from malaria and dengue fever.