AP
A poll for World Vision Canada indicates that 63 per cent of Canadians plan on giving to charity this holiday season. But many also want to buy gifts for loved ones. Learn how you can do both at the same time -- even with limited funds.
With only a month until Christmas, the Conference Board of Canada reported this week that Canada's economy is "barely muddling along." The Board attributed this, in part, to the effects of "a grim global environment."
This tough global economy is one of the reasons why so many children around the world need help this holiday season. Every day, my World Vision colleagues share stories of families for whom the phrase "comfort and joy" couldn't be further removed. Here's one I read just this morning:
In Malawi, a blind woman in her eighties has lost her crops to drought. She is struggling to feed the five grandchildren she supports. Since she can't afford to buy food at the current prices, the grandmother has called on her relatives to scrounge for wild roots in the crocodile-infested river nearby. The roots taste terrible and have almost no nutritional value. But they're all that's filling the hunger gap.
Global becomes personal
This is what happens when world events hit desperately close to the home. And while most Canadians aren't dealing with the same degree of want as families in Malawi, putting food before all else is a scenario to which many can relate. It can make the proposition of a glittery holiday season, with all its costs and expectations, pretty tough to swallow.
Anita Colley of LaSalle, Ontario, is a retiree living on a fixed budget. And she's no stranger to need. As a child growing up in Finland after the Second World War, her family shared a home with her grandparents, and two other families displaced after Finland ceded territory to the USSR. Because food was rationed, the hosts shared even their meagre provisions with the houseguests.
"My family's credit at the local food store was at its maximum," says Anita, "so we had to go to another store. And we had pancakes for dinner all the time. There was no meat."
Anita relays that things were never easy, even after the family moved to Canada. "My dad was unemployed so often that we were on welfare at times," she continues. "My mom worked washing dishes. We never knew acute poverty, but there was nothing whatsoever for extras."
Lean Christmases
Christmases during Anita's childhood were happy, but lean. There were none of the expensive toys and gifts billed as essential in the advertising blitzes of today.
"My dad always made us a toy of some kind -- he was good at carving with wood. One year, he made my brother an Arabian sabre. Mine was a doll buggy. I regret to this day that I had negative thoughts about it. I envied the store-bought one the girl down the street had been given. But I see now how special it was."
As an adult working in a Canadian health clinic, Anita says she always encouraged her colleagues to forgo the traditional gift swap and pool money for a family in need. "Who needs another mug?" she asks. "We have so much here in Canada. The last thing we need is more stuff."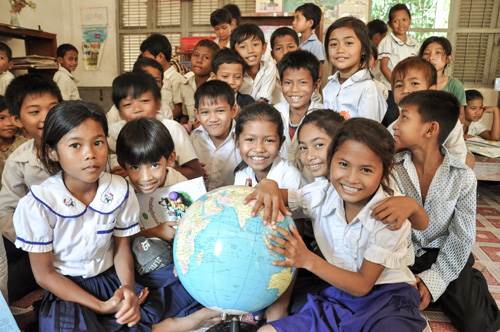 Giving here, helping there
When it comes to Christmas gift-giving this year, Anita's seeking something more significant than another toy or sweater. She wants to give something to her two new grandsons by marriage. And she wants to help children overseas at the same time. Anita has purchased a "giving card" from World Vision Gifts, which she's about to send to her grandsons. It gives the boys the fun of choosing from dozens of gifts to bring hope to families overseas who are in need -- from live animals, to fruit trees, to soccer balls.
Anita's choice is something that 63 per cent of Canadians plan on making this holiday season: giving to charity. The number came from a recent World Vision Canada poll conducted by Harris Interactive. I find this so encouraging. I know from my work what a huge difference something from World Vision Gifts can make. And I've learned, from talking with people like Anita, how fulfilling it can be to change a life during the holiday season.
"The gift says that someone cared about you," she says. "The person in another continent receiving the gift would realize that someone cared. And sharing what we've got is what Christmas is all about."