PSI
In the Christmas story, three wise men journeyed over great distances to bring gifts to a child. Meet three caring Canadian celebrities who have dropped everything to travel overseas with World Vision Canada, using their fame to bring hope to millions of children around the world.
Colin Mochrie had forgotten his mittens. The Scottish-Canadian comedic legend had arrived in Toronto's Yonge-Dundas Square on a bitterly cold morning in December of 2010. His mission was an important one: to urge Canadians to improve the lives of families overseas through World Vision's holiday gift catalogue.
With hands exposed to the elements, Colin entered a pen of live animals -- including one highly uncooperative llama -- to tell media why their readers and viewers should reach across the ocean at Christmas time.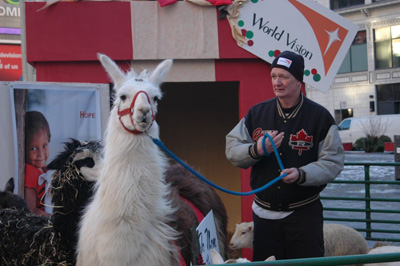 Colin Mochrie braves the cold to urge Canadians to purchase gifts for families overseas.
The wind howled; the llama pulled in all directions. Glamorous, it was not. But by the next day, hundreds of thousands of people in southern Ontario had seen Colin on their TV screens, or splashed across the pages of their newspapers. And they'd read or heard his message: "I've met the children you need your help. You can make a real difference in their lives."
Colin has indeed met these children. Perhaps a little girl named Nana was on his mind, as he left his warm house that morning.
"She was surrounded by poverty," he recalls, of a child he met on a World Vision trip to the Democratic Republic of Congo. "They made fun of her because her skin was lighter than the others in the village. Yet she still had dreams of being a nurse. She had this wonderful, matter-of-fact optimism."
Urging Canadians to help
It's not the first time a Canadian celebrity who would seem to have everything has been moved by a child who has nothing. As Co-Host of ET Canada, Rick Campanelli is one of Canada's most popular TV personalities. The former MuchMusic video jockey perhaps connects with a slightly different demographic than Colin. But his message to fans is very similar. And, like Colin, there's one child who will always be close to his heart.
"We were all playing soccer," he recalls of a trip to Tanzania in 2000, "and this one special boy came out to join the game. He didn't have legs, but he still came out to play with all the other children, and they all made him feel like he was part of the group."
Rick made that first trip with World Vision to promote the 30 Hour Famine, the world's largest youth fundraiser. While in Tanzania, he recorded videos which aired across Canada, inspiring teenagers to go hungry to raise funds for needy children. Rick's made three more trips since, including one to Ecuador this summer.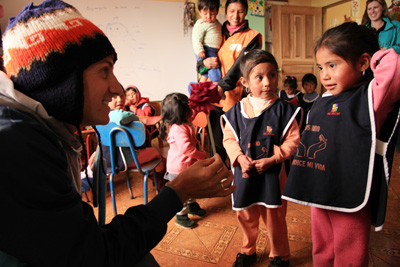 Rick Campanelli meets children whose preschool has been improved by Canadians through World Vision Gifts.
"We visited a preschool high up in the Andes Mountains," he told ET blog readers, "where getting a proper education can be tough...many classrooms are under-funded. However, this school was different. The students received supplies from Canadians who bought things like books, pencils and uniforms through World Vision Gifts."
The fact that the Ecuador trip took a 10-day chunk from Rick's already punishing schedule didn't stop him from making it -- nor did the chance that charity work could be seen by critics as a way to further boost his fame.
"I've been someone that has genuinely liked to help out people in need," he shares. "I wasn't going to stop just because I have a career on TV."
Forever changed by the experience
At 17, Canadian pop sensation Tyler Medeiros is just old enough to get behind the wheel of a car. Yet he's already sponsoring a child through World Vision Canada. And when he travelled to Sri Lanka this summer to learn more about how sponsorship works, Thivya was the first person he asked to meet.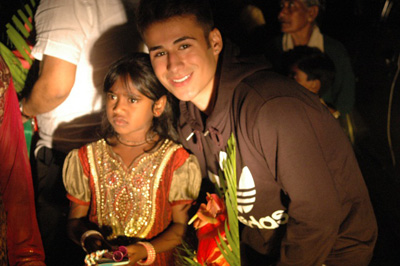 Tyler Medeiros meeting his seven-year-old sponsored child, Thivya, in Sri Lanka this September.
"I remember walking out of the World Vision office earlier this year after sponsoring Thivya, and just thinking 'she's so far away.' Having the opportunity to meet her in person, face to face, was really life changing. Thivya is so happy with what she has, and so grateful for what World Vision is going for her. It was very humbling."
So humbling, in fact, that Tyler broke down when talking to cameras about the meeting shortly after his return to Canada.
"It's just amazing that they're still smiling," he said of the children he had met. Then the young man who has confidently performed before packed stadiums handed the microphone away, wiping his eyes.
Inspiring others to care
What is it about celebrities that beckons people toward a worthy cause? Why do we take the word of someone we've never actually met, about the worth of a mission, or the value of a dream?
Perhaps it's because, like Colin, Rick and Tyler, they've been willing to go to the ends of the earth to see the proof for themselves. And perhaps it's because, in helping change the lives of others, they've let themselves be changed in the process.