 The little girl from Iran was ready to meet Santa. She had heard all about the jolly man in a red suit, but never actually seen him in person. Anahita Azita emerged from the Christie Refugee Welcome Centre in Toronto, dressed in a princess costume someone had donated. Her face was a picture of joyous anticipation.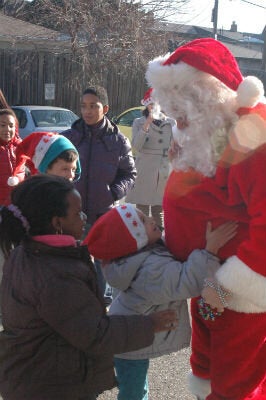 Outside the centre's doors, seven-year-old Anahita stepped into a place of wonder. In the parking lot, World Vision Canada had set up four pens of farm animals for children to pet and feed. The air was full of holiday music, thanks to a live performance from the band Sky Terminal. A table was laden with sparkling Christmas cookies and steaming cups of hot chocolate.
In a moment of triumph, Anahita squirmed her way through the crowds to climb onto Santa's lap. She asked for one of the red hats World Vision staff were wearing, and positioned it on top of her plastic princess tiara. Laughing with joy, the little girl from Iran threw her arms around Santa's jolly belly, hugging like she would never let go.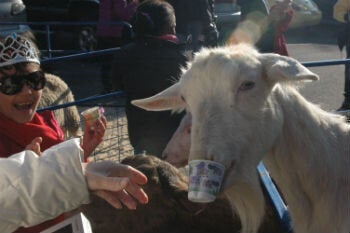 It was a world made for children. And for girls and boys whose families have escaped from realities no child should ever have to face, it was a precious gift. Many of the children at this Christmas party had survived the terror of life in a conflict zone, or years on the run as their parents fled persecution. Far too many had heard the sounds of weeping and gunfire.
The Christie Refugee Welcome Centre is a place for families to sleep soundly during their first six weeks or so in Canada. It's not luxurious, but families receive nutritious food to eat, and a room to temporarily call home. The nearby public school is accustomed to welcoming children from the centre until families find an apartment of their own.
It's true that services are available to many newcomers to Canada. Children in these refugee families attend English classes offered by the local school board. They receive complete medical exams. Parents meet with a lawyer, courtesy of Legal Aid, as they prepare for their refugee determination hearings.
But accessing these services requires attending myriad meetings, and successfully negotiating a complex labyrinth of forms and systems. And for traumatized refugees who arrive here knowing little English, the process can be overwhelming. That's where the centre's staff and volunteers come in, guiding and supporting families like Anahita's as they find their way.
Fighting poverty in Canada
Having worked in nearly 100 countries around the world, World Vision knows about the contexts in which children like Anahita have lived. We team up with grassroots organizations like the Christie Refugee Welcome Centre, helping build long-term responses to the challenges children face here in Canada. It's one of 80 Canadian agencies with which whom we've partnered over the past year, providing financial support and training for staff.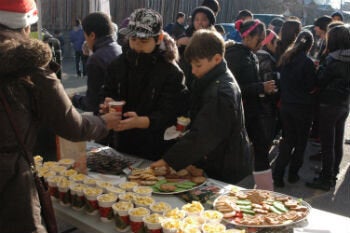 And it's not just immigrant children who need our support. Some 600,000 children in Canada -- many of whom were born right here -- are growing up in poverty. Children go to school with hunger pains. Some struggle to run in shoes that are painfully small, or face the winter wind without warm coats to protect them. Many don't know where to turn for help in achieving their dreams.
There's something you can do this holiday season, for a needy child in Canada. Instead of chocolates or a sweater, give someone you care about the gift of knowing they've helped a child here at home.
Feeding a hungry family, bringing hope to children living at or below the poverty line
Equipping them with school supplies like pencils, notebooks, rulers, glue and crayons
Making a donation to the Canadian Assistance Fund, supporting programs like those offered at the Christie Refugee Welcome Centre that bring hope and a new beginning to children