Here in Canada, we turn on our taps and clean water comes out. Simple as that. It's always clean, always plentiful, and unless we have long-showering teenagers in the house, usually the temperature we want it.
This World Water Day, however, millions of people who share our planet are constantly thinking about water. How could they not be? Their children die from waterborne illnesses, because the local stream is contaminated. Others forfeit their schooling to trek long distances for water each day. Families lose their harvests -- and their food supplies -- because there's no irrigation for their parched crops.
Here in Canada, a ready supply of clean water contributes to our health, longevity, and freedom to live as we choose. But in too many communities around the world, a lack of clean water keeps people sick, struggling -- and trapped.
Over the last five years, World Vision has reached more than 7 million people with water, sanitation and hygiene, and has provided safe drinking water to more than 5.5 million people. Here is a gallery of images of families we've been able to help, and families we can reach -- with your help.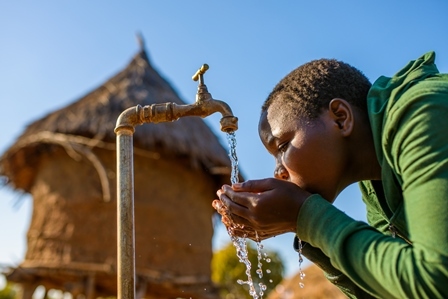 Zambia -- The power of a tap
How many faucets do you have in your home? In Zambia, 14-year-old Mutinta has just one near her house -- but it's changed her life. This water comes through a system powered by solar panels, giving Mutinta the gifts of health, time and hope.
Rwanda -- Drilling day!
It's the day many of these parents have waited for all of their lives. Their children have grown up drinking water from the local stream, battling stomach worms, cholera, diarrhea, and eye infections. But thanks to a donation through World Vision, a borehole is to be drilled in their community today.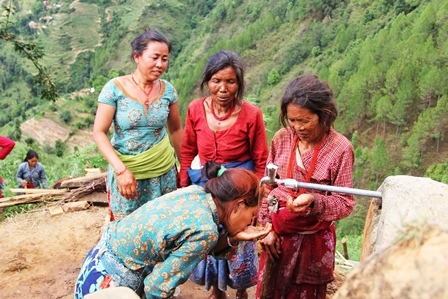 Nepal -- Lifeline restored
Improving access to clean water is often part of World Vision's work, when we help communities recover from major natural disasters. In the year since the deadly earthquake in Nepal, families have had to walk long distances over rough terrain to fetch water. They can now drink deep in their own village, leaving more time to care for their children.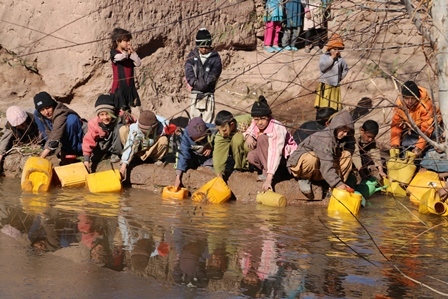 Afghanistan -- School comes second
In remote areas of Afghanistan, water for drinking, washing, cooking and watering animals must be fetched from ponds. Many parents must choose between having their children carry water all day -- or sending them to school. You can see from this picture which comes first.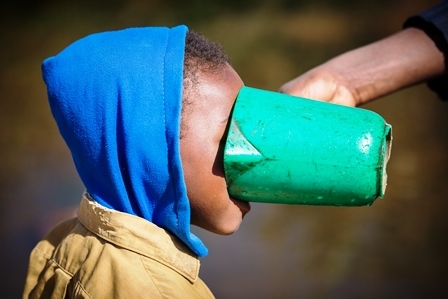 Ethiopia -- No other choice
Women and children in a remote rural community collect water from a polluted. Children in the community have died from water-borne diseases. In the same place where women and children fill their water bottles, others do laundry and animals foul the water. World Vision is finalizing a plan to cap the spring and provide pure, clean drinking water to the community.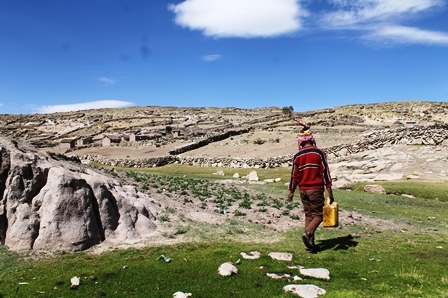 Bolivia -- The long, dry journey
Can you imagine spending most of your day fetching dirty water which gives you diarrhea? When you lose body fluids and need to drink -- yet the water makes you sicker still. This is 11-year-old Darwin's life. He makes his journey at least twice a day in all weathers, even when ill and exhausted. There's no other choice.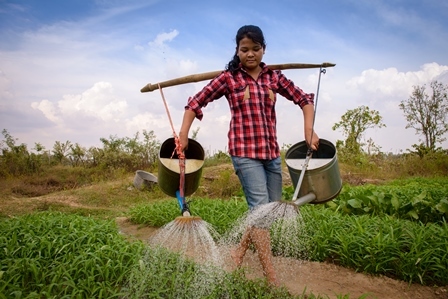 Cambodia -- Ancient irrigation
In rural Cambodia, families irrigate their crops using the same methods that farmers have used for centuries. It's hard work under the hot sun, especially during the dry season. But thanks to a water project in this community, they don't have to travel far to fill their watering cans. This cuts the work in half.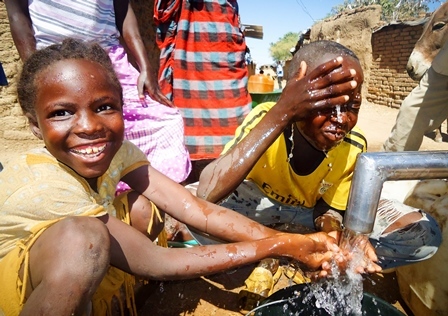 Darfur -- The joy of being wet
Tamadur and Babiker go without many things, in this camp for 42,000 people forced from their homes by conflict in South Darfur. But since World Vision created motorized water systems and rehabilitated hand pumps in the camp, fresh, clean water is in plentiful supply.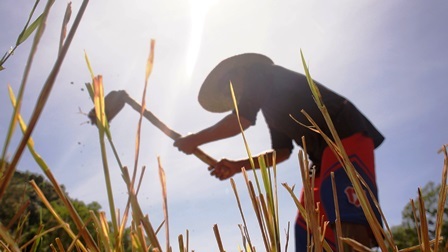 Philippines -- The curse of El Nino
"El Nino has greatly affected my farming," explains this farmer, referring to the lack of rain. "Before, I could harvest at least 25 sacks of rice for our family's consumption. The last time I harvested, it was only 15 sacks of rice." For parents relying on every sack to nourish their children, such a drop can be deadly dangerous.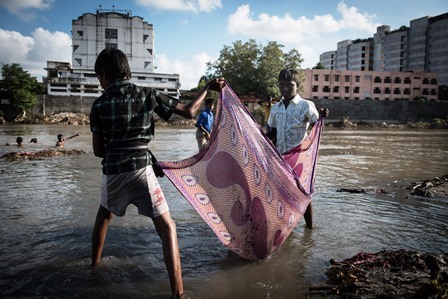 India -- Fish but no house
Surendra is happy trying to catch fish with his friends in the flooded canal near his home. His parents are more worried about their house which was carried away by high waters. All around the world, families struggle to access the right amounts of water in the right ways, while remaining safe in changing weather patterns.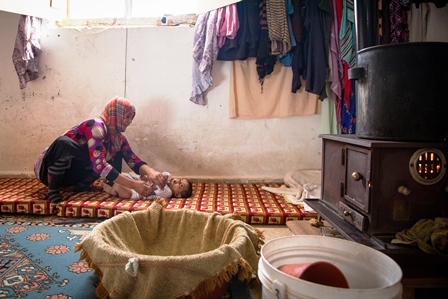 Lebanon -- Bath time for baby
"Somehow he knows it's his bath time," says Shawwaga, a Syrian refugee mother of three children. The baby, Abd Al Rahman, was born in this makeshift camp. But thanks to water projects supported by donors, she has clean water from a nearby tank to bathe her little boy. "No more polluted water," says Shawwaga. "Where there is water, there is life."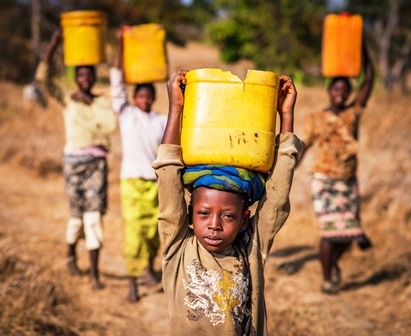 Zambia -- A cruel journey
"I don't like this water at all," says thirteen-year-old Dorcas, of the water she gathers from the village watering hole. She travels there four times a day with her leaky bucket. "Dorcas usually has diarrhea, but she's a strong girl," says her grandmother. Waterborne illness such as relentless, dehydrating diarrhea can mean long strings of school absences for children around the world, putting them far behind in their studies.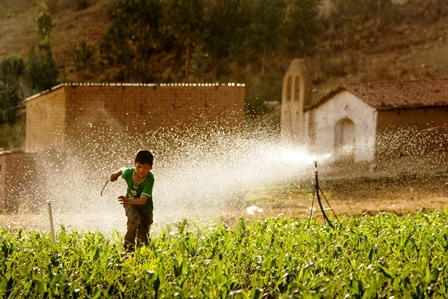 Afghanistan -- Clean water, bountiful food
In Miguel's community, there's now clean water for year-round irrigation, thanks to the dam provided by World Vision in partnership with the local municipal government. The eight-year-old loves helping his grandfather water their crops of corn with the sprinkler system connected to the dam.
This week, World Vision in launching a nation-wide water campaign aimed at connecting Canadians with the water needs of people around the world. Want to know more? Please visit our web site at worldvision.ca
All photos from World Vision.
Follow HuffPost Canada Blogs on Facebook