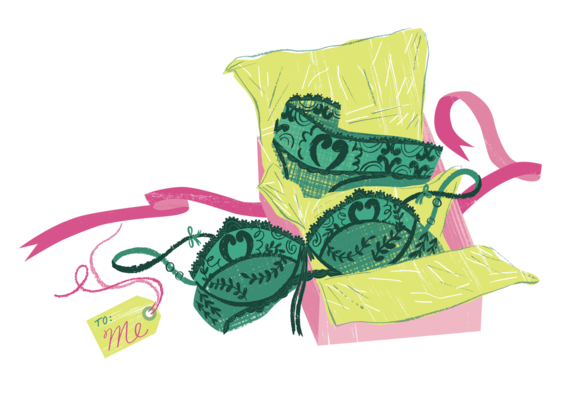 "Lingerie is about more than just bras", wrote the style expert and "Project Runway" judge Nina Garcia in her book The One Hundred: A Guide to The Pieces Every Stylish Woman Must Own.
Although the book isn't new--it hit the shelves back in 2008--this is a truism I couldn't agree with more. And I was reminded of it when prepping this instalment of Things To Tell My Daughter: Always Buy Yourself Nice Lingerie.
I'm not just referencing frilly balconnet bras here. I'm talking about the lacy stuff of course, but also beautiful cotton, elegant and well-made undies and undershirts that are super-simple but sublime.
A woman should always have nice undies for so many reasons: Because, for the most part, they are a uniquely female indulgence, which almost makes up for the fact that we have to endure menstruation.
And also she should keep herself in good lingerie and underwear because it's seriously confidence-boosting. And because life is about taking time to enjoy small and beautiful treasures. And because wearing good undies instills self respect too.
Oh, to spend a couple of hours on a busy Saturday in a great lingerie store, carefully considering the styles, the laces and the colours that are most you: Imagine yourself in a black, exquisitely made, French guipure-lace bra and matching bikini, a strawberry-pink slip or silk-charmeuse tap pants the colour of a summer sky.
Try them on. See yourself transformed. Hold your head up high and your hair just so.
The trick: Find a boutique that has great service in addition to a great selection of brands, and get yourself measured so you end up with perfectly fitting undergarments too, as there's nothing like an uncomfortable bra to make you feel awkward and irritated all day long.
Lingerie as confidence-booster
It was the Aussie model turned lingerie designer Elle Macpherson who said, "If you're wearing lingerie that makes you feel glamorous, you're halfway there to turning heads."
True. It might have something to do with the fact that great-fitting undies make your body look better in your clothes, too.
Just know that if you're wearing a pair of jeans and a T-shirt but underneath you have on beautiful things--and I don't necessarily mean super-skimpy crazy things--it makes you feel so good, strong and beautiful. And that's a magnetism people notice.
Lingerie as one of life's small pleasures
Like a perfectly made bowl of pasta, a divinely scented perfume or a finely crafted novel, lingerie is one of life's small but great pleasures. You shouldn't over-indulge, because that would be silly and you would lose the beauty of the experience. But build a wardrobe of lovely lingerie, which includes what Garcia calls the essentials -- a camisole, silk slip, negligée, silk stockings -- along with great cotton basics and a few fun pieces. Don't forget PJs that make you feel like a princess too. And something leopard should always be in your stock, or whatever your version of leopard is.
Lingerie as power and respect
When you are an adult and are wearing lingerie, know that it reflects how you treat yourself, groom yourself and dress yourself, and signals to others how they should treat you too: intelligently, thoughtfully and with respect.
Not that a woman should ever be defined by her pushup bra, but every woman--whether she's an astrophysicist or architect, writer or wrestler, barista or bartender--should be able to wear great undies and lingerie and love herself for it.
Follow HuffPost Canada Blogs on Facebook