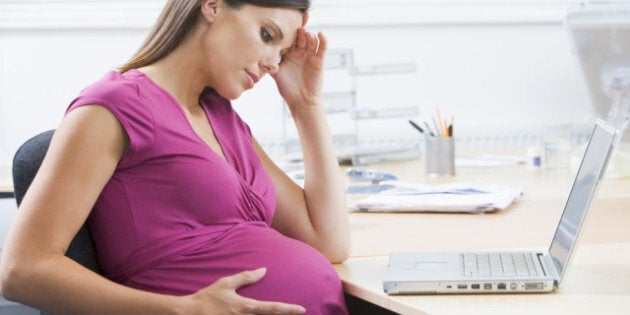 In the 1970s, when I was born, it was standard for the man to be the breadwinner of the family, the woman the keeper of the home and children, and families to survive on a single income. Being gay was not accepted, blended families were rare, and discrimination in the workplace was common.
How (beautifully) far we've come.
True, we have significant steps to take in the continued fight for global equality, but there's no denying society has changed in countless positive ways; in particular, the opportunity for women to be able to choose to have a career -- or not.
Anne-Marie Slaughter's recent op-ed in The Atlantic, Why Women Still Can't Have it All, is a prudent first-hand account of the work-life balance for women, supported by several intelligent examples of high-powered career women, from current U.S. Secretary of State Hillary Clinton, wife of former U.S. President Bill Clinton and mother of Chelsea Clinton, to Condoleezza Rice, former U.S. Secretary of State, who is unmarried and without children. I read it a while back and it has continued to resonate with me.
As a wife, mother and founder-president of a successful PR company, I can relate to the struggle between finding a suitable work-life balance that lets me best serve my family and my business. I am fortunate that my ownership of my company allows me to work flexible hours when necessary -- not fewer hours, just less rigid. It definitely allows me to lend support to my family when they need me; things like taking my daughter to her pediatrician or being able to attend her daycare graduation. I also have an incredible, loving and present husband, without whom I couldn't raise my family or run my business in the way I do now.
For me, one of the most poignant points mentioned by Slaughter is her reference to Facebook chief operating officer Sheryl Sandberg:
"(Her) widely publicized 2011 commencement speech at Barnard, and her earlier TED talk, in which she lamented the dismally small number of women at the top and advised young women not to 'leave before you leave.' When a woman starts thinking about having children, Sandberg said, 'she doesn't raise her hand anymore... She starts leaning back.' Although couched in terms of encouragement, Sandberg's exhortation contains more than a note of reproach. We who have made it to the top, or are striving to get there, are essentially saying to the women in the generation behind us: What's the matter with you?'"
The truth is if somebody is going to tell you it's easy to be a businesswoman, wife and mother (among other feature roles such as daughter, sister, friend and mentor), then they are flat out not telling you the truth. There is nothing easy about it. Young women should be well-equipped to know what's ahead of them. I'm not saying it can't be done -- certainly passion and ambition can take you anywhere you want to go -- but we can't all be Superwoman. I had six weeks of maternity leave and it sucked. I wanted more time with my daughter and I was resentful of being an entrepreneur. I figured out the balance again, but with lots of help.
It's time for society to realize that choosing motherhood and becoming the CEO of a household is absolutely okay, too. It doesn't mean we don't value what our sisters before us have achieved; no doubt they have brought about incredible change for women in a world run by men. It just means some of us flourish in the workplace, some of us in the home, and a small percentage can do both and seemingly run the world all at the same time.
And it works both ways; if a man should choose to be a stay-at-home dad, for example, while his wife pursues a high-level career, what's the problem? It's 2012, people -- time to break gender stereotypes. The key is finding what works best for you and your partner/family; finding what brings you joy and fulfillment, regardless of what society dictates that should be.
My biggest question around this issue is why aren't more women proud to be the CEO of their homes? Why do so many career women think less of any woman who deliberately chooses her home life over her professional life? This is a choice we should be celebrating for those who choose this path. We need these roles too. Success means different things to different people, and women everywhere should have the option to choose what success really means to them, without consequence. To me, success means fulfillment, loving and being loved, good health and family.
Of course, in this day and age, double-income families are often necessary to survive in this economy. But if a woman chooses a career path with less travel and fewer hours in order to spend more time at home, she should have the right to do so without judgment.
I applaud Slaughter's willingness to deliberately talk about her sons and her family in the workplace, and request they be mentioned when she is introduced before she gives a speech. Her commitment to using her position of power to change the way women and families are perceived in the professional world is something to be admired. And her passion for the cause is evident with every carefully crafted sentence.
It should also be noted that Sheryl Sandberg "recently acknowledged not only that she leaves work at 5:30 to have dinner with her family, but also that for many years she did not dare make this admission, even though she would of course make up the work time later in the evening. Her willingness to speak out now is a strong step in the right direction."
I encourage women and men everywhere to support this movement for having, as Slaughter says, "healthy, happy, productive lives, valuing the people they love as much as the success they seek." It could be as simple as sharing Slaughter's story with your mother, sister, best friend, husband, sons, etc. Part of my job in PR is about creating awareness and propelling discussion around my clients. In the same manner, let this article be a way to get a conversation going around how to take this movement to the next level. Change doesn't come around by being quiet. We need to scream and shout if we want to be heard.
So send a tweet, post on Facebook, tell your neighbour. Do it for your daughters, your sons, your grandchildren. One day, when they're able to service their career and their family without feeling guilty or being judged, they'll thank you for the opportunity to live their lives the way they want.
Debra Goldblatt is the founder and president of rock-it promotions, a boutique public relations agency in Toronto, Canada. rock-it promotions creates national campaigns that build recognition and generate positive media coverage for lifestyle, fashion, health, beauty and film clients among many more.