I was recently asked by a reporter what I thought of the term MILF. My answer? It depends on who is saying it. If it's a husband good-humoredly flattering his wife, great. If it's a silly teenage boy -- a la American Pie -- I also give him a pass because he'll grow out of it. And because the way it was used in that film wasn't gross or insulting, at least not if you have a sense of humor. In the irreverent world of adolescent boys, they were kind of in awe of "Stifler's mom." Who isn't in awe of Jennifer Coolidge?
Unfortunately, the term has evolved into something far more derogatory. Now, it is often used by (some) adult men and roughly translates into, "Hey, you don't look as old and ugly as you should after dropping a kid -- I'd still do ya." Wow, sweep me off my feet, why don't you. It's a back-handed, skanky compliment, yet some women are either naïve enough or so desperate to be OK'd by men that they actually think the term is cute and flattering.
Newsflash #1: MILF is a porn genre. Even more unbelievably, some women now actively aspire to be a MILF, as if being found "screwable" by men you don't know or care about is "empowering."
Newsflash #2: Truly empowered women set the bar a little higher.
Don't get me wrong. I'm all about staying sexual and attractive post-baby. Intimacy is important in marriage, and both women and men are happier when they feel physically desired by their mates. But I'd like to make a suggestion. Let's leave the MILF acronym where it belongs -- in the domain of teenage boys -- while we adult women (and mothers) grow up and show some class. Here are eight ways to be a MILF with class.
1. Stop using the term MILF. If you need to label yourself, choose something that imparts style, sophistication, sensuality, intelligence and self-dignity. Think about it - none of those qualities seem to fit the MILF acronym, do they? Try femme fatale, vixen or siren instead.
2. Take care of your body. Get in shape by eating well and exercising. Being fit has a remarkable ability to increase a woman's self-confidence. Choose a good skin care regime for your face and hands.
3. Take care of your mind. Have something intelligent and interesting to say. That's at least as important as sporting skin-tight Lululemon yoga pants at your daughter's parent-teacher interviews.
4. Age gracefully. This is all about attitude. Embrace your life's experiences - including motherhood - and stop competing to be eye candy with women younger than you. They are having their springtime, just as you had yours. Summer and fall are beautiful seasons, too. Need proof? Google an image of Diane Lane or Helen Mirren.
5. Choose age-appropriate clothing. Think Sophia Loren. Can you picture her wearing a MILF tee-shirt in her forties? Or sporting sweatpants with the word "juicy" scrawled across her buttocks in glitter? Even she couldn't make that look classy. And that should be a big red flag to the rest of us. Don't borrow anything from your teen-age daughter, either. Ever. You should also take a second look at your make-up and hairstyle to make sure they're helping and not harming your beauty efforts. If you haven't consulted a professional beautician in the last decade, it's time.
6. Act like a lady, not a tramp. Look through your Facebook photos. Are there bar pics of you - complete with glassy eyes, an open-mouth whoo-hoo, raised shot glass and leave-nothing-to-the-imagination cleavage? Are you over forty? MILF alert. Hold yourself to a higher standard of public presentation. Focus on subtle sensuality rather than overt sexuality.
7. Have a boudoir shoot done. These are great for women of any age. Let a professional photographer and make-up artist make you look and feel your sexiest. I have spoken to many women who have had these done (including breast cancer survivors) and all have said it was a wonderful experience for them...and their husbands.
8. Ask yourself: Does my husband make me feel sexy? A woman who has had a man's child should be sexier and more attractive to him. He should make her feel desired and loved. If that isn't true for you, take a good look at your relationship and fix what's broken. If you can get validation there, you can stop looking for it from other men.
We all have our opinions, and I know there are many women who are okay with the MILF acronym. It's all in good fun, right? But let me ask you this: Would you want your daughter to aspire to this term when she becomes a mother? Not the cutesy acronym, but the full uncensored label with the profanity intact: Mother I'd Like To F*ck. Would you want your son to talk about women in this way? If not, maybe it's time to think of yourself in better terms.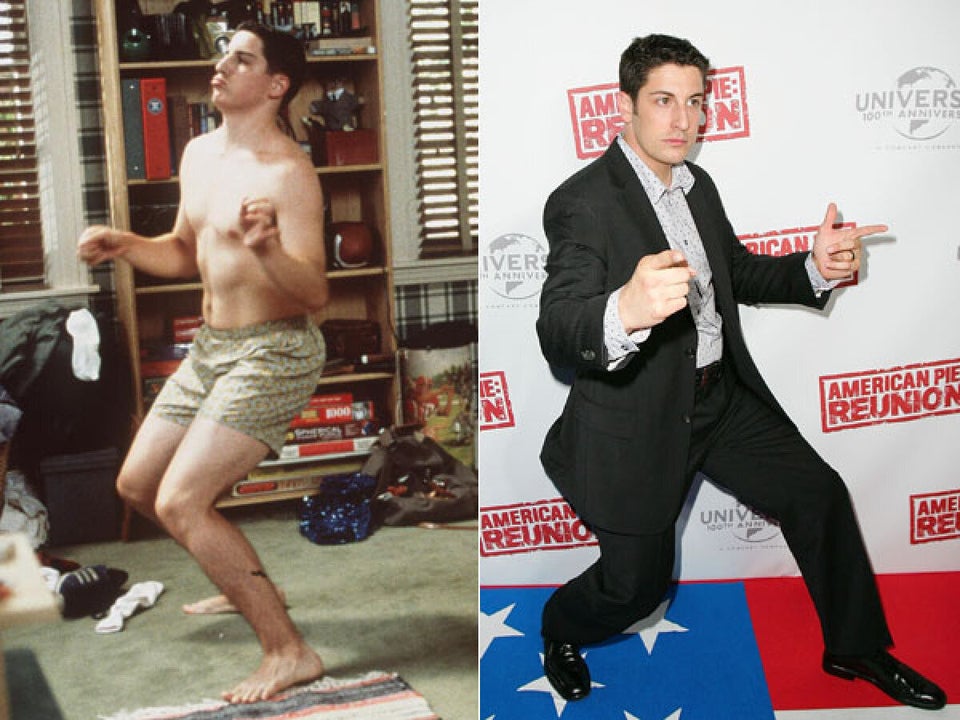 American Pie Cast - Then & Now
Visit Debra Macleod at www.MarriageSOS.com