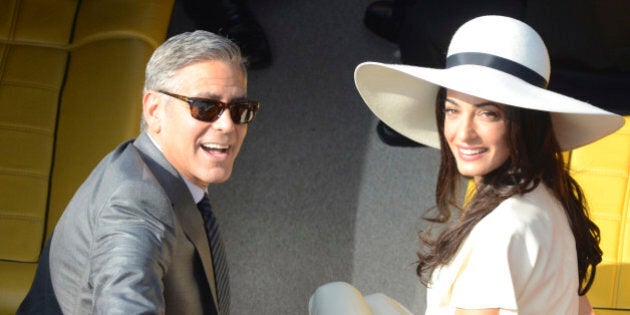 Just as fashion trends have a tendency to return (I've seen two people wearing Swatches this week alone!), it appears that marriage is making a comeback. A new and improved version of marriage is hitting the shelves, and it is perhaps more fashionable than ever. Why? Largely because of the type of woman who is choosing to walk down the aisle.
Amal Clooney is one such woman. Smart, savvy and successful, she had it all -- and then she added George Clooney to the list. Talk about the icing on the wedding cake.
So why are some people so against marriage and so baffled (maybe even bitter) that a woman like Amal Clooney would choose it? Here's my snapshot answer: in the decades following the sexual revolution, the image of marriage underwent a smear campaign. It became equated with female subordination and sexual repression, an antiquated socio-legal institution that compelled a woman to give up her identity and exist for the sole purpose of cooking casseroles and meeting her husband at the door wearing a Stepford-wife smile and carrying his slippers.
Marriage was also increasingly seen as anti-feminist. It still is by some people who proclaim that a woman who aspires to marriage is nothing more than a wannabe princess who is drawn to empty symbols of submission and commitment, and who knows nothing of "real" love or devotion.
Yet the latest research about marriage shows some surprising facts about the kind of woman that is embracing and benefiting from modern marriage. College-educated women who are at least 27 years of age, and who do not have children from previous relationships, are boasting the best rates when it comes to marriage success and ultimate family stability. Statistically speaking, the marriage between Amal and George Clooney has the makings of a happy, lasting one.
But why would this woman -- educated, independent and full of choice -- even bother to get married in the first place? Why not just cohabit and maybe have kids without ever having to worry about the possibility of a messy divorce? I mean, nobody likes paperwork, right?
Well, my take is that these women know what they want -- or perhaps more succinctly, they know what they don't want. They don't want to invest years of their life in a relationship with a man who can't be bothered to make a real commitment to them and to any children they may have. They don't want to settle or play house. They want the real deal and they know they can get it.
Any way you slice it, statistics are clear about a few important things. First, married couples stay together at much higher rates than cohabiting couples. Second, married parents are far more likely to keep a family intact and provide a stable, enriched childhood for their kids. Third, married women tend to be happier than their cohabiting counterparts. Marriage doesn't offer any guarantees, but it's still a woman's best bet.
I think today's empowered woman expects more out of life and out of a life partner. She doesn't just want to get married, she wants to stay married. If she decides to have children, she is determined to provide a stable two-parent home for them. To her, marriage isn't a fairy tale or an act of submission, it is a smart lifestyle choice made by a self-assured, self-sufficient person. Having a husband makes her stronger, not weaker. And while she will hold a husband up to a high standard, it is no higher than the one she she will hold up for herself as a wife.
That, to me, is the "Amal factor." It's the kind of quality that turns the head of a ladies man and perpetual bachelor like George Clooney and sends him ring-shopping in record time. Frankly, he knows a good thing when he sees it. Most men do. Most men are Clooneys. They may say that marriage isn't important but, when they find the one they really don't want to get away, they drop to one knee like the poster man of matrimony.
As we are seeing, the new Mrs. Clooney is an intelligent woman with impeccable style and the potential to be a real role model for young women. From her classic sunglasses to her chic pant-suits, she's leading the fashion pack and gracing the covers of glossy magazines everywhere; however, it wasn't her Oscar de la Renta wedding dress that was her best choice -- it was her decision to choose marriage when she did and how she did. By doing so, she is showing a new generation of smart women how good modern marriage can look on them.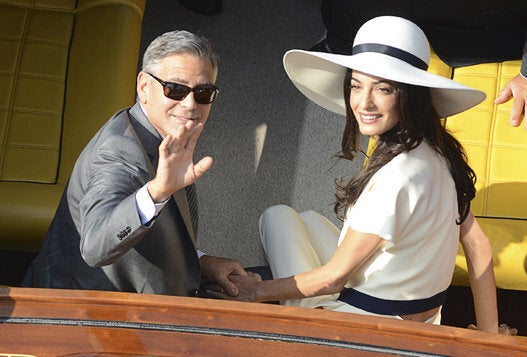 Amal Alamuddin And George Clooney