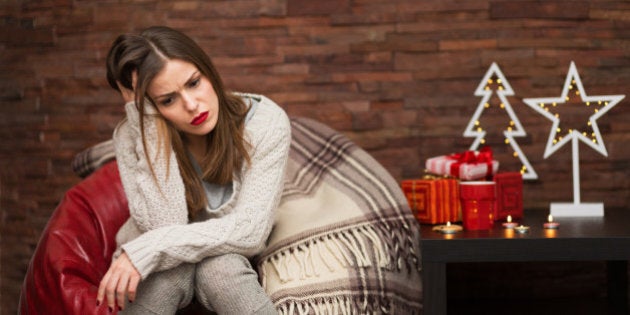 Right around this time every year, I sense a certain panic my clients' voices. "Deb, we need to fix our problems -- Christmas is coming!"
You're correct. You do need to fix your problems. And Christmas is coming.
But you don't need to fix your problems because Christmas is coming. You need to fix them because they're chipping away at your happiness and well-being, and they're probably chipping away at the happiness and well-being of your kids, too.
For some reason, people tend to really shine a spotlight on that sixty-minute period when they all sit around the tree and open presents on Christmas morning. Hey, I get it. I love it. It's sweet and nostalgic.
But it's also sixty minutes. There are 525, 540 other minutes in the year.
If you want to use this season as motivation to make things better in your marriage and home, wonderful. Great idea. I'm just encouraging you to think bigger, longer term. Because in my professional experience, far too many people want to "patch things up" before a special event -- whether Christmas, Easter, an anniversary, whatever -- but once that event has passed, they quickly drop the ball and go back to their old ways.
That's because the real focus was on the occasion and not on the two of them. It was on "making nice" so that they could enjoy unwrapping presents and so that everything proceeded according to tradition and reflected that picture-perfect scene on the front of that greeting card. It was on calming the waters so they didn't fight or make a scene during Christmas supper at the in-laws' house. It was on getting through Christmas morning and day without spoiling it for their kids by fighting.
All good things. Wonderful things. But you're not fooling anybody. The in-laws know you're not getting along. They can tell you're holding your breath and waiting for the axe to fall. Your kids might have a good memory of Christmas Day, but come Boxing Day, they're probably back to cringing as you fight about when the tree should come down, how much money you spent that year, or how you didn't adequately compliment whomever's mom cooked the turkey.
So please, don't take this the wrong way. I'm behind you 100% if you want to improve your marriage before the holidays so that you, your kids and the rest of your family can relax and truly enjoy the warmth that should come with this season.
Frankly, too many people don't ever try to make things better. If you're trying, all kudos to you. Keep trying. Get professional help if necessary -- my Marriage SOS audio crash courses are popular options, but there are many resources out there.
I only urge you to think long-term. Because that's how you make changes stick. Put your life and marriage in a bigger perspective. Make sure you and your partner focus on the many events and experiences that married life has to offer, the big things and the little things.
That shared cup of coffee in the morning. The little "xoxo" text you send each other during the day. Taco Tuesday around your own supper table. Pushing your kids on the swings at the park. Sharing a tray of cheesy nachos on the bed and binge-watching The Walking Dead or Stranger Things or whatever. That "bad joke contest" you have on a road trip and that unexpected stop for ice cream. Walking the dog together on a summer evening. Those uncelebrated, nameless moments count, too.
Merry Christmas, Happy Yuletide, Solstice Blessings.
Follow HuffPost Canada Blogs on Facebook