Just kidding, but catchy title right?
I lost 6 pounds! And probably gained 10 since being back.
You're clearly reading this because you're curious about my journey to becoming "round." Sorry, this isn't the opposite of an inspiring weight loss story that pulls on your heartstrings. However, this post will make you hungry and perhaps plan a trip to Bali.
Serious Eats
So there is a food scene in Bali, but you wouldn't know it being there only a few days.
The first week I arrived, I was introduced to warungs; simple, wooden shacks off the side of the road that serve up staple Balinese and Indonesian local cuisine.
Here are a few pictures of those traditional dishes: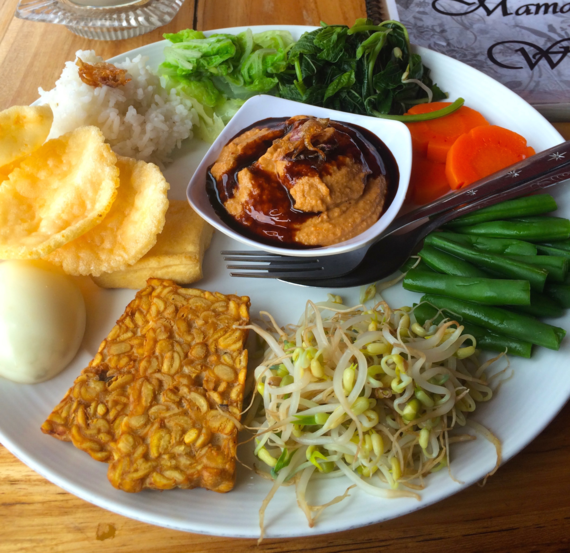 Dish: Gado-gado (steamed veggies, served w/ warm peanut sauce)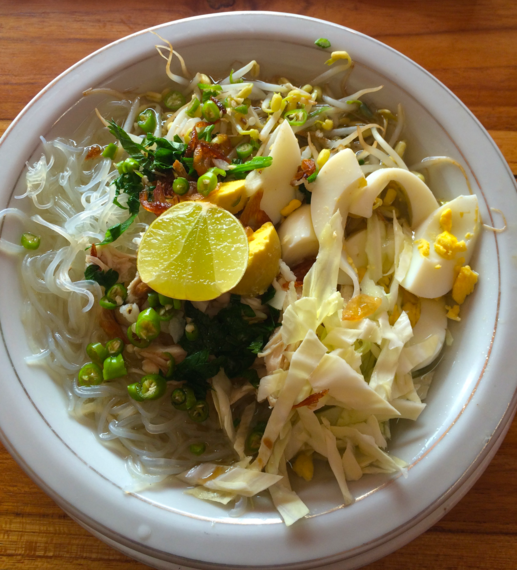 Dish: Soto Ayum (Indonesian chicken noodle soup)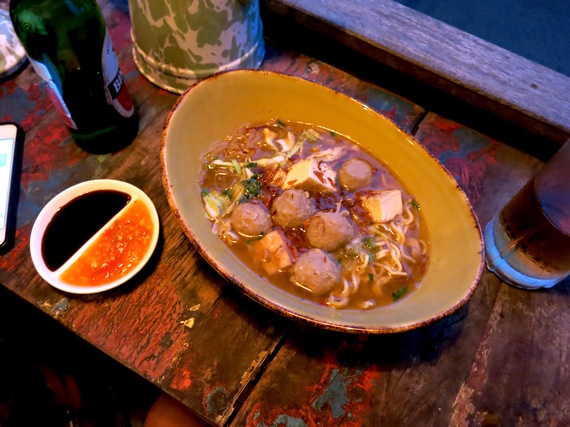 Dish: Bakso (Indonesian Meatballs Soup)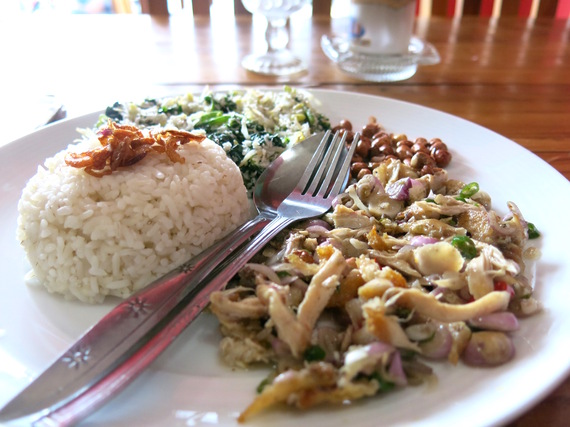 Dish: Ayum Sambal Match (shredded chicken w/ crispy shallots, roasted peanuts and coconut & spinach stir-fry)
Does it hit the spot...yes
Is it ridiculously cheap...yes
Is there variety...yes
Does it all start to taste the same...yes
Being a foodie and a week into my Bali life, I needed to switch things up. That's when I made a bold statement to someone who is now a dear friend "there isn't much of a food scene here ehh?"
To which her eyes did most of the talking, they showed shock and disappointed in my remark. Her actual words were "you don't know Bali yet and where have you been eating!?" She then immediately started to list off too many restaurant recos for me to jot down.
Once I started exploring Bali for its food, I noticed that sometimes I ate for $2.50 CAD/meal and sometimes it cost me $60 CAD/meal.
[Side note: When you rent a homestay or cottage, breakfast is included in your rent. We're talking a cup of Bali coffee, fruit and either a sweet crepe or eggs and toast. Since everyday was so bloody hot out, I ended up eating only one other meal a day, so I tried to make it a good one.]
Ohh, and when I found out a few of Anthony Bourdain's favourite dishes live in Ubud, well that made me very happy, because I love him.
Where the Sweets at?
A few days in, I also didn't think the Balinese had much of a sweet tooth. I didn't come across any sinful dessert items on the menus at the warungs. I figured their super sweet smoothies and shakes made up for it. Even their ice teas and lemonades gave me a sugar rush.
There are tons of gelato and sorbet spots sprinkled throughout the island, yet I was looking for something more decadent and freshly baked.
Ohh, and the tropical fruits, they opened up my world! They were perfectly exotic, ripe and beloved. Evidence below: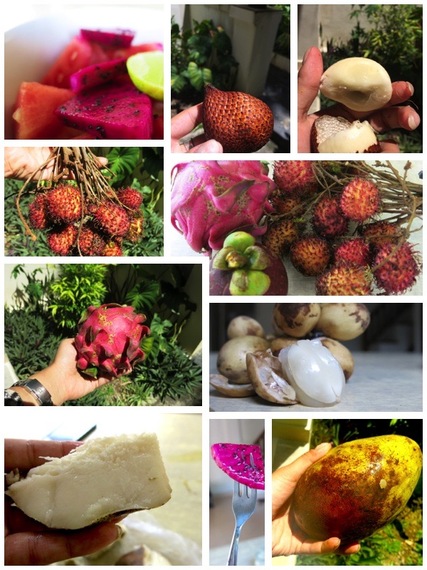 You're looking at some white mango, dragon fruit, mangosteen, rambutans, dukuh & salak
Bali is known for its vegan, raw and vegetarian scene, especially in Ubud. (There's also a serious smoothie scene, which I'll talk about later.)
Because of the raw scene, they have tons of raw sweets; dense chocolate mud cakes, cacao brownies with goji berries and candied ginger and chewy coconut chai cookies were among my favourites. In fact, there are more than a few spots in Ubud that don't use any refined sugar, dairy or chemicals in any of their food. Point is, I found healthy sweets to pair with my coffees and teas.
It's very easy to eat clean in Bali. However, there was never a shortage of non-veg options. I know because I found them and overate.
Food for Thought
When I travel, food is a big part of the experience. It tells me a lot about a place. In other words, I learn about the country and culture through food. There are a lot of Indian and Asian influences in Balinese cuisine since they're neighbouring countries. There's also no set time to eat. Restaurants serve all day. I can order a crepe or a suckling pig for breakfast or dinner.
The people of Bali eat rice every day. I also ended up eating a good amount of rice. Makes sense, rice grows abundantly, so it's served with almost every dish.
Coconut trees are plenty and the Balinese don't take them for granted. They provide offerings to the trees and farmers sprinkle them with holy water in hopes for a generous harvest. For the Balinese, this is an all purpose tree, where no part goes to waste. Handful of uses include:
Drinking the water keeps you cool and healthy - it's rich in electrolytes
Hard shells create bowls, cutlery and other kitchen utensils
Oil is used as moisturizer, in cosmetics, soaps and of course, for frying and cooking
Fermented sap of a coconut creates local alcohol
Leaves are woven to create roofs, tiles and brooms
Bark is used for mats, ropes and brushes
Stems make jewelry and accessories
Tree trunks are used as building materials
Back to my Bali Food Tour
In Bali, you really can find all types of cuisine. Here are some pictures to prove it: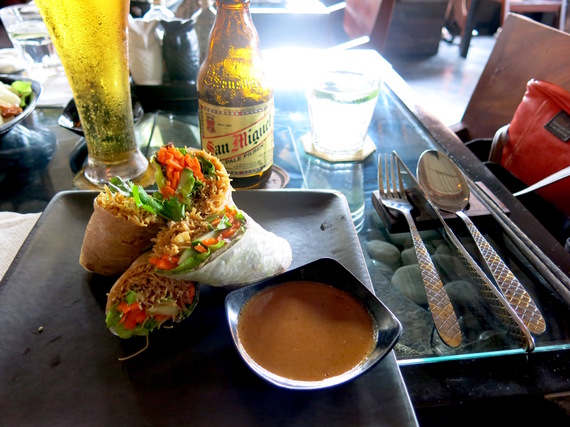 Resto: Kismet | Dish: Fresh spring rolls w/ marinated rice noodles, tofu & veggies served w/ spicy peanut sauce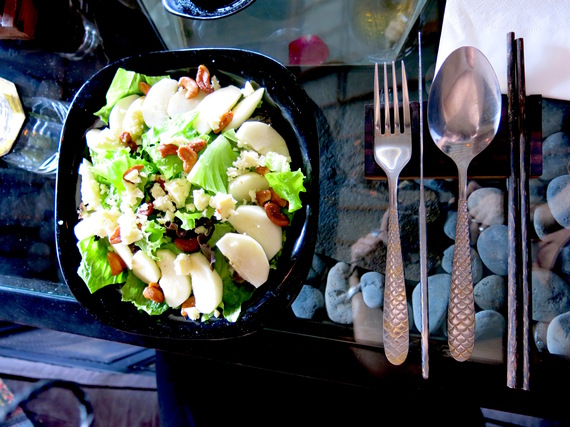 Resto: Kismet | Dish: Sliced apples, goat cheese, spicy candied cashews, mix greens served w/ balsamic dressing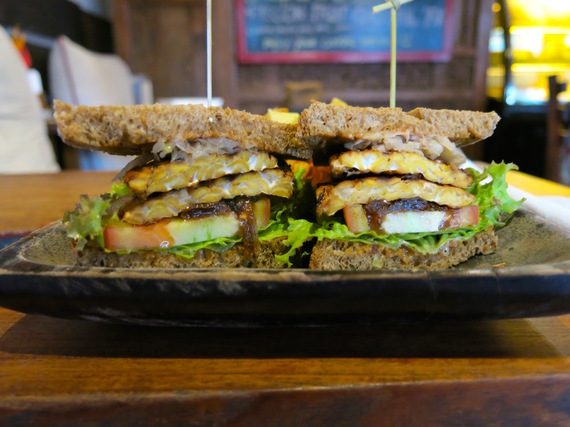 Resto: Kafe | Dish: Smoky tempeh sandwich w/ sundried tomato pesto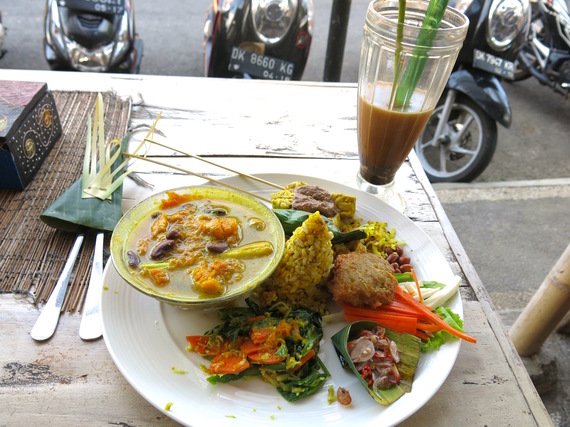 Resto: Fussy Bird | Dish: Tempeh satay, curry rice, steamed veggies w/ grated coconut, spicy sambal, a tofu coconut fritter and other great stuff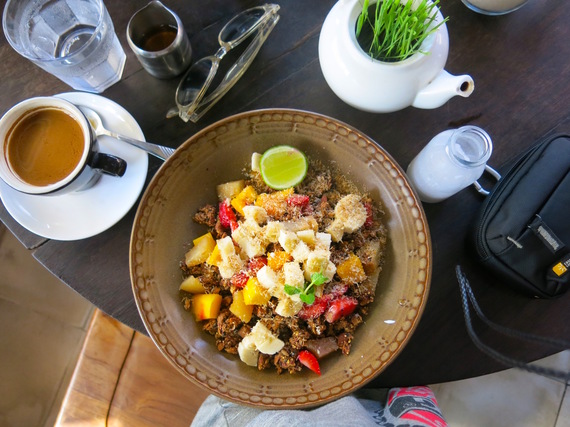 Resto: Watercress | Creamy greek yogurt, local strawberries, bananas, mangos, toasted coconut & rainforest honey w/ homemade quinoa granola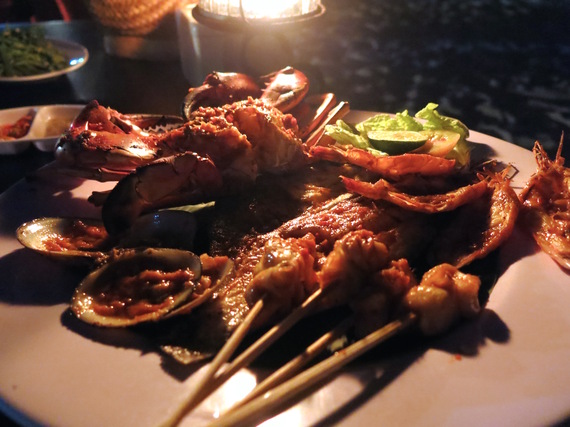 Resto: Bayang Cafe | Dish: Grilled seafood, a bit of everything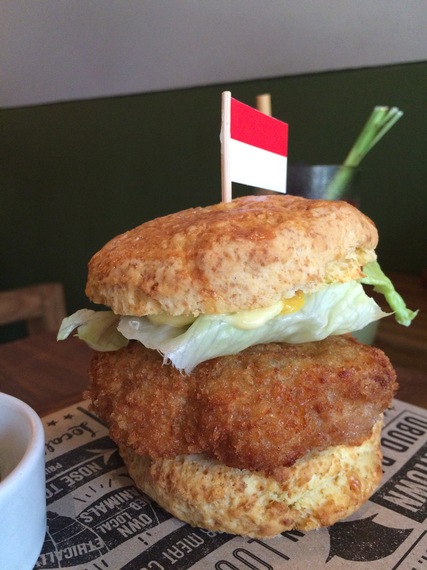 Resto: Locavore | Dish: Crispy chicken burger between a homemade biscuit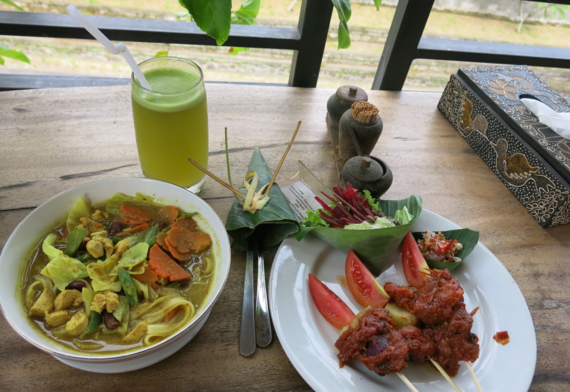 Resto: Dayu Warung | Dish: Chicken noodle soup w/ a side of vegetable satay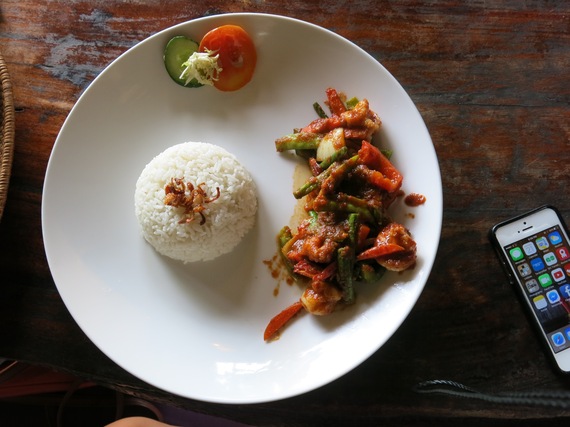 Resto: Cafe Angsa | Dish: Chilli prawns & rice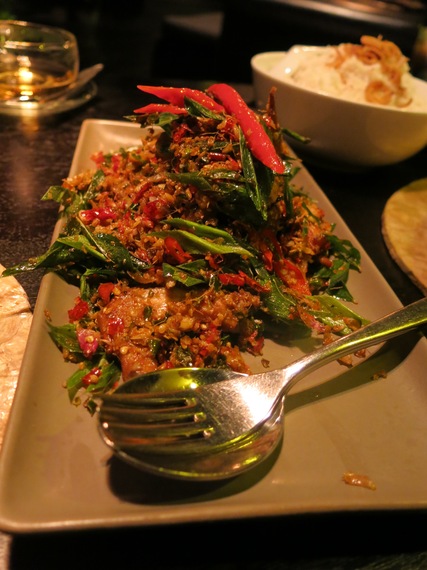 Resto: Sarong | Dish: Crispy chicken tangkap w/ green chilli curry leaves & pandan leaves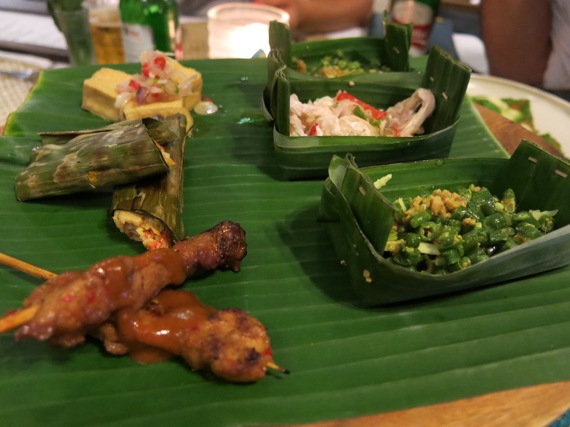 Resto: Nomads | Dish: Balinese tapas cooked in banana leaves, served in bamboo parcels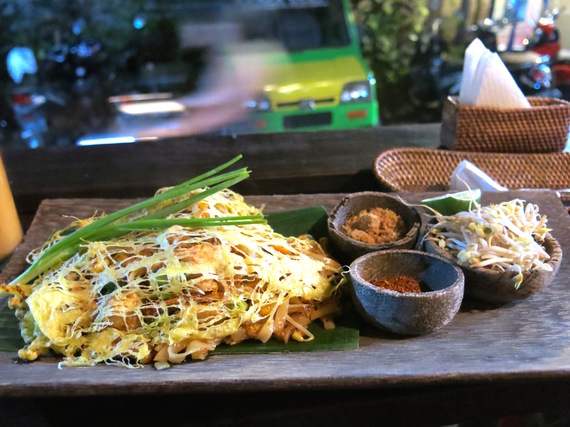 Resto: Warung Siam | Dish: Very good pad thai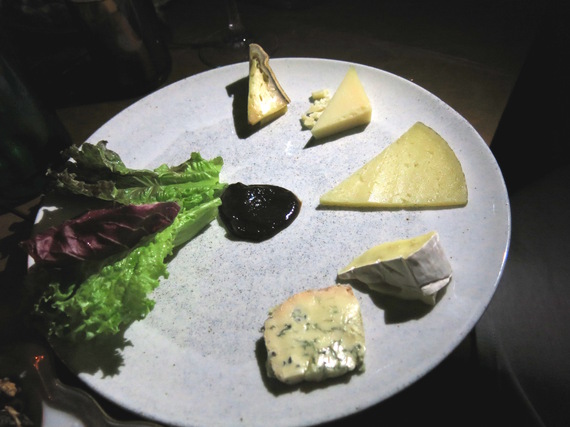 Resto: Room 4 Dessert | Dish: Sexy imported cheeses, paired w/ proper imported wines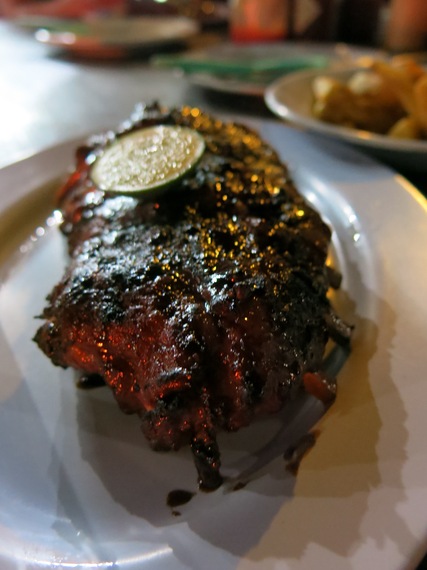 Resto: Naughty Nuri's | BBQ ribs (Bourdain recommends this, now so do I)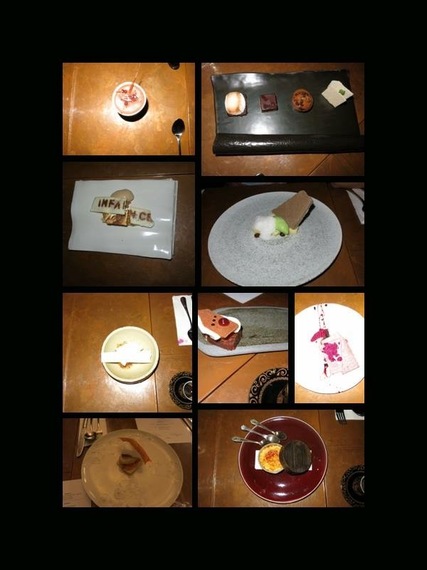 Resto: Room 4 Dessert | Dish: 9 course dessert menu
Serious Drinks
Coffee culture is huge in Bali, more than alcohol, water and smoothies. Traditional Bali coffee is grown by local farmers and it's usually Arabic or Robusta beans. The way it's served in local warungs and homestays is by the following method:
Hot water + fine coffee grinds mixed directly in the cup you're being served in = coffee at the top and a muddy, grainy collection of grinds at the bottom.
Don't fret, proper cafes serve up proper coffees, like this: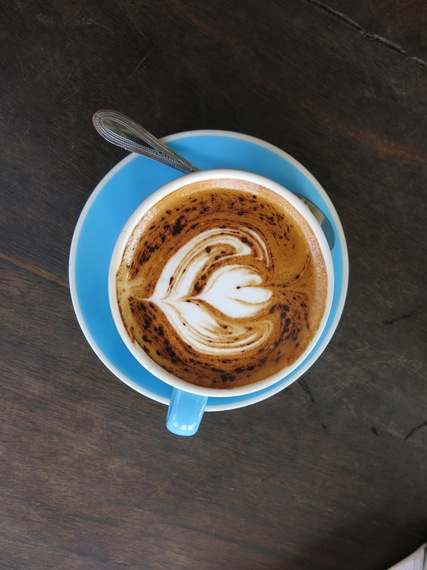 Resto: Watercress
For the ultimate coffee experience, there's the option to visit a Luwak Coffee Plantation -- coffee that comes out of an exotic cat's ass, which is also the world's most expensive coffee. Click on the link above for more on this "special" brew.
Smoothies in Bali are nothing less than amazing. Their fruit concoctions can get pretty creative. Not pictured here, but these were worthy of a shoutout.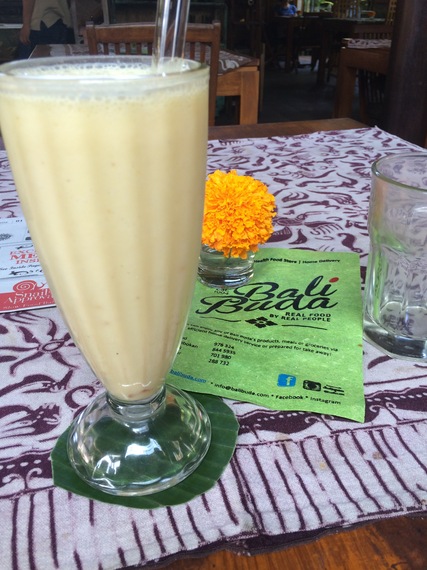 Resto: Bali Buda | Drink: Pineapple, tangerine, banana, coconut, date & a hint of ginger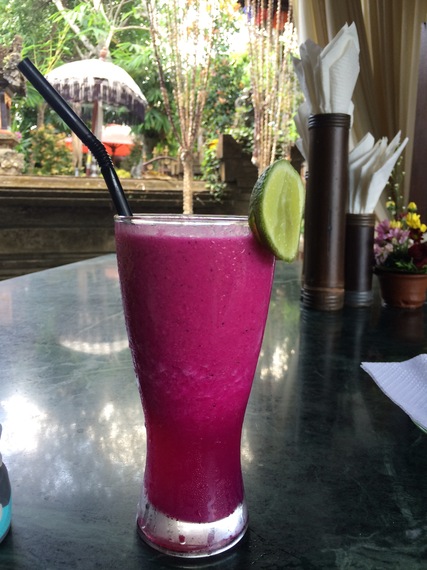 Homestay: Tukad Mas Cottage | Drink: Dragon fruit, pineapple, blueberries, banana & vanilla syrup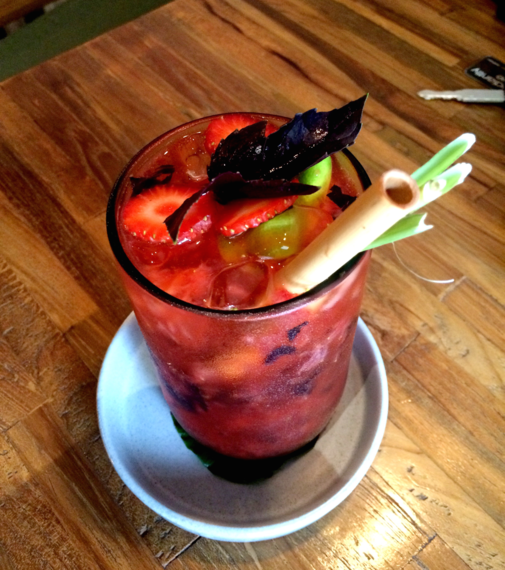 Resto: Locavore | Drink: cold herbal tea w/ strawberries, mint & purple basil
Wine and hard liquor can get really expensive in Bali. The tax on booze is around 200-300%. For this reason, I ended up drinking more Bintang Radlers ($3-5CAD), a refreshing, super light fruit beer, similar to our Waterloo Grapefruit Radler. For cocktails you're paying Canadian prices or more ($9-19CAD/drink.) The few times I did have proper cocktails, they were worth it.
Like the time the girls and I spent half the day at Potato Head Beach Club, the cocktails were unreal, because a world class mixologist was behind the bar, said the waiter. My pictures are blurry from that night, you can imagine why, but let me paint the scene for you, of this mediocre experience:
Sunset overlooking the Indian Ocean, so many colours in the sky, pleasant island breeze streaming in the air, palm tree silhouettes all around, good looking people everywhere, my two Bali sisters around me, Prince playing in the background and we're sipping on these:
Kookaburra: an blend of lemongrass gin, homemade vanilla sugar, with mint leaves & fresh lime, layered with passion fruit and vanilla foam.
Pistachio Rockmelon Martini: Belvedere vodka, melon liquor, fresh rockmelon and pistachio foam.
Indos Nesos: a combination of vanilla vodka, lychees, apricot liqueur and coconut milk -- my fav!
As I write this, I can't think of anything I missed from home -- food or drink wise. I did end up finding baked goods (thanks Bali Buda and Kue Bakery), but they were missing that fresh, out of the oven feeling.
New business idea; move to Bali and open up a legit bakery.
Kickstarter campaign coming soon:)