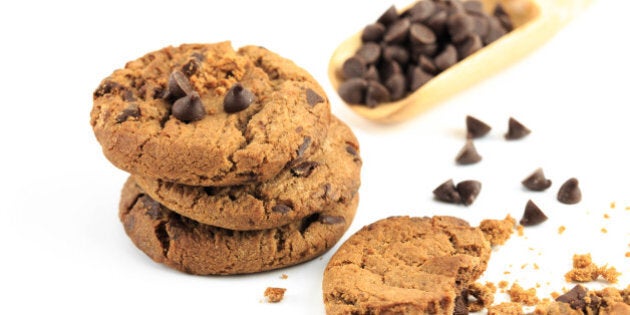 A few nights ago, a swanky hotel in Toronto hosted a Chocolate Chip Cookie Battle. I would be stupid not to go.
My cookie dinner had me craving several glasses of ice cold milk and possibly pickled ginger to cleanse my palette. Milk was plenty at the event. They forgot the ginger. Talk about a poorly planned competition.
All the cookies sampled varied in their level of decadence. None of them disappointed. Each of the cookie connoisseurs told me that the recipe used to make their classic chocolate chip cookie was one that they had been using for over a decade. At this point, their recipes no longer needed tweaking, because to them they had the technique and ingredients down, therefore creating the perfect recipe.
That's great for them, but I needed to know more. I reached out to five of the Toronto competitors that took part in the cookie battle and asked them all the same two questions:
1) In your opinion what makes the perfect chocolate chip cookie?
2) If you could give home bakers one piece of advice on baking the perfect chocolate chip cookie, what would it be?
What makes the perfect chocolate chip cookie is even distribution of chocolate chips.
Don't use cheap chocolate; it has more of a waxy taste. Use a high quality chocolate bar and chop it into chunks if you can't find good chocolate chips. We use a mixture of milk and dark chocolate chips made by Callebaut in Belgium.
The two things that make a perfect chocolate chip cookie are lots of quality semi sweet chocolate chips (or chunks if you prefer) and thoroughly creaming your sugars and butter without overworking your flour.
The one tip I would give home bakers is to add your chips when the flour is not quite fully incorporated and blend them in with a spoon.
For us, the perfect chocolate chip cookie is all about balance. It has to have crispy edges and a soft, chewy middle. Good chocolate is essential. We make ours with both dark and milk chocolate, with an 80/20 ratio so that each bite is a little bit different.
The perfect chocolate chip cookie should be properly seasoned. Adding enough salt to the dough helps bring together the flavours of butter, sugar and chocolate.
Our advice for home bakers on perfecting their chocolate chip cookie is;
1) Use good chocolate. It really makes all the difference.
3) Age the dough. Letting the dough rest at least overnight helps them develop better flavour. Plus, you'll get much better caramelization when they're baked.
The perfect chocolate chip cookie must be a feast for all your senses. It has to be a perfect balance of taste and texture -- crispy exterior with a smooth buttery interior. It must be visually appealing and have a sweet aroma.
The absolute number one rule is very simple; use the best possible ingredients. There are many versions of a perfect chocolate chip cookie, the secret is to bake often and keep tweaking your recipe until you achieve what you think is your perfect chocolate chip cookie.
We think the perfect chocolate chip cookie is slightly underbaked and chewy. We also add a bit of cinnamon to our cookies which gives them warmth and more flavour.
Home bakers should remember to always scrape their mixing bowl when mixing cookie dough and ensure that the dough is fully combined. If not, clumps of butter or sugar could create irregularities when baking.
Now that you've gained some solid advice from commercial bakers that don't f*ck around when it comes to their chocolate chip cookies, I thought I'd dole out a few pro cookie tips of my own, as I too happen to be an avid baker and involuntary provider of baked goods (mostly cookies) everywhere I go.
• As soon as the cookie edges are darker than the rest of the cookie remove them from the oven, they'll continue to cook as they cool.
• There's no danger to over-mixing the butter and sugar. You want to mix the two ingredients passed the point where it looks like wet sand and stop when it looks light and fluffy almost like frosting. Overmixing happens after the flour is incorporated.
• With all drop cookies, I slightly flatten them out with water-moistened-palms. This way the cookie centers aren't overly doughy.
• The best cookies are the ones that combine both granulated white sugar and brown sugar to get that chewy yet crispy balance. I prefer to add more brown sugar than white, even though brown sugar is 95% white sugar with a thin coat of molasses added to the mix.
More tips to come, stay tuned!
Follow HuffPost Canada Blogs on Facebook