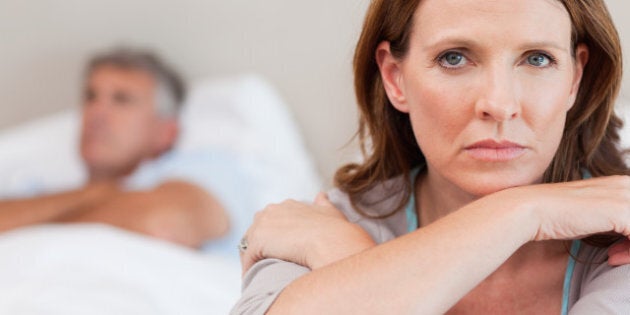 It's been a long road getting to "healthy" since I got divorced five years ago. Between legal matters, single parenting, starting a new career and exploring the dating/sex trenches, my life often felt like one giant ball of CRAZY.
But there came a time, about two years ago, when I realized I was 100 per cent happy on my own. I was healed, confident and passionate about my new life. And I felt that if/when a serious relationship was to come my way, I would be READY.
(Cue the universe laughing.)
My boyfriend Jacob entered my life seven months ago. And all I can say is that all my "readiness" didn't prepare me for the forthcoming growing pains; turns out, my being 'happily independent' spawned a new set of challenges I hadn't anticipated.
You see, somewhere during the course of my post-divorce singlehood, my "value hierarchy" had changed -- and "serious relationship" was no longer at the top of my list as it had been while married. In fact, it was down around eighth place. My top singlehood values looked something like this:
3. My health, My well being, My happiness
And I lived my new life in accordance with these values; they helmed my day-to-day actions and choices.
But when Jacob came into my life, the value hierarchy flew into mutiny. "Serious relationship" was once again vying for first or second place, as is required to make a healthy relationship work. And all that independence, and self-care and personal success I'd cultivated since divorcing felt threatened. They screamed, "Are you freaking crazy?!! Have you forgotten the hell you've been through? This man can take a place at the bottom of the list, thank you very much!"
Fears began surfacing fast and hard: What if this relationship takes away from precious time with my kids? What if our relationship takes my focus off work? What if I've gotten used to sleeping by myself all these years? What if - what if -what if? At the core I was being challenged to think in terms of "we" not "me and the kids," to see how having a serious relationship would accentuate all the top values on my hierarchy, not destroy them. But it would require that I believe in love again and risk venturing down a path that I well-knew could end in break up. I was scared to death -- and doubts in me, him, life and love rattled my bones.
Thus far, I've been able to appease (most of) my fears -- with Jacob's help -- one day at a time, one mini- freak-out at a time. But I won't say it's been easy (Jacob will attest to that!)
"Happily independent Delaine" still digs in her heels. It seems that loving again, TRULY loving again after divorce, requires one to be vulnerable and courageous in ways she/he never has before...don't you think?