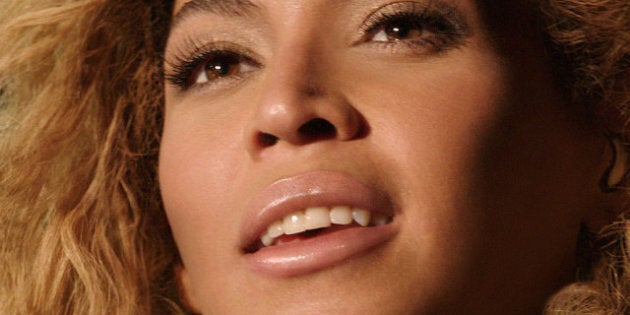 It's been a week since Beyoncé stomped around the Super Bowl with seemingly-reckless-yet-totally-controlled abandon.
The hair-whipping, the stomping, the wind machines, the python-and-iguana bodysuit, and the faces ... oh, the faces -- it was 13 minutes of sheer awesomeness. She crushed it, crushed it with such authority she broke the lights.
There's no denying Beyoncé is one fierce, fabulous, over-the-top bitch who perfects every single move/hair toss/side eye/smile; that's what makes her the Queen B.
I received a screener for Beyoncé: Life Is But a Dream before the Beyoncé Bowl, but I didn't watch it until after her half-time performance (partly because I'm a procrastinator, partly because I wanted to know how different a dozen minutes of Beyoncé would be in comparison to a 90-minute documentary about Bey that she directed herself). If you saw her half-time show, or have ever seen her perform during an awards show, then you've seen a lot of it before. The thumb-suck during "Crazy in Love?" Meh, nothing new. The "Single Ladies" routine? Been there, done that, albeit this time it featured two of Destiny's Children who were conveniently saddled with broken microphones.
We've also seen the visuals before. The screen with a bunch of dancing Beyoncés on the screen was already done at the Billboard Awards in 2011 for "Run the World (Girls)" -- which just happens to be the first performance Bey does knowing she was carrying Blue Ivy, or as she puts it in the HBO doc, "with child."
Life Is But a Dream wants to be an intimate, revealing doc, and to a certain extent, it is --there are a lot of first-person footage personal journals Beyoncé confides to her laptop. We see how much she values family, how spiritual she is, how hard she works, and how much her career takes from her, both physically and emotionally. Beyoncé touches on just about everything, from breaking away from her father to become her own manager and building her own company, to her deep love for husband Jay-Z, and learning she was pregnant with Blue Ivy. She also lets viewers in on her miscarriage and how she coped, and we also find out her thoughts on all that pesky surrogate talk.
"It's a stupid rumour. It's actually the most ridiculous rumour I think I've ever had about me. There are actually people who believe this rumour, and it's crazy. I guess there are some crazy celebrities in the world, so we get a bad rep. But to think that I would be that vain ... I respect mothers and women so much and to be able to experience bringing a child into this world, if you're lucky and fortunate enough to experience that. I would never, ever take that for granted. It's the most powerful thing you can ever do in your life, especially after losing a child, the pain and trauma from that just makes it mean so much to get an opportunity to bring life into this world. There's something that you have to respect, It just seems people should have boundaries, there certain things you just shouldn't play around with, and a child, you don't play around with that."
Maybe I'm naïve, but as someone who had doubts about Pillow-Gate, she erased them with everything she said. I suppose it also helped that the cameras captured her baby bump at different stages of pregnancy. The TV special is supposed to be a personal look into Bey's life, and while it does seem quite raw at times, she also only shows us what she wants us to see -- and I'm OK with that. But it's when she says she's not vain, that's when it's hard not to snort. I mean, this is the same woman who recently requested that a handful of unflattering photos be banished from the Internet.
"I always battle with how much do I reveal about myself, how do I keep my humility, how do I keep my spirit and the reality, and how do I continue to be generous to my fans and to my craft and how do I stay current, but how do I stay soulful, and it is the battle of my life," ruminates the woman who threw down a mic at the MTV VMAs, unbuttoned her jacket and rubbed her baby bump. So says the woman who had curlers put in her hair while she lay in a hospital bed about to give birth/having just given birth. So says the woman whose half-time stage featured her profile -- kissing itself.
If 2013 isn't the year of Beyoncé, I don't know what is. GQ named her the Sexiest Woman of the 21st Century, she "performed" at the Inauguration; she killed it at the Super Bowl half-time show; she announced she will kick off her world tour -- The Mrs. Carter Show -- in April, around the same time her new album will be released; she confirmed Destiny's Child is reuniting; she covers the March issue of Vogue; she won her 18th Grammy and got to present the most anticipated act of the night, Bruno Mars and Justin Timberlake at the awards show Sunday night. And now there's this HBO special, which, if you love her, if you hate her, even if you're indifferent, is great television. I mean, what's next -- actually running the world?
Beyoncé: Life Is But a Dream debuts Saturday, Feb. 16 at 9 p.m. EST on HBO Canada and on HBO in the U.S.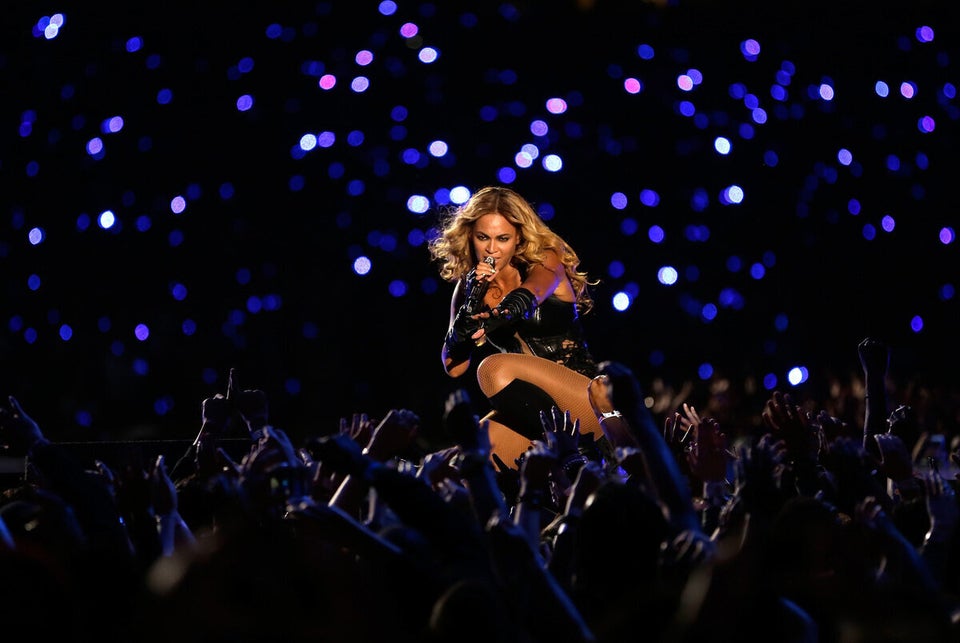 Beyonce's Super Bowl Halftime Show