Not very long ago, summer TV used to be a joke, usually composed of reruns and little else. ABC, CBS and NBC (I'm talking pre-Fox here) wouldn't dream of debuting a new show during the hot months, because what would be the point? No one was staying in and watching television. They were out, enjoying the warm weather, going to see a big blockbuster in the theatre; frankly, TV was the last thing on people's minds.
Now it's a whole different ballgame. With summer right around the corner (June 21, 6:21 a.m. ET, but who's keeping track?), it's about that time that ABC Spark (ABC Family in the U.S.) trots out its schedule for the season. Not only are there new episodes of some returning favourites ("The Fosters" and "Switched at Birth"), the network is premiering three new series this June. "Young & Hungry" and "Mystery Girls" debut later in the month; but the first out of the gate is "Chasing Life," and it is a drama like no other.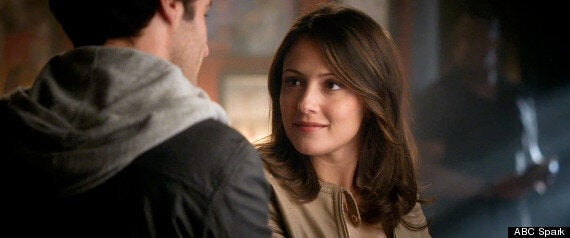 April (Richmond Hill, Ont., native Italia Ricci) is a normal 24-year-old. She works at a newspaper, makes little money, and lives with her widowed mom (Mary Page Keller), grandmother (Rebecca Schull) and sister (Haley Ramm). In order to kick-start her career -- and life -- she tries to impress her editor (Vondie Curtis-Hall) by getting an exclusive interview with a scandal-plagued baseball player that could make her career. All this while catching the attention of hot reporter Dominic (Richard Brancatisano) and life seems pretty good, right?
Not quite. In fact, it all goes downhill pretty fast.
In a startling turn of events (at least for those who have no idea what "Chasing Life" is about), April's estranged uncle George (Steven Weber), who just happens to be an oncologist, has the unfortunate job of telling her she has cancer. Leukemia, to be specific. And while it is treatable, it's not exactly what a 20-something expects to/wants to/should hear. April's reaction is completely believable -- of the "as IF" and "you're joking" variety -- because at that age, we all thought we were invincible, especially when life seems to be going well. No one expects the other shoe to drop.
Aside from George, April keeps her diagnosis secret, a burden no one should face. But it will likely drag on for the whole season considering ABC Spark/Family churns out shows where dragging secrets out for lengthy periods of time is their bread and butter.
Ricci (a dead ringer for Victoria Justice and Nina Dobrev) is natural and authentic in the lead role. April is a strong, stubborn, charming and smart young woman who gets back up no matter how many times she's knocked down. Her family dynamic is a fascinating one, as she seems to be the one everyone goes to with their problems. When you add in April's blossoming relationship with Dominic, her friendship with pal Beth (Aisha Dee) and her promising career as a reporter, it almost makes us forget she's sick. Also, look out for Scott Michael Foster to show up a few episodes in as Leo, a spoiled congressman's son with a secret of his own.
What's best about "Chasing Life," however, is that it isn't just a show about a cancer (hell, there's a twist right at the end of the premiere that will resonate for episodes to come). In the first few episodes, it's more about April coming to terms with her illness and finding the right time to tell her loved ones (though there never seems to be one). The subject matter is heavy, yes, but it doesn't get dark or depressing. The writers inject a lightness into its scripts so viewers don't go there. While cancer is definitely a main part of the series, it's also about family and friendship and love, just with different kinds of obstacles in between.
But it's April's emotional and physical journey that will have viewers riveted. Anyone who has ever felt indestructable can relate, as will those who know what it's like to have the wind suddenly taken out of their sails. But it's how you bounce back, that strength of the human spirit. That's how "Chasing Life" will win audiences over.
"Chasing Life" premieres Tuesday, June 10 at 9 p.m. ET on ABC Spark in Canada and ABC Family in the U.S.