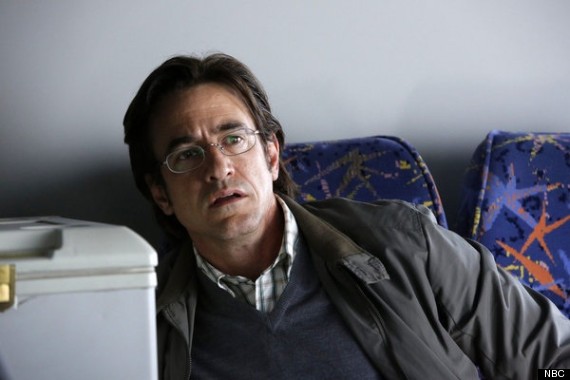 Many people tend to confuse Dylan McDermott and Dermot Mulroney. I'm assuming it's because of their similar-sounding names, and not their appearance or their resumés, because they look nothing alike, act nothing alike, nor have their careers gone the same route. Until this TV season.
McDermott's "Hostages," which debuted in the fall, was definitely believed to be the stronger "kidnapped family" show, and perhaps the reason why Mulroney's "Crisis" was pushed to a midseason slot. "Hostages" began strong and had an intriguing premise but quickly receded into an overwrought, convoluted, unbelievably boring mess. It never lived up to the hype of the premiere and despite top-notch actors like McDermott, Toni Collette and Tate Donovan, viewers began tuning out in droves, beginning right around the second episode's airing. The show started off with the question, "Where the hell can the show possibly go from here?" and quickly turned into "Who the hell cares?"
"Crisis," on the other hand, pretty much establishes what it's all about from the get-go. While "Hostages" forced someone to choose between killing the President of the United States or letting her family die, "Crisis" asks how far would you go to save your child? It's a premise that's definitely more relatable and unlike the other "kidnapped family," this one might encourage viewers to invest their time.
The students of Ballard High aren't your average students. They happen to be the children of Washington, D.C.'s most powerful, high-profile players, be it politicians, international diplomats or CEOs. But when the kids' bus is ambushed during a field trip and the teenagers and their chaperones are taken, it sets off a national crisis.
With some of the country's most influential parents at the mercy of a vengeful mastermind (because, of course), it begs the question: What will they do to make sure their child returns home safely? Because if they don't comply, the unthinkable might happen. But if they do, an entire nation could be at risk.
"Crisis" was created by executive producer and writer Rand Ravich, whose series "Life" was cut short prematurely. It boasts a hefty cast including Mulroney and Gillian Anderson ("The X Files") as parents of two of the kids), Rachael Taylor ("666 Park Avenue") as an FBI agent and sister of Anderson's character, Michael Beach ("Third Watch") as the FBI director, Lance Gross ("House of Payne") as a Secret Service agent, James Lafferty ("One Tree Hill") as the kids' teacher, Max Martini ("The Unit") as the mastermind's main henchman, and Halston Sage and Max Schneider (both of "How to Rock"), Stevie Lynn Jones ("Runaways") and Joshua Erenberg ("Suburgatory") as four of the many students.
There are so many familiar faces all of the time, it's hard to decide who stands out. Taylor will get her usual share of haters but this role is kind of perfect for her. The handful of us who watched "Charlie's Angels" know she can kick butt and this time around, her accent is fairly convincing and not at all distracting. Anderson's role seems minor, thus far, but considering how brilliant she is, I like to believe she won't be wasted. Mulroney is sporting some serious bad hair but plays the wimpy, pushover dad to embarrassing perfection. My favourite, however, is Gross, whose character, Marcus Finley, may be having the worst first day ever so I'm not sure where or how he fits in after the pilot.
As far as pilots go, this one is good. It's gripping and entertaining and I want to see what happens next, which is what any pilot hopes to accomplish. That being said, Deadline reported a few months back that after filming was completed on the sixth episode, production was put on a week-long "unplanned hiatus," with insiders claiming that the reason for the stoppage was "course correction." Perhaps network execs and "Crisis"' producers and writers saw how snoozy "Hostages" was getting and wanted to rectify any similarities. Whatever the case, it's the kind of thing that worries me because at that point, shouldn't the show have already had a plan, at least one that runs 13 or so episodes? Hopefully the first six are decent enough to keep viewers tuning in, at least until Episode 7, when we can see signs of improvement. Of course, this is NBC so some are already predicting it'll be cancelled by the third episode but, hey, crazier things have happened.
For the most part, "Crisis" is what you might expect from a hostage drama. There are unsung heroes, unexpected bad guys, soapy relationships (sisters; students; teacher and student) and some annoying teens you kinda-sorta hope get killed off, but overall it's just twisty enough to give me hope that there are more interesting turns to come.
"Crisis" premieres Sunday, March 16 at 8 p.m. ET on City in Canada and 10 p.m. ET on NBC in the U.S.