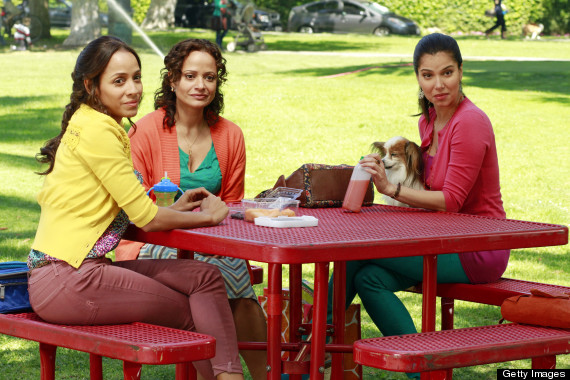 Devious Maids has been compared to Desperate Housewives, but after watching the first two episodes of Marc Cherry's latest primetime soap, it's distinctive enough to stand out from the former ABC hit.
From a distance, there are some similarities: a large ensemble cast, attractive leading ladies, a nice mix of soapy drama, some campy hilarity. But once you take a closer look, there are more than enough differences -- and not just, as star Ana Ortiz (Ugly Betty) puts it, an "upstairs, downstairs" feel. There's a real heart to the show and the leads are much more relatable than the Housewives ever were.
"It's definitely a Marc Cherry show and I think that that's fabulous and we really want that," Ortiz said recently while in Toronto. "What's so wonderful is that it's so different, blending these two worlds together in a way that hasn't been seen before. You're not only getting the point of view from the Beverly Hills [side], but you're getting the point of view from the downstairs, as it were, from the domestic workers. It's so rich and so full and there are so many places to go. And he goes there."
Let's hope so. I stopped watching Desperate Housewives halfway into its run, when the series fast-forwarded five years. That was back when it seemed a bunch of shows were following in that whole flash-forward phenomenon, a la Lost, and while some thought it worked (it must have, the show lasted four more seasons), I lost interest.
Devious Maids, on the other hand -- I can't get enough of. And while it will be constantly compared to Housewives (which not only comes from creator Cherry, but alum Eva Longoria also serves as an executive producer), it more than holds its own. It's an ideal summer show, loaded with lots of dirty laundry (that may or may not get done and put away, depending on the maid) and Lifetime is the perfect network to air it.
Devious Maids centres on a close group of maids -- Rosie (Dania Ramirez, Heroes), Carmen (Roselyn Sanchez, Without a Trace), Zoila (Judy Reyes, Scrubs) and Valentina (Edy Ganem, Livin' Loud) -- whose lives get turned upside-down after their friend and fellow maid Flora (Paula Garces, The Shield) is murdered. They're keeping a secret about her from everyone, including new maid Marisol (Ortiz), who is fascinated by Flora's death for her own reasons.
They're all working for their wickedly wealthy Beverly Hills employers but while they dust and mop and scrub and wash, they also balance their own hopes and dreams (Rosie is trying to bring her son to America; Carmen wants a music career and thinks her superstar boss might be her way in; Zoila is trying to raise daughter Valentina while keeping her from falling for their boss' son). And aside from all that, they have to hold the hands of their self-absorbed employers, and grit their teeth while they listen to their so-called "problems."
While that might sound annoying, nothing could be further from the truth. Sure, the richies are maddening (Rosie's boss, Peri, played by True Blood's Mariana Klaveno is my least favourite), but some are so over-the-top, I can't help but laugh -- in particular, Flora's bosses, Adrian and Evelyn Powell (Tom Irwin and Rebecca Wisocky). One of the things Devious Maids definitely shares with DH is that it doesn't take itself too seriously. Case in point: Susan Lucci. The All My Children diva plays Genevieve Delatour, whom Zoila and Valentina report to, but unlike Carmen, Rosie and Marisol's bosses, she's sweet and fragile ... and hilarious. Yes, Erica Kane is hilarious!
"She is so funny, it's crazy," Ortiz gushes about Lucci. "Genevieve, she's just the heart of this show. She believes in love, she believes in the goodness of people. It's really wonderful."
And La Looch is having a blast. "I'm having the best time," adds Lucci. "The relationship between Zoila and Genevieve, it's so fun and so complex and interdependent. There's so much to this show."
Ortiz concurs. "We really are able to push that envelope, we don't really have a lot of barriers. So he can really take it and push it and luckily, we have such an amazing cast -- if I do say so myself -- that we can take these outlandish scenarios and really ground them, and bring a reality and a humour and a love and a realness to them."
It truly is a fabulous show, from its dynamic cast and diverse characters, to its unique point of view and air of mystery. Watch the first five minutes and you'll be hooked. Desperate Housewives who?
Devious Maids debuts Sunday, June 23 at 10 p.m. ET/7 p.m. PT on Lifetime.