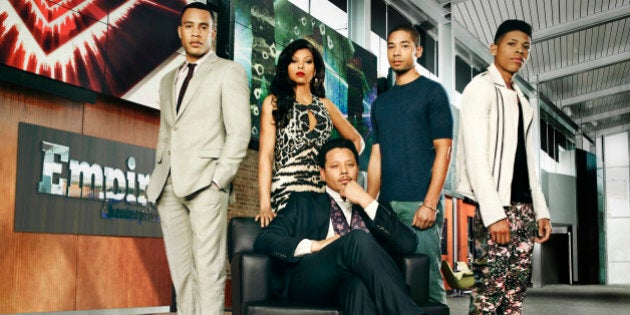 I was intrigued by "Empire," thanks to Fox cramming ads for it down our throats. Come on! It looked so wildly over-the-top. I wasn't sure if it was going to be brilliant or trash TV -- I just knew either way I was in. So pressing play on the pilot, I was dubious at best. But good lawd! That wariness was quickly erased with each passing scene, because yes, "Empire" is that good.
It may be touted as a unique family drama set in the world of hip-hop, but it's so much more. Just like "Nashville" isn't just about the country ditties, "Empire" brings the heart-wrenching drama, punctuated by some sweet beats (all set to an original soundtrack written and produced by Timbaland) as well as some musical interludes that sound like they're straight out of "Dallas" -- all of which surprisingly works to balance both the sexy edginess and potential cheese factor. But aside from the music, it's the insight we get into the characters from the get-go that makes us care (and not care) about each and every one of them -- in particular, Lucious Lyon (Terrence Howard) and his ex-wife Cookie Lyon (Taraji P. Henson) will have you salivating for more.
Lucious may be a former thug but when his musical genius emerged back in the day, he went from the streets to the CEO of Empire Entertainment. That all changes when, despite being in his prime, he learns he has three years to live. Now Lucious has to groom one of his three sons into taking over everything he's worked for -- which will undoubtedly come at a cost for a family that's already all but shattered.
Lucious' favourite son, Hakeem (Bryshere Gray) will start off as the audience's least. They've all received the same spoils but it's Hakeem who abuses it the most. He'll take fame over hard work any day, and since everything in life has come so easy, why wouldn't he expect anything less? Eldest son Andre (Trai Byers) is CFO of Empire Entertainment, the business-minded suit of the group. He relishes the power, much like his father, and seems like the obvious choice to take over the family business -- but he's missing that musical chip along with the charisma that Lucious believes is so imperative to run things. Middle son Jamal (Jussie Smollett), will be the one you'll be rooting for because it's his story that'll break your heart. He's a sensitive soul and musical prodigy who also happens to be gay, something his father abhors because a) he doesn't think it'll sell; and b) because he's ashamed and disgusted by what he calls a "choice." "Empire," on its surface, is a family drama, but at its heart is a black gay man trying to make a name for himself in the judge-y world of hip-hop.
Just as Lucious is about to take his business public and wrangle his sons to compete for his empire, Cookie shows up. Her lengthy prison sentence has been cut short (on account of "good behaviour," uh-huh) and she wants her stake in the biz. It was she who helped build the empire, she who took the fall for running the drugs that financed Lucious' career in the early days, so Cookie is determined to get her share. Brash, bold and fearless, she is a wolf in wolf's clothing, from her giant J.Lo hat, fur coat and amazing weave.
Smollett, Byers and Gray all play their vastly different parts well, but it's the actors playing their parents who steal the show. Howard and Henson are absolutely magnificent in their roles. The "Crash" and "Hustle & Flow" star continues to show off that quiet intensity he's mastered. Lucious could easily be a one-note, moustache-twirling, all-around bad dude, but Howard grounds him and keeps him human. We get where Lucious is coming from. We might not like it, we might not understand it, but we get it.
And where to begin with Henson? Anyone else in the role might chomp on the scenery and camp Cookie up, but Henson is absolutely majestic. The "The Curious Case of Benjamin Button" and "Person Of Interest" actress is as gutsy, raw and as bad-ass as they come, and despite Cookie's past and the mouth she's got on her, you will want her to get what's hers. You can't not pull for a woman as strong as Cookie.
Co-creators and executive producers Lee Daniels ("The Butler," "Precious") and Danny Strong ("The Butler," "Game Change") clearly know what they're doing, but this is unlike anything you've seen on network television. Somehow it works so well. Audiences will assume "Empire" is a "black show," but this is just as much "Generations" as it is "Dynasty." It's all about the money -- and a s**t ton of it -- so if any colour gets focused on, it's green. "Empire" keeps it real by addressing themes involving race and class but it's its soapy characteristics, stellar performances, engaging writing and sublime direction that will only captivate viewers that much more.
"Empire" premieres Wednesday, Jan. 7 at 9 p.m. ET on OMNI 2, 10 p.m. MT on OMNI AB, and 9 p.m. PT on OMNI BC in Canada and at 9 p.m. ET on Fox in the U.S.
'LADY CHATTERLEY'S LOVER'