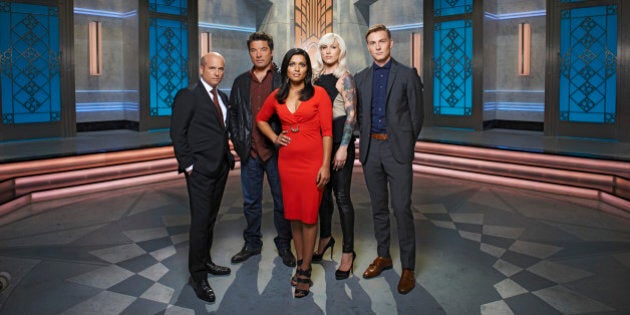 I want the CBC to do well. Really I do.
It's the whole underdog thing that always has me rooting for it. But when one of its three new shows this winter is a former Food Network show that is overseen by a national grocery store chain in an effort to promote their products, it's hard to be a cheerleader, you know?
In case you were wondering, the aforementioned food show is "Recipe to Riches" -- which features amateur cooks sharing their concoctions, trying to win some cash and have said recipes on select supermarket shelves -- but it doesn't premiere until Feb. 26. For those CBC fans who want something sooner and something other than "Arctic Air" and "Mr. D," there's also "The Best Laid Plans" and "Four Rooms."
"The Best Laid Plans," which premieres right after "Four Rooms," is a satire of Canadian politics based on Terry Fallis' novel. It's a six-part series so it's perfect for those who don't want to make a long-term commitment. CBC, however, is banking on "Four Rooms" to be their big draw this season. I'm just not sure it's where the broadcaster should be putting all its eggs.
No longer just an anthology film from 1995, CBC's latest foray into reality television is essentially what happens when "Dragons' Den," "Antiques Roadshow" and "Let's Make A Deal" mated. Canadians looking to make a profit from their prized possessions have a chance to sell their wares to one of four of Canada's leading art, antiques and memorabilia dealers:
Scott Landon: A former RCMP officer who turned his passion for collecting into a full-time job and is known for his expertise in Canadian antiques.
Jessica Lindsay Phillips: A private collector and curator who digs creepy things (think mummies, shrunken heads, tribal weaponry and medieval torture devices).
Derreck Martin: A third-generation collector whose family business is the largest antiques dealer in Canada.
Eddy Rogo: The country's main auctioneer who has over 25 years experience in buying and selling the world's finest antiques.
Sounds decent enough, right? Of course, there's a catch: wannabe sellers can only visit one buyer at a time and if they refuse an offer, they can only hope that whomever's left ponies up more money -- because there are no takesies-backsies. Once a bid has been rejected, that's a choice the seller has to live with. Forever. Dun-dun-duuuuuuuun.
Producers are obviously going for tension but there are so many lulls, it doesn't exactly make for edge-of-your-seat fare. Delightful "CBC News Now" host Reshmi Nair is pulling double duty on "Four Rooms," and while I get the point of her gig -- informing viewers of the contestants and what lies ahead -- I think a voiceover or simple graphics would easily do the trick and make for more seamless transitions.
CBC's charm may be showcasing their best and brightest stars while making content key but, unfortunately, "Four Rooms" doesn't make the grade. Sure, the premiere features an interesting mix of items up for grabs, from a mummified ghost cat, a letter complete with signature from reclusive Catcher In The Rye author J.D. Salinger, and a couch Ronnie Hawkins once owned that John Lennon and Yoko Ono's butts graced but, sadly, it just isn't enough.
"Four Rooms" premieres Sunday, Jan. 5 at 8 p.m. ET (8:30 p.m. NT) on CBC.